US regulation designed to localise production of electric vehicles in North America is helping to make Mexico a more attractive production location, but the country needs its own supportive policies and improvements to infrastructure, according to Nissan and Toyota.
Speaking in the opening session of this week's Automotive Logistics and Supply Chain Mexico, Chris Styles, vice-president of supply chain management for North America at Nissan, and Lizette Gracida, senior director of institutional affairs and foreign trade at Toyota Motor de Mexico, said that public policy was crucial for Mexico to leverage its current international opportunities.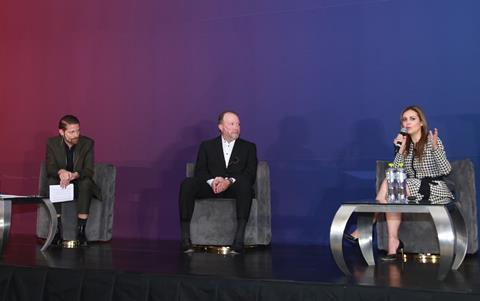 Mexico is an important part of the global automotive industry, from supply of essential parts to full vehicle production. That position could well be cemented by legislature from abroad, such as the Inflation Reduction Act, which encourages localisation of production in North America for vehicles sold in the US.
Toyota and Nissan are looking for similar policies designed to support local EV production with financial incentives in Mexico. In that way, the carmakers can further capitalise on the opportunity to produce vehicles for the domestic market and do so using with clean energy, new infrastructure and clear sustainability goals.
Infrastructure investment
However, infrastructure continues to be a problem in Mexico. Although Mexico has plenty of ports, Veracruz handles half of the vehicle volumes imported and exported by ocean and it continues to be affected by bottlenecks. Gracida said the first challenge was infrastructure when it came to what was limiting finished vehicle capacity in Mexico.
"There is an opportunity related to the transformation that the industry is facing," she said. "Toyota is transforming from an automotive company to a mobility company." That, Gracida argued, needs to be reflected in the supply chain and in new investment in infrastructure.
According to Styles, Nissan is dealing with constraints on global ocean freight and with the ongoing semiconductor crisis impact on production in Mexico. However, he said the company had focussed on localising the supply of parts for 10 to 15 years now, which has helped to mitigate some of the supply problems in the region, but there was still more than could be done.
Watch the opening session from this week's Automotive Logistics and Supply Chain Mexico conference
"All the constraints in moving goods worldwide have put questions on every form of sourcing," he said. "Are we truly considering all the options for localisation?"
Make where you sell
That, Gracida said, could be supported even further by government policy, including the US-Mexico-Canada (USMCA) trade agreement, which stipulates the regional value content for passenger vehicles and lights trucks made in North America is 75%. It means the content of the vehicles made will require more parts and materials to originate from within North America to qualify for preferential treatment.
"Toyota is committed to the successful application of USMCA, we are confident that our vehicles will meet new guidance," said Gracida. "Our philosophy is to produce where we sell and to buy where we produce, and this philosophy has allowed us to expand our presence in north America in the last 60 years."
Toyota has more than 500 suppliers in North America, with which it does more than $38 billion annual trade, Gracida added, saying that 98% of the steel used for vehicles in the region is sourced there.
Nissan, Styles said, was responding to the legislation designed to localise production in North America with some immediate changes, ahead of deeper transformation. "Nissan is doing some things in the short term, moving parts from Mexico to the US to comply, and adjust as fast as we can," he said.
Sustainable production
The industry is also transforming in terms of sustainability. Plants and production require a secure clean energy supply to decarbonise a vehicle's whole lifecycle.
"We believe it's going to be fundamental to create a public policy that allows the auto sector to have availability of clean energy, renewable energy, and self-sufficiency," said Gracida.
Both confirmed that discussions between the Mexican government and OEMs were ongoing on how best sustainable policies for Mexico could be formed and implemented. "We interact with the government very regularly," said Styles.
"Another party that is key is academia," added Gracida. "Government, industry and academia are necessary for the creation and implementation of policy."
Mexico needs a holistic clean energy strategy
Toyota de Mexico's senior director for institutional affairs and international trade, Lizette Gracida, speaks to Automotive Logistics about how Toyota is working with the Mexican government on optimising trade processes and encouraging a clear strategy to encourage transition to clean energy and electrification.
Coverage from Automotive Logistics and Supply Chain Mexico 2022
1

Currently reading

Government policy will support growth in Mexico

2

3

4