The automotive industry needs to move with a sense of urgency toward a more sustainable model of production because climate change is happening now. There is no time to lose in making good on sustainability goals, both in terms of the vehicle produced and the supply chain feeding its production.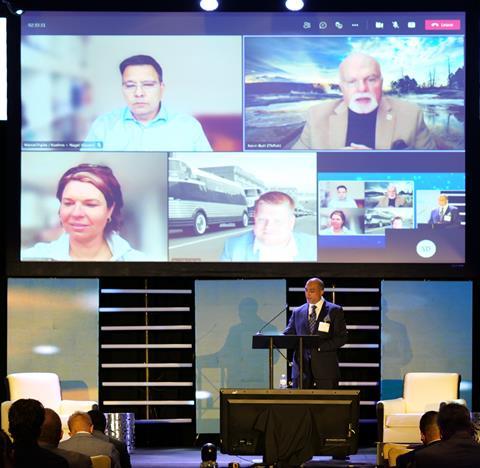 Collaboration based on good quality data is key to that effort, according to speakers at last week's Automotive Logistics and Supply Chain Global conference, and there are a number of initiatives underway designed to improve that collaboration.
The Suppliers Partnership for the Environment (SP) is an association of vehicle makers and suppliers that works with US government bodies, including the Environmental Protection Agency (EPA), on projects designed to advance environmental sustainability while providing economic value to the automotive supply chain. Audi Mexico, Ford, GM, Honda, Stellantis and Toyota are all members.
The carmakers and their supplier partners are collaborating on a number of initiatives, including a five-point guidance document on supply chain carbon reporting and reduction for the automotive industry, which is shared with the tier supplier community reporting to them. The guidance calls on tier one suppliers to establish a standard reporting cycle with their own suppliers on carbon use and identify a long-term absolute CO2 reduction target.
As reported previously, the partnership has also published guidance on sustainable packaging aimed at reducing waste in the automotive sector and increasing the amount of packaging that could be recycled. The guidance document – Sustainable Packaging Specification Recommendations for Automotive Manufacturing Operations – aims to provide straightforward industry-supported guidance to help automakers and their suppliers source sustainable packaging designs for use in automotive manufacturing operations".
"We found it helpful to join the Supplier Partnership for the Environment and work with [the other OEMs]," said Kevin Butt, senior director of environmental sustainability at Toyota Motor North America. "We share the same suppliers and they get frustrated when they hear from each of us over and over again the different mechanisms according to which they should report.
Butt explained that the partnership provided the platform on which OEMs and their suppliers could openly communicate on the actual steps necessary to move forward put projects on the ground.
"Packaging guidelines and carbon neutrality are all things we are working on and creating common definitions… [,]" he said. "We are working on the same playing field with the same definitions, so there is no confusion about what we trying to achieve at the end of the day. That is one of the biggest benefits."
Flexible approach
At the same time the guidelines give each OEM the flexibility to do what they need in terms of cutting carbon emissions as well as giving their suppliers to be flexible in setting their own standards, according to Alissa Yakali, sustainability and supplier relations manager at Honda Development & Manufacturing of America.
"We challenge our suppliers to set their own [sustainability] targets and, if they are above and beyond what the different OEMs are asking, that is even better," she explained. "We definitely want our suppliers to have a common understanding but with enough flexibility that it works for all of us in the OEM space."
For GM that flexibility has enabled it to update its renewable energy goal, part of its overall target to become carbon neutral in global products and operations by 2040. According to Fred Gersdorff, who manages socially responsible and sustainable supply chains as part of GM's GPSC Strategy, Planning and Operations department, the carmaker is aiming to eliminate tailpipe emissions from its light-duty vehicles by 2035. It is also working collectively through the Supplier Partnership for the Environment, as well as its own independent and innovative projects, with tier one suppliers to reduce emissions from the inbound and outbound delivery process. Importantly, these goals have to be based on science-based targets, stressed Gersdorff.
"For GM, 20% of emissions come from either the products that we buy or the mode of shipment and transportation of those products, as well as the finished goods," he said. "Supply chain logistics has a big role to play in carbon reduction."
The guidelines in the Supplier Partnership for the Environment have their origins in Manufacture 2030, a digital, subscription-based platform designed to accelerate carbon reduction at scale across manufacturing supply chains through cross-industry collaboration. The platform was established by UK-based sustainable manufacturing specialist software company 2degrees in 2017. Manufacture 2030, the title under which 2degrees operates, is also part of the Supplier Partnership for the Environment.
Data rich decision making
What is very important to the success of the both the projects under the Supplier Partnership for the Environment and M2030 is the accuracy of the data that is shared.
"Who wants to make business decisions based on bad data?" Butt asked rhetorically. "How do we gather that and ensure we are getting that high quality data? M2030 is helping us with that as an organisation. They do a lot of validation and verification of that data."
Toyota Motor North America partnered with Manufacture 2030 in July this year to help reduce its carbon emissions by inviting its entire tier one supplier network in North America onto the platform.
"We are the number one automaker in the world right now but that is not a good thing sometimes [because] the bigger you are, that whole communication thing is a struggle point," said Butt. "[However], we are getting better and it is enabling us to create that concise ask with common definitions. Now we are all on that same page."
The platform is helping the carmakers involved to gather accurate data in a consistent and timely manner, with which they can then make business decisions and set forth targets, both within each of the OEM organisations and with the supplier base. Importantly, those decisions need to be made with clarity and purpose, said Butt.
"You are not asking for data, for data's sake" he said. "You have to explain how this is going to help you make those business decisions along the way and add value, and actually achieve the target you are searching for; that is the key to this."
Similarly, suppliers bring their own ideas to the platform to help reduce emissions, according to Honda's Yakali.
"Within the Manufacture 2030 platform – where we have the data collection, we have suppliers putting in ideas to help reduce emission – one of the features of the platform is that there is a ten-year plan that in the Honda world we require suppliers to complete it," she said.
Fred Gersdorff said for GM data was also critical in understanding the supply base and driving sourcing decisions. Moreover, the carmaker is using the EcoVadis platform to understand supplier sustainability beyond the environmental criteria. EcoVadis is a business sustainability ratings provider that includes a global network of more than 75,000 rated companies.
"We look at ethics, labour, human rights, and sustainable procurement programmes that our own suppliers have," he noted. "The combination of the Carbon Disclosure Project (CDP) and EcoVadis gives us a great lens to see where suppliers are at, how they are improving and the areas they need support in.
CDP a not-for-profit charity that runs a global disclosure system for companies to manage their environmental impact.
Summing the situation up for the OEMs Gersdorff said that given the scale of their businesses, putting sustainability at the forefront would have a major effect on shaping the future and that closer collaboration with the supplier base was part of making the ambitions of more sustainable manufacturing and logistics a reality.
THE NEXT ULTIMA MEDIA CONFERENCE WILL BE FINISHED VEHICLE LOGISTICS NORTH AMERICA, WHICH TAKES PLACE NEXT MONTH IN CALIFORNIA BETWEEN NOVEMBER 9-11