As the Biden administration looks to meet ambitious goals for electric vehicle production in the US by 2030, Ford is planning a more vertically integrated battery supply chain, new partnerships and investment in securing stable battery materials.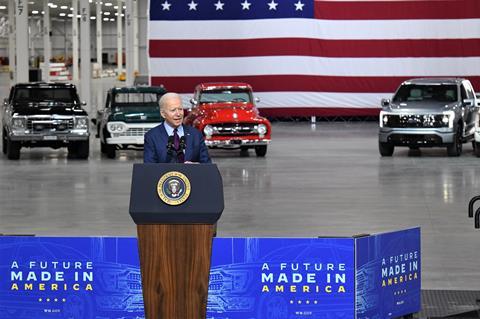 In February this year president Joe Biden signed an executive order designed to fortify US supply chains, including those feeding the automotive industry. In May he announced a $174 billion plan for US electric vehicle production following a comprehensive review of the battery supply chain in the country.
The Democratic administration that came into power in January this year has put the US back on an ambitious target of making most of its vehicle output electric by 2030 and having every car on the road an electric one by the following decade.
Now, Biden has gone even further, signing an executive order aimed at making half of all vehicles sold in the US by 2030 to be electric vehicles, along with further proposals for stricter vehicle emission regulations. The order is non-binding, however it is expected to accelerate electrification further, and has been backed by major American OEMs, including Ford, GM and Stellantis, as it helps manufacturers to plan long-term supply chain investments.
The targets are ambitious because this year North America will make fewer than 2m electric vehicles (including hybrids), according to Joe McCabe, industry analyst AutoForecast Solutions, and of that number only 500,600 will be pure battery electric vehicles (BEVs) – or less than 3% of overall production in the US this year.
While that may say low, US electric vehicle market share falls in line with global sales figures in which BEVs currently account for just under 3%, according to AutoForecast. However, the US is pushing for pure EVs share to rise by 15 times compared to this year.
Speaking at the recent Finished Vehicle Logistics North America Live event, McCabe said that North America was aiming at 68 unique and domestic BEV nameplates compared to the eight that existed in 2019. Over that period 28 brands intend to become volume EV producers and push 1.7m units out of their plants, compared to the three volume producers making BEVs in 2019: Chevy, Nissan and Tesla.
Ford was not even on the start line two years ago.
To support its ambitious goals, Ford, like the rest of the US car market, needs a secure and ideally localise the supply of lithium-ion batteries. A lot of lithium battery production is currently concentrated in Asia and materials sourcing comes from specific markets in Africa and South America, amongst others. Ford has therefore set out to establish new partnerships in the supply chain to build batteries, notably with South Korea's SK Innovation, with whom it will establish a joint venture. The company, which will be called BlueOvalSK, will produce around 60 gigawatt hours (GWh) a year with scope for expansion by the middle of the decade.
However, in terms of establishing competitive local supply in the US, the market has proven to be contentious. LG Energy Solution – the battery focused division of South Korea's LG Chem – filed a trade-secret lawsuit against SKI that initially resulted in a 10-year ban on SKI selling and importing batteries in the US with an exception for supplying existing contracts with Volkswagen and Ford. The decision was later reversed and settled, however it demonstrates just how competitive the market for batteries has become.
The government and the private sector have their work cut out for them, so what does Ford think needs to be done to build resiliency and capacity in the battery supply chain and secure its own ambitions of leading the EV market in the US?
First steps
Earlier this year, Ford announced that it would move quicker to electrify its models in Europe, with plans to build and sell purely electric vehicles by 2030. It announced a $1 billion investment at its plant in Cologne, Germany, while its partnership with Volkswagen Group will also support its EV push by using VW's MEB electric vehicle platform.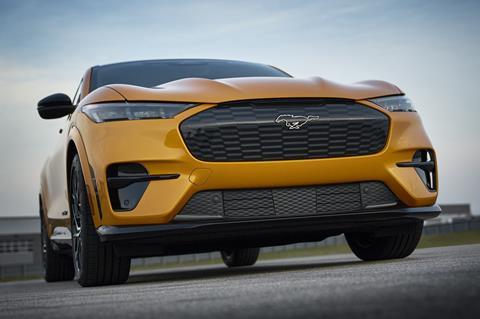 Ford is now also set to electrify its production and sales in North America. It has announced that it would invest and build more vehicles in the US than any other OEM. It is currently making several hybrid versions of its products, including the F-150, Escape, Explorer, Lincoln Aviator Grand Touring and a Ford Police Interceptor. The only pure EV it is making now is the Mustang Mach-E, which Ford currently manufactures in Mexico.
Hybrid EVs also due for production this year are the Lincoln Corsair Grand Touring and the Maverick.
In terms of pure-electric vehicles, the Mustang Mach-E GT will be released later this year, as will the range of electric E-Transit vans. The first fully electric F-150 Lightning pickups will start production in mid-2022 at the Ford Rouge Electric Vehicle Center in Michigan.
Globally Ford said it would spend $30 billion to electrify products by 2025, adding that by 2030 40% of the vehicles it sold would be electric, "a massive shift from the low-single digits today" in its own words.
A spokesperson for Ford says the company will lead the transition to an electric and connected future for transport, in partnership with allies in both public and private sectors, and collaboration is going to be key. The company is currently trailing other major OEMs in the US, such as VW and GM when it comes to electric products. One of the most important investment areas for Ford will be to integrate its battery supply chain further.
Battery supply chain
Lithium-ion batteries are central to the success of Ford's electrification strategy. To stimulate the sort of demand for its products required to meet targets by 2030 Ford, like any carmaker, needs to improve the driving range and price competitiveness of its BEVs.
"Thoughtful forecasts and staying close to consumers on what will further pique their interest in fully electric vehicles over time – for example, longer-range batteries and better charging infrastructure to overcome range anxiety – will be important solutions leading to better planning for automakers and suppliers alike," says Ford's spokesperson.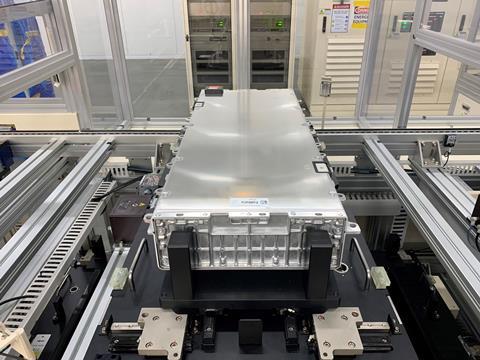 As outlined in the latest research into the EV battery supply chain from Automotive from Ultima Media, Automotive Logistics' business intelligence unit, carmakers and battery manufacturers are aiming to improve battery quality (and range) and bring down prices to below $100 per kilowatt hour (KWh), a rate at which EVs can compete with traditional internal combustion engine (ICE) vehicles. However, battery technology and prices are not the only factors at play. As EV demand rises, it is becoming especially critical for manufacturers to manage the procurement and production of batteries. And there are serious questions over whether supply will keep up with demand across the battery supply chain.
As shown in the battery report, a large portion of the battery materials value chain is presently concentrated in Asia, and China is the leading producer of most of the materials. Ford's plans include building battery packs and producing battery cells for its vehicles in the US and the company sees it as essential to work with supply chain partners to expand their footprint for supply security and improved logistics.
"Batteries are the foundational technology for the future and the US automotive competitiveness," says the Ford spokesperson. "Our success depends on how well we can secure this technology, capacity and value chain."
Better visibility
According to Ford, the global semiconductor shortage has highlighted the importance of having relationships and line of sight well into the battery supply chain, not just the top tier or two supplier level.
"Developing direct relationships with battery technology and material suppliers is an important step for us as consumer demand for fully electric vehicles grows," says a representative from Ford's supply chiain team. "This is true for the industry, as well as for Ford. This involves studying the complete supply chain from raw materials, pre-cursors and battery active materials to battery cells."
It is crucial for vehicle makers the size of Ford to collaborate with suppliers and identify the vulnerable points in the battery supply chain and figure out how are they threaten Ford's plans for increasing EV production. More importantly, Ford needs to work with its suppliers and service providers to remedy those vulnerabilities.
Today China, South Korea and Japan dominate battery cell manufacturing, while raw minerals are sourced from several primary locations including Chile, China, Africa, as well as the US, Canada and Australia for some materials.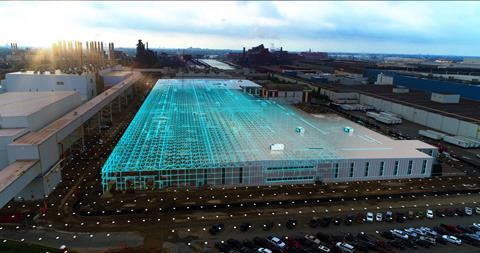 According to the Ultima Media report, there are surges in demand for lithium batteries around the world; along with regional spikes that are hard to forecast, there is the threat of demand outstripping the supply of crucial minerals, such as nickel, cobalt and lithium.
Read Automotive from Ultima media's full report on the lithium-ion battery supply chain
Ford recognises that recent raw material price increases are an indication of demand outpacing supply and it calls on government and private enterprise support to secure the battery chain.
"Policy and incentive support are required to encourage investments in the space of battery materials production in the US to reduce supply chain vulnerability," says Ford's spokesperson. "Development of this capability must be one of US government's top priority as we transition to an electrified future."
Collaboration with suppliers
SK Innovation and LG Chem are the two biggest suppliers of batteries to Ford globally and the companies are working together to secure the battery power necessary to fuel the EVs Ford already has on the road. The carmaker and its battery suppliers are also working to secure the right volumes for the future, including for E-Transit vans and F-150 Lightning pickup as they arrive in-market over the next 12 months.
According to Ford, the company is actively exploring supply chain opportunities, including recycling to ensure stable supply and pricing.
Ford has just signed an MoU for a joint venture with SK Innovation to make battery cells and array modules, an arrangement designed to ensure the carmaker has enough batteries to power its EV line-up. That kind of strategic alliance is supposed to guarantee Ford has the right kind of battery technology to power the performance vehicles, full-size pickup trucks and vans its customers have got used to with the internal combustion engine (ICE) products.
SK Innovation has specialised in the development and commercialisation of high-nickel NCM battery technology. The company developed the world's first NCM-811 battery in 2016 and continued to innovate and to develop higher Nickel battery solutions that will be mass produced in the US, and will power Ford's F-150 Lightning.
Ford is also investing $185m in a battery lab – Ford Ion Park – with a view to eventually making its own battery cells and finished batteries and its long-term strategy is to drive high-volume battery cell delivery and, ultimately, better range and lower costs for electric vehicle customers.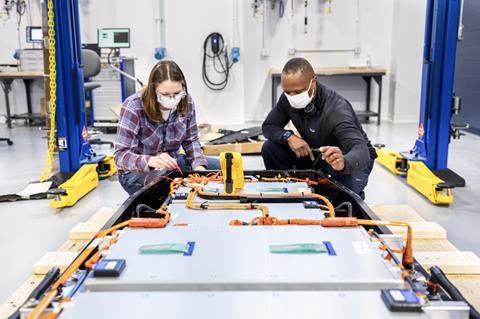 The $185m investment is for a learning laboratory tied to a centralised cross-functional team of 150 experts in battery technology development, research, manufacturing, planning, purchasing, quality and finance. This team will help Ford more quickly develop and manufacture battery cells and batteries.
"The team will also explore better integration and innovation opportunities across all aspects of the value chain, from mines to recycling," says the Ford spokesperson.
Ford is supporting those efforts with a battery testing and development lab in Allen Park, Michigan, which has been funded separately.
Ford says time will tell whether vertical integration is the surest way of building resiliency into the supply chain but it intends to continue with strategic relationships, joint ventures and vertical integration to build in this resiliency. The investments required for these actions are part of the company's plans going forward and will help to improve visibility of the battery supply chain, ensuring a more secure and ethical supply of materials.
Read the latest Automotive Logistics digital edition for more on battery supply chains