Grimaldi has ordered five pure car and truck carrier (PCTC) vessels with capacity for 9,000 units for the transport of electric vehicles (EVs). The dual-fuel vessels will run on mega-lithium batteries and are prepared for the use of ammonia as a marine fuel.
The deal with China Merchants Heavy Industries Jiangsu shipyard includes an option for an additional five vessels dual fuel vessels, with a total investment of around €1 billion ($993m). The five vessels on order are expected to be delivered between 2025 and the end of 2026. They will be deployed on deep-sea routes between Europe, North Africa, and the Near and Far East.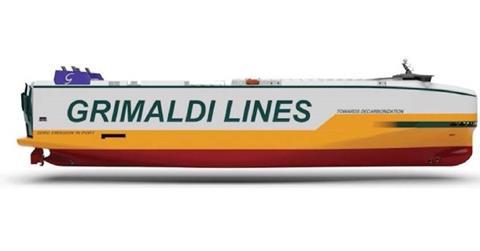 Grimaldi said the vessels will be built to be converted at a later date to use ammonia as an alternative fuel. Ammonia is one of the main zero-carbon fuels currently being tested by the maritime transport industry as it works to achieve zero emissions from operations. Ammonia burns without emitting CO2 and is zero-carbon from 'well-to-wake' when produced from renewable energy. However, the fuel is not yet available in the volumes required to make it a working alternative for the shipping industry. That is something the industry is working on with its energy suppliers to solve.
In addition to the mega-lithium batteries fitted to the vessels, each one will be fitted with solar panels and shore connection, which will support zero emissions when they are at berth.
Emanuele Grimaldi, managing director of Grimaldi Group, said the vessels will burn 50% less fuel than the previous generation of car carriers. "We are witnessing an evolution which will bring the sector toward the zero emissions goal," he said.
Grimaldi has said previously said that energy efficiency is a "moral obligation in the face of the serious environmental emergency we are experiencing" and that a toolbox of alternative propulsion is under development, featuring a mix of batteries, hydrogen, ammonia, and fuel cell engines.