Emanuele Grimaldi, the managing director of Italian shipping firm Grimaldi Group (pictured), has urged shipowners to "do their homework" in reducing sulphur and carbon emissions from vessel operations.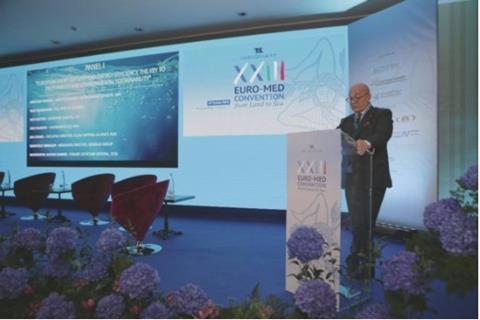 "Zero emission is something that must and can be achieved," he said at this year's Euro-Med convention, held on the island of Sicily last week (October 4).
"Energy efficiency is not only a moral obligation in the face of the serious environmental emergency we are experiencing, it is also the key for the development of the international community. It still requires study, but a toolbox is emerging from research featuring a mix of batteries, hydrogen, ammonia, and fuel cell engines."
It was the last Euro-Med meeting before the International Maritime Organisation's (IMO) 0.5% limit on the amount of sulphur allowed in vessel fuel oil comes into effect in January 2020.
According to the company, the group transported 4% more freight in 2018 compared to 2017 on Mediterranean short-sea lines and experienced a further increase of 8% in the first half of 2019.
Despite this increase, the company claims to have significantly reduced S02 and C02 emissions.
"Over the last two years we have transported 17% more cargo while consuming 2% less fuel per nautical mile sailed and, in particular, more than a dozen times less sulphur and particulate," revealed Grimaldi.
The company is in the process of fitting more than 100 vessels, out of a 130-ship fleet, with abatement technology or 'scrubbers'. The remaining ships will switch to cleaner distillate fuels when the IMO's regulation known as 'Sulphur 2020' begins on 1 January, next year.
The IMO's Marpol Annex VI regulation sets limits on SOx and NOx emissions from ship exhausts, and prohibits deliberate emissions of ozone depleting substances.
Scrubbers – a solution?
At the end of 2018, 32 of Grimaldi's ships had been fitted with scrubbers. The scrubbers installations investment plan for 2018 to 2020 includes approximately €150m for similar abatement technology to be fitted to the remaining fleet. Furthermore, from 2019 to 2020 an additional six pure car and truck carriers (PCTCs) with hybrid scrubbers will be delivered.
Ian Adams, executive director of the Clean Shipping Alliance 2020, who was also speaking at the Euro-Med convention, said that exhaust gas cleaning systems can have a profoundly positive impact on the port and ocean environment, in terms of improving shipping's environmental footprint and reducing the health impact from airborne sources.
Speaking to Automotive Logistics, he stated: "Exhaust gas cleaning systems (EGCS) or scrubbers are more effective at combatting air pollution because they not only remove the sulphur oxides to comply with MARPOL Annex VI but also remove other particles. These particles include polycyclic aromatic hydrocarbons (PAH) and black carbon (BC). PAH and BC particulate matter from compliant fuels is generally smaller and therefore more harmful to human health."
Clean air investment
According to Grimaldi, the most notable results in cutting polluting emissions from its fleet have being delivered through its clean air investment programme, the target of which is the almost total abatement of SOx and particulate emission.
The plan consists of 29 new vessels, which all include an exhaust cleaning system onboard. Ten of the ships have been delivered and 19 will be released in the next three years, the company said.
"From January 2020 all ships in the world having bunker as a fuel, including ours, will have cleaner marine diesel as default bunker. This alone will cut sulphur emissions by at least seven times from ships," said Grimaldi.
The group has lengthened eight of its vessels in an effort to decrease the consumption per tonne transported. It has also ordered 12 Grimaldi Green 5th Generation' (GG5G) vessels from China's Jinling ship-building yards, which will feature an air lubrication system, hydrodynamic hull and propeller, solar panels and LED lightening, and battery packs. According to the company, they will be the most environmental friendly ro-ro vessels in the world.
"Technology, once it becomes proven, should hopefully allow us to make even greater strides," concluded Grimaldi. "We are experimenting with hydrogen-powered and electricity-powered engines, and have proposed filters for microplastics and heavy metals in international action groups – both major pollutants that require tackling urgently."
The group, which recently introduced the Grande Torino and will introduce the Grande Mirafiori in a few weeks, also revealed there was a distinct possibility the company will grow significantly in the logistics sector through mergers and acquisitions.
For information on the IMO's sulphur emission limits see: Easing off the gas: Is the shipping industry ready for Sulphur 2020?