As part of its Net Zero Carbon programme, Kuehne + Nagel's joint venture in China – KN Sincero – has helped Dongfeng Honda Automotive to move inbound parts deliveries to its plant in Wuhan, China onto rail.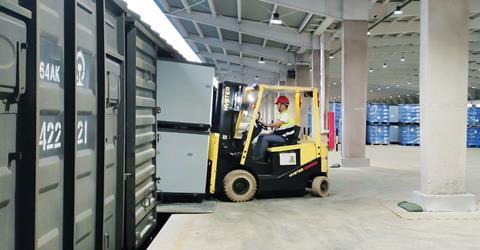 KN Sincero, which is joint venture with China's contract logistics provider Sincero, is working with Wuhan Dong Hon, Dongfeng Honda's logistics affiliate. It is also providing consolidations and value-added services, including sorting, scanning, repackaging, GPS track and trace, and recyclable container management.
"Automotive is one of the most important sectors in contract logistics, particularly in China, the world's largest automotive market," said Gianfranco Sgro, board member for contract logistics at Kuehne + Nagel. "I am glad that Kuehne + Nagel and Honda share a common vision of service, innovation and sustainability."
In a joint statement from the general managers of Wuhan Dong Hon, Jiang Hui and Takuji Kitamura, said: "Kuehne+Nagel has always been a supply chain partner that we can rely on, to help us improve our supply chain performance whilst also achieving our environmental goals."
Last month Kuehne + Nagel published its sustainability report for 2020, which covers activities across its global operations. The company has established 14 sustainable development goals, including a commitment to net zero carbon from its operations. Kuehne + Nagel is aiming to be carbon neutral by 2030 and in 2020 total emissions were reduced by 18%.