Lamborghini is now exclusively using rail to move Urus SUV chassis from VW Group's Zwickau plant in Germany to its Italian factory headquarters in Sant'Agata Bolognese, Modena.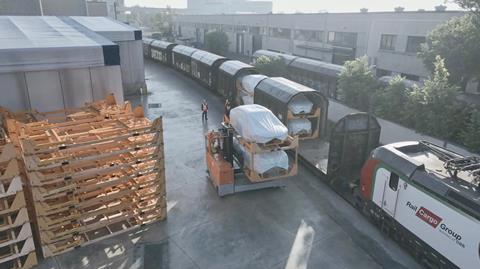 VW Group, of which Lamborghini is a division, has been making the chassis for the Lamborghini Urus since 2017.
The weekly rail service will reduce CO2 emissions by 85% according to Austria's Rail Cargo Group (RCG), which is providing the service, equal to more than 1,900 tons a year. The 1,000km journey will take 48 hours.
RCG said the only road transport will be the 21km between the rail head in Modena and Lamborghini's plant, and that will be through the use of trucks fuelled by liquified natural gas (LNG).
RCG is part of the Austrian federal railway ÖBB and it said its rail freight transport services in Austria were currently saving 1.1m tons of CO2 a year.
In a statement the company said: "With this new rail transport concept, ÖBB RCG's sustainable rail transport services are helping counteract the vicious cycle of transit traffic on the Brenner Pass. This relieves Austria, especially the Province of Tyrol and its population, of the burdens of air and noise pollution. In the European Year of Rail, this new cooperation is another significant milestone on the way to achieving our European climate targets.
VW Group has its own commitments to moving more of the materials, parts and vehicles it transports to rail in an effort to make its logistics more sustainable. The carmaker has a 'goTOzero' logistics strategy, which is focused on green rail transport and it aims to switch all of the vehicles it moves in Germany with state-run rail provider Deutsche Bahn (DB) to 'green electricity' by the end of this year.