US lithium battery recycler, Retriev Technologies, has acquired Battery Solutions, an end-to-end management solutions provider for end-of-life batteries and consumer electronics.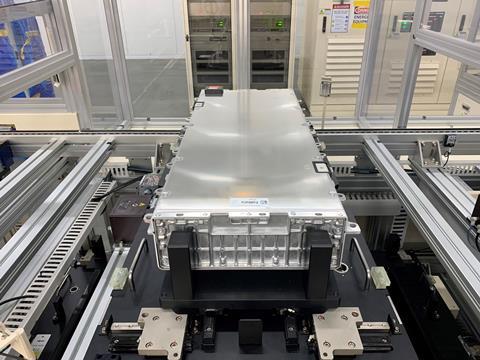 Retriev said that Battery Solutions' cross-chemistry collection, battery-centric logistics network, end-of-life battery sorting services in North America and customer-centric approach to end-of-life battery management supports its existing operations.
Detroit-based Battery Soluitons has a strategic national footprint that services the entire end-of-life battery lifecycle for electric vehicles, telecommunications, consumer collection, waste management sectors and more.
"Our combined assets and talented team enable us to be the only player in the industry that can collect, transport, sort and process every type of battery at every touchpoint from the end of one lifecycle to the beginning of another," said David Klanecky, CEO of Retriev Technologies. "This creates a substantial material 'resource' for automotive original equipment manufacturers and battery manufacturers in the circular supply chain."
Retriev is responsible for battery recycling and sorting facilities across North America. These include Lancaster and Baltimore, Ohio, and plants in Brea, California, and Trail, British Columbia.
"Battery Solutions has a sophisticated battery collection and logistics network, which perfectly complements Retriev's long heritage as the oldest and largest lithium-ion battery processing operation," a retrieve spokesperson said.
"This combined offering brings the expertise and infrastructure to develop customized solutions that simplify the collection process and reduce conversion time. Simply put, we have increased our capacity to collect, transport, sort, and recycle batteries, which will add value to the ESG profile of automobile OEMs and battery manufacturers."
According to the company, they are using advanced, state of the art testing to evaluate and grade batteries to determine if they go for material recovery or second life options, such as Grid Storage.
One benefit brought to their operations by Battery Solutions is processing, sorting, fulfilment, logistics and storage solutions. The company has a 90,000 sq.ft (8,825 sq.m) facility in Wixom, Michigan, and a 60,000 sq.ft (5,575 sq.m) facility in Mesa, Arizona.
According to Retriev, the investment portfolio involved thousands of customers, emphasising automotive OEMs, environmental services, retail, communications and consumer products.
"Global [electric vehicle] and electrification trends are accelerating at rates that both drive scarcity of natural resources on the front end and necessitate careful end-of-life management to harness recycled natural resources," says Thomas Bjarnemark, CEO of Battery Solutions.
"Contributing to the circular economy model is a core focus of Battery Solutions, and this integration with Retriev brings us a huge step closer to making that a reality."
Last October, Retriev said it merged Heritage Battery Recycling to construct the largest lithium-ion battery recycler in North America. In addition, the deal saw the expansion of Retriev's collection and transport network through partnerships with Heritage Environmental Services, Indianapolis, and Heritage-Crystal Clean, Elgin, Illinois.
Suppliers and OEMs have been looking to expand their recycling capacity. For example, last year, Ford announced that it would be working with Redwood Materials to shift the recycling of lithium-ion batteries for its electric vehicles (EVs).
Recycling essential battery materials helps reach sustainability targets and makes sourcing key production components easier.