Vehicle makers are working with logistics providers to make the movement of parts and finished vehicles in Europe more sustainable. Malcolm Ramsay looks at localised battery supply, the use of etrucks and use of more rail
As the automotive sector faces one of the biggest changes in its history – the transition to electric vehicle (EV) production – attention is often focused on the emissions profiles of next-generation cars. However, as important for the environment is the dramatic shift underway within inbound logistics, as operators face both risks and opportunities in recalibrating supply chains.
For carmakers in Europe, the situation in 2023 is compounded by a perfect storm of external factors: inflation, supply chain disruption and war in Ukraine all confound the outlook and complicate strategies. Many would be forgiven for thinking that sustainability might have slipped down the agenda, but instead many OEMs and transport providers are accelerating efforts to reduce emissions for inbound logistics as they see a competitive advantage in being first movers.
One company pursuing this approach is Danish logistics giant Maersk, which recently opened a dedicated warehouse for handling electric car batteries in Teplice, in the north of the Czech Republic. Located a few kilometres from the German border, this facility started operations in November 2022 and is designed to act as a hub for the central European automotive industry, with rail connections to the ports of Hamburg, Bremerhaven, Rotterdam, Koper and Rijeka.
"The demand for the EV battery warehouse in Teplice has been very good," says Holger Tillmanns, automotive and chemicals vertical lead of Maersk's Area North Europe Continent. "Besides the warehouse in Teplice, Maersk will now build a second warehouse for EV batteries close to Hannover, even bigger than Teplice and with an operational launch scheduled for the second quarter of 2024."
Obsession with rail
For inbound supply chains, rail is quickly emerging as a clear preference over road transport as it combines high load capacity with lower emissions and ease of electrification. Achim Glass, head of global business development, automotive and new mobility at Kuehne + Nagel, says: "We see a demand, almost an obsession, to transport localised supply via rail or zero-emission road transport."
Leon van der Merwe, vice-president at Toyota Motor Europe, likewise sees localisation and rail playing an ever-important role in its purchasing decisions.
"We are aggressively pursuing our strategy to be carbon neutral by 2040 by doing the things that we should always be doing: re-sourcing suppliers closer to our factories; reducing negative miles and optimising packaging density; multimodal route planning; as well as creating our pan-European rail backbone," he tells Automotive Logistics.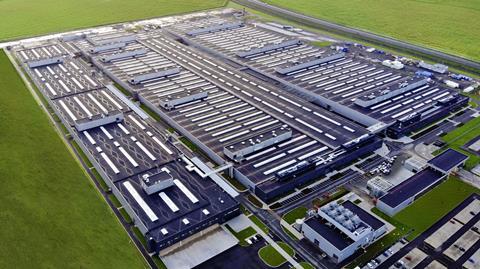 In January, Toyota announced its Sakarya plant in Turkey will be the first in Europe to be equipped with battery production and the first to produce plug-in hybrid vehicles on the continent, as it seeks to shorten the distance from production to market for European vehicles.
"Alongside the vehicle production line, Toyota will build a new plug-in battery assembly line with a capacity of 75,000 units per year within its facility," van der Merwe states, adding that plug-in hybrid battery assembly will start in December 2023, creating around 60 new skilled jobs.
"We are making positive headways in all our CO2-reduction activities," van der Merwe adds, highlighting the success of the group's recent shift from road to rail for finished vehicle transport between the UK, France and the Czech Republic, and the momentum this provides to transform the inbound supply chain.
"Switching to rail will save us over 7,500 tonnes of CO2 per year just on the UK-to-France route," van der Merwe explains "and we are expanding to many more routes."
Battery ambitions
Last year, Mercedes-Benz also backed more localised rail transport, announcing a new logistics facility in Jawor, Poland designed to support lithium-ion battery production and engine assembly at its nearby manufacturing plant.
"The construction of a railway siding in the south-western part of the economic zone, Jawor/DSAG S3 sub-area, and a logistics centre at the Mercedes-Benz factory in Jawor is still ongoing," says Frank Muehling, spokesperson for the Mercedes-Benz plant. He adds that the start of operations is planned for the beginning of 2024. "The consistent reduction of CO2 along the entire value chain is the ambition we have formulated with Ambition 2039 [environmental initiative]."
Pursuit of deeper rail integration is also driving Maersk's strategy as it seeks to help clients ac-curately reduce their overall carbon footprint and move towards smaller regional hubs in Eu-rope, with a far greater share of cargoes carried by rail.
Maersk has more to come, especially for carmakers, with the ongoing construction of a new deep-water terminal in Rijeka, which is scheduled to be opened early 2025. Once operating, it will shorten car-parts transport from Asia to central European factories by approximately one week compared to today's routing via northern continental ports – and will reduce emissions respectively.
"From Rijeka we are planning to offer rail connectivity, which can easily be provided on green electricity," a Maersk spokesperson adds. "Within the area North Europe Continent we are moving more than 85% of containers on rail or barge, combined with truck only for the last mile. We would love to do more if there would be more rail capacity. Only 15% of hinterland transports are executed with trucks only."
Tillmanns adds: "We want to do more rail within our given intermodal corridors from key ports near to the OEM assembly plants. Furthermore, we plan to test e-trucks for short-haul moves, but that's for all customers, not just for automotive clients." Maersk is deploying e-trucks already on a larger scale in the US with positive results.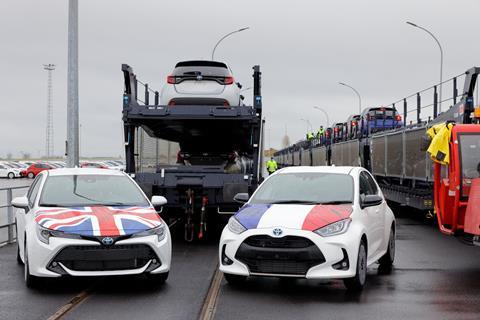 Dealing with a weighty problem
Despite the positive momentum towards low-carbon rail, significant challenges remain for in-bound EV logistics, not least the additional weight of batteries and electric drivetrains compared with ICE vehicles.
"Regarding Europe, the biggest challenge is the supply chain of the cells," says Glass at Kuehne + Nagel. "Cells and packs are heavy and are coming from Asia while the supply in Europe is still too little. The lack of carbon-friendly rail transport from China to Europe, and the fact that with-in China batteries are not allowed on railroad tracks, because they are dangerous goods, is a challenge."
The invasion of Ukraine has added further obstacles for any pancontinental switch to rail as Silk Road rail services have been largely withdrawn, meaning that batteries must come in by ocean freight or, in rare cases, airfreight.
"For full BEV [battery EV] logistics, I can see a couple of main challenges," van der Merwe comments. "On average BEVs weigh 500kg more than a combustion-engine vehicle. Our logistics partners currently transport eight Toyota vehicles on their car carriers, but if all eight are BEVs then we are adding an additional four tonnes of weight."
According to van der Merwe, if the tractor unit is also electric then it adds another two to three tonnes of weight.
"Very soon we find that our car transporters are over the legal weight limit for use on European roads," he says.
While operators dealing with inbound logistics may not have to worry about the transport of finished vehicles, the same issues of weight and scale still apply and look set to create some barriers as localisation can require a greater number of shorter trips along smaller regional routes.
"The challenge is that ambitions to decarbonise, not only the manufacturing process but also for the supply chain are currently still too costly for carmakers," says Glass.
Gigafactory gap
The building of gigafactories and cell production in Europe still needs to take shape, meaning the lion's share of battery supply will continue to come from Asia for the foreseeable.
"As quantities are huge and the cost for environmentally friendly biodiesel versus traditional sailing methods is high, only a small percentage of these battery supply chain-related emissions can be avoided," says Glass.
Several firms have already successfully introduced biofuel alternatives, with Maersk having transported 480,000 TEUs using biofuels across its operations in 2022 – a fourfold increase on 2021.
Kuehne + Nagel, meanwhile, has invested in Sustainable Aviation Fuel (SAF), as a substitute for normal air freight fuel. In 2021 it teamed up with leading carriers and fuel producers to create the first net-zero charter chain, carrying automotive parts from Stuttgart to Atlanta, and since then has completed more than 300 charters.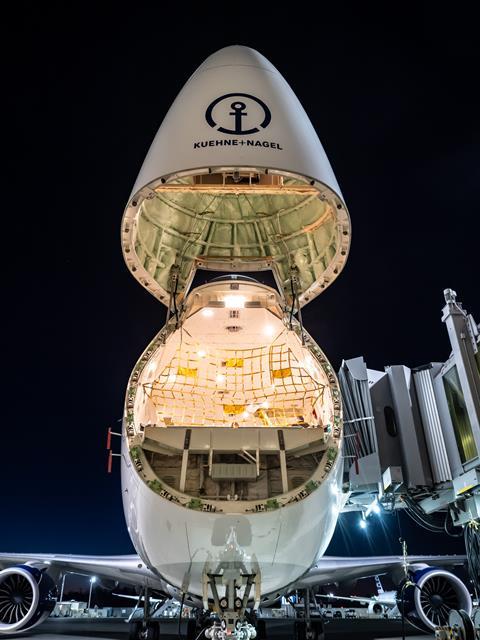 Despite success stories such as these, cost pressures are expected to mount as growing storm clouds in the macroenvironment lead to a focus on tighter integration and competition. Earlier this year, Maersk ended its long-term shipping alliance with MSC as it seeks to regain full control over its ocean network to "guarantee reliability and flexibility, and to deliver decarbonisation".
"We are not heading back into normal, as we knew it before the pandemic, but in to a more volatile and unpredictable world," predicts Vincent Clerc, CEO of Maersk. He notes that after the massive disruption of global supply chains over the last three years the group needs "to regain and retain a strong level of control of the service levels we provide".
Making inroads inbound
Not all firms are focused on rail development, and growing EV expertise in Europe is also supporting the rapid development of electric road transport for inbound supply chains. One firm leading the way is Daimler Truck, which recently announced plans to completely electrify delivery traffic to its largest truck plant by the end of 2026.
"We want to drive the transformation of our industry forward quickly, which is why we are active on all levels of electrification," says Karin Rådström, CEO Mercedes-Benz Trucks. "We are going beyond vehicle development and manufacturing, and providing accompanying services."
The truckmaker is working on the electrification of its own direct supply chains, something that interests its partners.That includes retrofitting work at its truck production facility in Wörth, Germany. The company is now preparing for the first fully electric delivery later this year and estimates significant reductions in emissions over the medium term.
"The next step will be approximately 50 charging points in and around the plant," says Daimler Trucks. "These are planned for the second half of 2023. As of savings, we are currently calculating a reduction of over 30,000 tons of CO2 equivalents per year."
To realise this, the firm is in close contact with its main suppliers, freight forwarders and customers to analyse existing inbound routes, optimise travel times and distances, and "support them as well as possible during their transformation". A pilot phase will see 300 electric Mercedes-Benz eActros tractors deployed in the Rhineland-Palatinate region, with a second phase already planned to add eActros LongHaul and other models.
Toyota, however, is less convinced of the utility of EVs for inbound logistics, with van der Merwe noting that long-term, Toyota believed in a hydrogen society.
"Currently advanced technologies such as BEV or hydrogen trucks are not mainstream and will take some years to become so," he says.
It means cost of each truck and trailer is approximately four times more than a diesel truck. Absorbing these costs will be a challenge for both logistics partners and OEMs but challenging the industry to develop and adopt advanced technology as soon as possible to drive down the costs is what needs to be done says van der Merwe.
Looking to the future, a mix of approaches is doubtless required as supply chain experts from across Europe seek to reimagine logistics in the 21st century. The latest example of these efforts is a "sustainability maturity matrix" developed for Kuehne + Nagel's top 100 global automotive and new mobility key accounts.
"This portfolio includes many of the traditional top global players and tier one suppliers, as well as the most innovative companies from the charging station and cell manufacturing market," Glass notes. "As company cultures, business models and ambitions are different, these customers are categorised by our in-house-developed logic into four different segments. For every segment we are deploying different solutions and services to support customers along their de-carbonisation journey."