Volkswagen's electric vehicle (EV) assembly plant in Zwickau, Germany, has taken another step into sustainable manufacturing by investing €74m ($95m) to expand its press shop.
The onsite production of "outer skin body parts", such as doors and boot lids, brings to an end the transport of those parts from VW's plants in Emden and Wolfsburg, saving 9,000 truck journeys each year, equal to 5,800 tonnes of CO2. VW said that corresponded to 16% of the direct truck volume for body manufacturing at the Zwickau plant.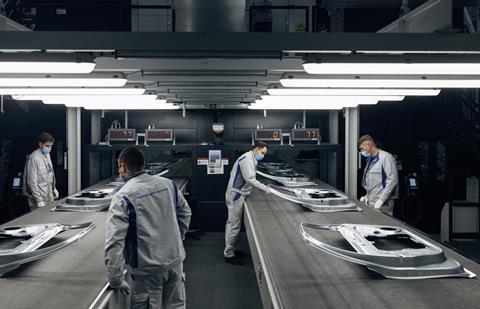 To support the press shop, VW has installed an automatic stacking line and a 30-metre high-bay warehouse, at a cost of €23m.
"The goal is to achieve carbon-neutral production at all MEB locations in Europe, as is already the case at the Zwickau plant," said Christian Vollmer, head of production and logistics for the VW brand. "Zwickau is the pioneer and role model in this respect."
MEB refers to VW's EV car platform – the modular electric drive matrix. VW Group is making cars on that platform in Europe at Zwickau (ID.4, ID.3) and Dresden (ID.3) in Germany, and at the Skoda plant in Mladá Boleslav, Czech Republic (Enyaq iV). It is also making EVs off the platform at the FAW-VW joint venture plant in Foshan and at the joint venture SAIC-VW plant in Anting, both of which are in China.
Vollmer continued: "[The] new press shop is an important milestone on our 'Way To Zero' journey, through which we are aiming to reduce the environmental impact of our production by 2025 – in areas such as energy usage, CO2 emissions, waste and the use of water – by 45% per vehicle compared with the baseline year 2010."
As part of the Way to Zero plan, the VW brand plans to build at least 1.5m EVs annually by 2025 and reduce its carbon footprint by 30%.
The XL press that VW has installed is provided by equipment supplier Schuler. It has a press force of 6,900 tonnes across five stages and makes 10,800 press strokes a day. The expansion of the press line and the installation of the supporting logistics warehouse means Zwickau now has the second-largest press within the VW brand, second only to the Wolfsburg plant.
According to VW, 20m parts per year have been produced on average at its plants in Chemnitz, Dresden and Zwickau in the past ten years. With the new XL press, this figure is set to increase to up to 30m parts per year by the beginning of 2022. As well as supplying production at those sites, parts from the plants will continue to be supplied to other VW Group sites.
The Zwickau plant has also recently installed an automated system for the delivery by rail of lithium-ion batteries.
Read more about pioneering logistics behind the EV revolution at VW Zwickau