For inbound automotive supply chains, returnable packaging just makes sense. No carmaker wants to spend money on wood, paper and cardboard again and again, only to have to fork out straight away for costly waste disposal. Far better to pay once for a robust, reusable container that provides better protection for parts and can, ideally, hold them all the way from supplier to lineside. Vehicle assembly, with its tight transport loops and frequent, just-in-time deliveries, is also an ideal candidate for closed-loop packaging approaches.
It is no surprise, therefore, that returnable packaging has become the standard solution for parts deliveries across the sector. All carmakers have to worry about are the details. Will they use dedicated packaging for particular flows, or a pooled approach that shares it about? Will they buy their own packaging, or rent it from a specialist provider?
"It is our policy to reduce waste and ensure that we're able to build quality into our vehicles," says Stephen Grant, international packaging manager at Jaguar Land Rover (JLR). "The use of returnable packaging helps us to achieve both those objectives and it is something we do wherever it is commercially viable."
JLR has applied all the usual tricks to make returnables work, both technically and economically. It uses folding racks to reduce return freight costs; it standardises container footprints wherever possible to simplify handling, storage and line feeding; and it operates pools of standard containers for further return freight cost reductions.
---
"It is our policy to reduce waste and ensure that we're able to build quality into our vehicles. The use of returnable packaging helps us to achieve both those objectives and it is something we do wherever it is commercially viable" – Stephen Grant, Jaguar Land Rover
---
The approach works very effectively when transport loops are short, fast and tightly controlled, typically when suppliers are located a single truck journey away from the plant. When parts need to be shipped across the world, however, the situation becomes a little trickier. If carmakers currently use returnable packaging for 80-90% of parts flows within in-country or in-continent lanes, the equivalent figure for long-distance international routes is 10% or less.
Grant says JLR already uses returnable solutions on a small number of long-distance routes, such as the transport of engines from the UK to Brazil. Returnable packaging makes sense in applications like this, he says, due the nature of the components involved: high-value, critical parts that are difficult to handle and easy to damage.
JLR would like to apply the approach more widely in its long-distance flows. Grant lists a range of potential benefits, including avoiding the need to repack items for lineside feeding and the elimination of packaging dust from sensitive manufacturing operations. He adds that shipping wooden pallets can create customs issues in some regions, where governments are keen to reduce the use of one-way packaging in pursuit of their own sustainability goals.
Investment on returns
So far, however, Grant admits it has been difficult to make the numbers stack up. "When you look at returnable solutions on these long routes, you have to deal with the additional cost of return freight. And because shipping durations are so much longer, you need more containers in the loop, which adds to purchase costs or hire fees. It also becomes more difficult to manage the container fleet – tracking containers, providing maintenance and repair and ensuring that suppliers never run short."
In most cases, he says, the extra costs – and the risk that those costs might rise further when packaging is lost, damaged or delayed – mean that long-distance returnable solutions haven't been viable in JLR's supply chains. That doesn't mean the company has given up on the idea, however. "We are constantly assessing the business case for all our overseas operations," he says.
What would tip the balance in the favour of returnable solutions? Grant suggests a number of possibilities. "The obvious one is where you can arrange flow that uses the packaging both ways, either within your own operations or in a shared solution facilitated by a service provider. That can cut return transport costs significantly," he says. New packaging designs might help too, specifically for lightweight components, says Grant.
New track and trace technologies could help to reduce the cost and risk of lost containers, but Grant suggests that providers could also take a more flexible approach to their pricing and contracting models. "Today, a provider typically charges a flat daily rate for the use of a container," he says. "That can be problematic for us if there is a risk that the container is going to be subject to delay. We'd like to find ways to share that risk with providers."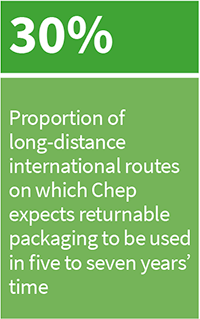 Drive to cut waste
Vanessa Stark, director of strategic marketing, automotive at container pooling specialist Chep, says her company sees the greater use of returnable containers in international automotive supply chains as a major opportunity in coming years.
"Even three years ago, only a handful of our automotive customers were talking about returnables on international routes," she says. "But now, there has been a significant shift. There's a huge drive to get rid of one-way packaging waste and automotive companies are thinking differently about the way they manage and operate their supply chains."
Stark says there are opportunities in matching routes to minimise the movement of empty containers, an area where Chep says its global reach and multi-industry customer base can add significant value. "An international pooling solution might involve customers from two different industries, or might involve flows where containers move through three or more routes before they return to origin."
Finding those opportunities is easiest, says Stark, if every participant uses the same packaging standards, but that isn't always easy to do on international flows. "Marine transport is great, because the shipping container creates a global standard, but when you need to switch to road or rail transport there are different standards in different regions." And standardisation challenges go beyond the basic dimensions of containers, with different regions having different requirements for other attributes, such as the way containers are labelled.
Even within the automotive sector, different regions and manufacturers still have their own preferences for container sizes and footprints, and their assembly facilities are set up accordingly.
"If they can't use the same standard from end to end, companies have to repackage products at some point in the supply chain," says Stark, "Typically, they identify the highest-cost part of the logistics chain and try to optimise their packaging for that, but the more bespoke the solution you adopt, the more inefficient everything becomes."
David Heer, senior commercial director EMEA at packaging maker Orbis, has also seen a growing interest in the use of long-distance returnable packaging among his automotive customers.
"Right now, we have a few customers using this approach, typically when they have been able to identify a two-way flow within their own operations," he says. To help them optimise multiple transport modes, Orbis has developed a special container design called OceanPak, which is sized to work efficiently in sea containers and in both US and European trucks. "The design allows you to achieve a 90% packing density in a marine container and 80-85% in trucks," he says.
The company has developed other offerings to minimise the total cost of returnable solutions, such as flexible dunnage systems that can remain inside containers when they are folded for transport empty.
Carmakers are also making progress on the standardisation challenge within their own operations, adds Heer. "Increasingly, we are seeing the OEMs looking to use a single standard for lineside packaging across their global operations," he says. "That helps to reduce the cost and complexity of packaging, and it is helping us reach the point where returnable solutions can be commercially competitive with one-way packaging."
Stark says Chep is working on a number of standardisation projects – for example in the development of a standard share and reuse packaging solution for EV batteries.
High-value, critical parts are prime candidates for the early adoption of long-range returnable solutions, she notes, where durable packaging provides additional part protection, transport utilisation and handling benefits. "Over the next five to seven years, I'd expect the use of returnable packaging on long-range international routes to go from 10% to 30% or so," says Stark, "And it will be the critical parts that make the change first."