Despite a looming threat of criminal liability for parties involved, complicated logistics movements have seen European finished vehicle imports to Russia increase, after falling off sharply following sanctions. Russian logistics companies are using third parties to move vehicles from Europe, through Iran and across the Caspian Sea into Russia.
In December 2022, the European Commission put forward a proposal to make it a criminal offence to violate the EU's restrictive measures against trade with Russia. The proposal resulted in a list of criminal offences which violate EU sanctions, includes trading in goods or services whose import, export, sale, purchase, transfer, transit, or transport is prohibited or restricted.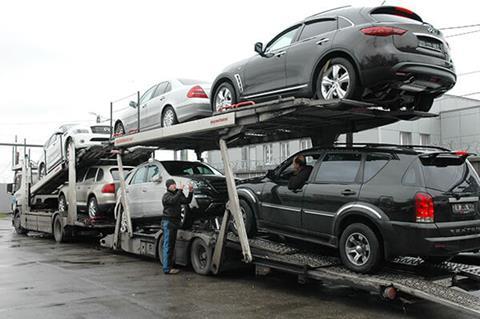 Supplying vehicles to Russia could entail criminal liability for European citizens. However, to circumvent sanctions, shipments change hands multiple times, including several re-sellers and transport companies. At this point, all links in the supply chain feel safe and make good money, the publication said, again citing anonymous sources.
In addition, work is currently undergoing to simplify and streamline these supply schemes. Ararat Mardoyan, founder of the company AutoDegustator, specialises in parallel imports, a tool greenlit by the Russian government in the first half of 2022 that allows Russian businesses to import goods without permission of the trademark's owner. In the past few months, the number of companies involved in the new supply schemes skyrocketed - Mardoyan has been quoted as saying that because parallel or 'grey' import, through Armenia and Iran, is the only option now, it is simply the new import process.
The criminal liability for circumventing the sanction regime for non-EU citizens so far remains only a proposal, which is yet to be signed into law. Mardoyan has said that even if the new restrictions are approved,and hamper re-export, one way or another the Russian market "would not be left without finished vehicles".
Officially, only 17 carmakers with 68 models are left on the Russian market. Unofficially, Russian customers currently have access to 501 models of 85 carmakers, estimated Sergey Udalov, executive director of the Moscow-based think tank Avtostat, who also attributed this difference to the parallel imports.
The eastern route is up and running
Russian companies have also started importing European brands from China, said Roman Rassudkov, owner of Rucar, another Russian parallel import firm.
"We are ready to deliver from China a finished vehicle of any brand that is officially represented on the local market, not necessarily a Chinese brand. It can be European, Japanese and even American," he said, though admitting that some brands are hard to deal with. "Sanctions have nothing to do with this. It's just that the Chinese authorities themselves strictly regulate the export. Papers can be issued only through a few companies that have relevant permission."
The Chinese supply routes are also rather tricky. As a rule, Chinese firms buy finished vehicles and deliver them to the Kazakh border, where the shipment is picked up by a local transport company. Then, the shipment can go directly to Russia by land or be re-exported to Russia through Belarus.
There is no reliable statistical data on the supply volumes. Russian companies engaged in new logistics schemes estimated that, so far, the number of delivered finished vehicles is far from the legal imports preceding the Ukraine war. However, the supply of vehicles is picking up the pace tremendously and has already started to affect the price situation in the Russian automotive market.
In addition, some carmakers may be aware of parallel import schemes and even favour them, another source in the automotive industry told Russian outlet AutoNews. At least one Western carmaker unofficially exported spare parts, including engines, to its former Russian dealers. That brand left Russia last year, as many did, with Nissan being amongst the last but still wants to maintain a good reputation in the local market, the source said.
Avtovaz rings the bell
Russian carmaker Avtovaz has recently applied to the Russian government asking to raise the fee on finished vehicle imports, in a move that the Russian press linked to the parallel imports.
Russian news outlet 5koleso estimated that the current scale of finished vehicle imports to Russia poses a threat to local carmakers Avtovaz, GAS and UAZ. If the government chooses to support Avtovaz, prices in the Russian finished vehicle market will rise, aggravating the shortage in the local market, the publication warned.