Nissan is selling its manufacturing and R&D operations in Russia, and will take a "one-off impact" cost of roughly 100 billion yen ($687m) in doing so. Renault-Nissan had been the largest carmaker in Russia by some considerable distance, and along with AutoVaz (of which Renault Group owned 51%) it sold more than 533,604 vehicles in 2021, according to figures from the Association of European Business (AEB).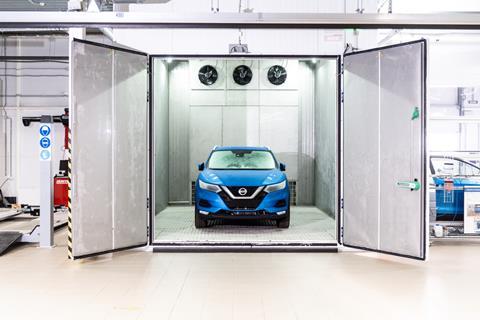 Nissan is selling all of its Russian operations to the Central Research and Development Automobile and Engine Institute (Nami). The state-owned entity will take on all Nissan's passenger vehicle projects and facilities in Russia, including its manufacturing plant, and research and development centre, both of which are in St Petersburg. It will also take over Nissan's sales and marketing operations in Moscow.
Renault Group also agreed to sell its 68% interest in AvtoVaz to Nami back in May this year. It agreed to sell 100% of its shares in Renault Russia to Moscow City at the same time.
Following the sale of the Nissan operations, the facilities will operate under a new name yet to be announced. Nissan suspended operations at its plant in St Petersburg in March, following Russia's invasion of Ukraine and in a press statement said that it "assumed zero activity in the market this fiscal year" so that, although it will continue to report financially until the end of the year, this is not expected to impact any predictions for the wider Nissan company.
Tough market
The Russian domestic car market has fallen significantly in 2022, dropping by 60 over the first nine months of the year. Only slightly over half a million vehicles have been sold since January, although over 242,000 of those were SUVs, suggesting a passenger car market still exists in the country despite heavy sanctions. There has been a very small recovery in August and September, with sales rising 3% each month, after a nadir in May.
Nissan's executive committee has agreed the sale but it has yet to complete, expected to be done in the coming weeks. Under the agreement, Nissan's employees will be guaranteed employment protection for a year and it contains terms that would allow Nissan the option to buy back the entity formed under Nami and its operations within the next six years, should the outlook in Russia improve.
"On behalf of Nissan, I thank our Russian colleagues for their contribution to the business over many years. While we cannot continue operating in the market, we have found the best possible solution to support our people," said Nissan president and CEO Makoto Uchida.
Nami is a 104-year-old institute established in the Soviet era, originally set up to research and build tractors as part of rapid mechanisation of farming, as well as trolleybuses and public transport. It then developed petrol and diesel engines that were used in cars and trucks, and continued, following the end of the Soviet Union, after it was transitioned into a state scientific centre.