United European Car Carriers (UECC) has ordered a third battery-hybrid LNG (liquefied natural gas) pure car and truck carrier (PCTC) from China Ship Building Trading Company and Jiangnan Shipyard Group.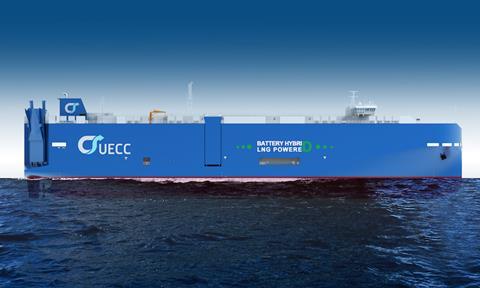 The shortsea services provider ordered two similar vessels from the ship builders in March with an option for two more. The latest is destined to serve on the company's Atlantic short-sea trade routes.
"This order is another step in our commitment to cleaner shipping," said Glenn Edvardsen, CEO of UECC. "Our experience with LNG dual-fuel vessels has been good, and we want to keep moving forward to expand our sustainable fleet."
The company has run two dual-fuelled LNG vessels since March 2017 and the pair, Auto Energy and Auto Eco, were recognised as the two most environmentally friendly vessels calling at the ports of Bremen in northern Germany in Bremenports' Greenports Award 2019.
With the addition of battery-hybrid technology, the three new ships raise the environmental protection bar even further, UECC argued.
"When our third battery-hybrid LNG PCTC is delivered in 2022, it ushers in a new era for UECC and short-sea shipping in Europe," said Edvardsen. "That will give us a total of five eco-friendly vessels in our fleet. This represents more than 50% of the UECC-owned fleet, and no other short-sea company, or deep-sea for that matter, can demonstrate such a sustainable fleet."
Pointing out that ordering a ship is a significant and long-term investment, he said the company felt its choice with the first two LNG vessels had been justified after nearly three years of operation. "This experience gives us the confidence to move forward with even more eco-friendly technologies," said Edvardsen.
The new battery-hybrid technology will take UECC, equally owned by Nippon Yusen Kabushiki Kaisha (NYK) of Japan and Sweden's Wallenius Lines, beyond the International Maritime Organization's (IMO) target of a 40% reduction in carbon intensity by 2030.
Battery power will also improve operational efficiency and cut emissions through peak shaving, in addition to handling partial accommodation load and driving auxiliary equipment.
"It also provides an option for reducing emissions while in port, and that is becoming more important for many cities," Edvardsen said.