Last autumn Dr Susanne Lehmann joined Volkswagen Group's joint venture with Chinese vehicle maker SAIC – SAIC VW – as executive director of logistics. She talks to Automotive Logistics about managing Covid lockdowns and supply chain disruption in China with new tools and closer supplier collaboration, and the fast pace of digitalisation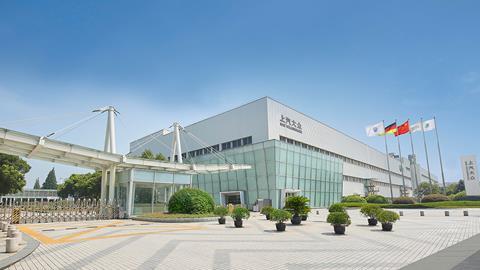 Volkswagen's 50:50 joint venture with China's largest vehicle maker, SAIC, was first established in 1984, making it one of the oldest automotive joint ventures in the country.
Since then, SAIC VW Automotive (SAIC VW) has grown to encompass ten facilities making VW, Audi and Skoda brand vehicles, as well as powertrains and batteries. The company has its headquarters in Anting, near Shanghai on the east coast, where most of its factories are sited, surrounded by a large conglomeration of suppliers. At least 80% of the carmaker's supplier base sits in either Anting or the greater Shanghai area.
However, its production network crosses some impressive distances as well. Its Changsha plant is 964km to the west in central Hunan province and the Urumqi plant even further, at 4,000km in the north-west of China, in Xinjiang province. SAIC VW is also distributing finished vehicles across those vast distances, equal to 2m vehicles per year in normal times.
Since it was established, SAIC VW has grown into a more sustainable enterprise, balancing its increasing production of electric vehicles, typically referred to as new energy vehicles (NEVs) in China, with an emphasis on working toward a carbon-neutral supply chain. Those aims are supported by the latest digital tools, which carmakers in China, including SAIC VW, are often embracing at a much faster rate than in Europe.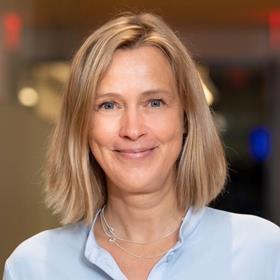 Dr Susanne Lehmann moved to join SAIC VW as executive director of logistics in October last year. She was previously senior director of production for the North American region at Volkswagen de México. It is not the first time Lehmann has worked in China for SAIC VW, having previously worked as senior logistics planning manager for the joint venture between 2004-2007. However, the company has grown tremendously in that period, expanding its production, distribution and supplier base across the country.
Watch the full video interview with Dr. Susanne Lehmann, executive director logistics at SAIC Volkswagen
Covid lockdown
At the same time, moving to the company just ahead of a two-month wave of hard lockdowns in Shanghai and other cities under China's zero-Covid policy certainly presented a host of different challenges for Lehmann. Those included significant port congestion and disruption to supplier production that impacted the OEM's plants. Thankfully, as of the beginning of June those restrictions are now easing and the recovery is happening fast, though Lehmann anticipates it being more like the end of the year before a full recovery is felt in the market. That is part because the recovery is not synchronised between regions. One example is seen in Jilin, where another of VW's joint ventures with FAW has its factories. Attempts to ramp up production earlier depended on deliveries from the suppliers in the Shanghai area and that region reopened later.
Reflecting on the recent crisis, Lehmann describes the situation as having been "simply another dimension" for the supply chain team.
She says VW SAIC worked hard to support the government policy on controlling the spread of the coronavirus by applying strict hygiene and safety protocols as it tried to maintain production.
Maintaining production through the lockdown also meant staying in close contact with the carmaker's tier suppliers and keeping them in the loop about the status of production at the plants, as well as requiring these suppliers to keep VW SAIC informed of whether they would be able to produce enough parts and where they are in the inbound delivery process.
"We have direct SAIC companies in our supplier force so we can also use these, use the direct connections, the market power that SAIC has. It also gives us big advantages in parts allocations in the case of scarce resources" – Dr Susanne Lehmann, SAIC VW
Now, with the easing of restrictions, the supply chain and logistics team is looking beyond the crisis and back to China's growth and role in VW Group's global strategy.
"It is about the strategic outlining of our future here, including future projects in the factories, and innovation and digitalisation in production and logistics," said Lehmann. However, it is the pace of change in China that is perhaps the biggest change Lehmann is now dealing with.
"We have a huge network of suppliers [and] 3PLs," she said. "We have all the digitalisation which is happening here very much faster than in Europe. So, the pace of what we are doing here in innovation, in volume, in production, in expanding our network is really huge, and has been huge over the last years."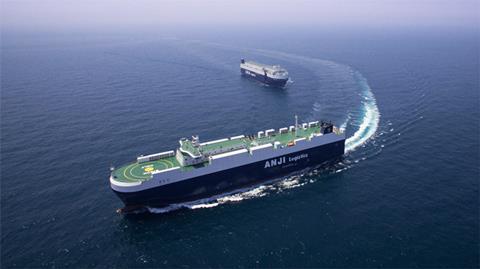 Combined network
Lockdowns in China, together with the global semiconductor shortage, have put more pressure on logistics teams to keep production lines running. According to Lehmann, her department has been successful in finding additional and alternative sources for the chips, and sometimes more cost-effective technical contingencies.
"This is really something which is super here, which is functioning very well and it's also because we can count on the huge experience and network of both joint venture partners, Volkswagen and SAIC," says Lehmann.
The combined companies have an extensive global network and it is about levelling the strengths and benefits of both.
"We have direct SAIC companies in our supplier force so we can also use these, use the direct connections, the market power that SAIC has," says Lehmann. "It also gives us big advantages in parts allocations in the case of scarce resources."
Lehmann says it is easier to 'breathe' and compensate for volume fluctuations within a larger supply network that includes SAIC Motors and VW Group supplying to SAIC VW.
Logistics companies are also a big support here. Trust and cooperation with dedicated logistics providers has never been more important, something SAIC VW has in Anji Logistics through the joint venture SAIC set up in 2000 – SAIC Anji Logistics. Anji-Ceva Logistics, formed in 2002, is one of the largest contract logistics providers in China and provides support for inbound logistics.
"We've had Anji for years as a trustful, very cooperative partner and that is helping us out a lot in this crisis," says Lehmann.
Global resources
Lehmann is also able to draw on the benefits of the global VW Group Logistics organisation to plan its ramp-up and volume-recovery programmes, and often that can involve daily calls with colleagues in Germany to ensure the company is allocating resources evenly.
"There is clear alignment and clear rules that we are all following, and even our recovery programmes are acting within the rules and guidelines of Volkswagen," says Lehmann.
"We have a huge network of contacts – 3PLs, transport providers, custom providers and agents – that we're using now to get this visibility" – Dr Susanne Lehmann, SAIC VW
The combined networks also mean Lehmann's team can draw data from a wide network of contacts and build transparency into the supply chain. That helps in identifying where material and parts are when planning production in a crisis.
"We don't have the 100% coverage we need but we are trying to get hold of our supplier and transit data," said Lehmann. "We have a huge network of contacts – 3PLs, transport providers, custom providers and agents – that we're using now to get this visibility."
The carmaker is still issuing EDI for many areas of its logistics communication and operations with suppliers and logistics providers, such as purchase orders and inventory documents, but Lehmann admits that does not provide enough detail on all areas. For example, there is limited detail on production plans and shift patterns for forecasts, in part because the information can be seen by third parties and certain information is protected.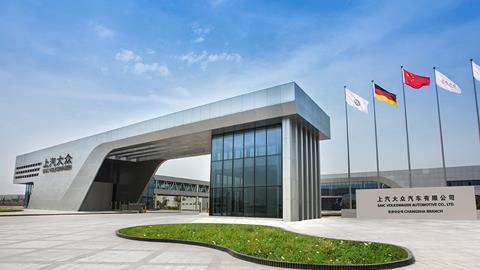 As a result, SAIC VW is looking to extend its communication beyond EDI to include real-time forecasts and parts demand simulations drawn up collaboratively with its suppliers.
"On a short-term basis, that could give them give them much more flexible production scenarios but also more compliable numbers," said Lehmann. "That is what we are actually trying to do and doing it quite successfully."
Lehmann admits that communication with suppliers sometimes comes down to the phone or the social media platform WeChat, which is a fast way of getting information but is not secure or confidential enough for exchanging data with suppliers.
Nevertheless, drawing on the resources of the combined company and communicating faster with suppliers during the Covid crisis to try and get a better picture of parts location in the supply chain has made the company more aware that it needs 100% secure visibility of the supply chain. It is now working on that goal with determination because, as Lehmann says, "this will not be the last crisis".
Multimodal logistics
Supply chain visibility will be important both domestically and for international shipments. For the more established vehicles made in China, around 95% of content is sourced within the country. As indicated, the majority of that is coming from the supplier conglomeration around Anting. However, it also means having visibility on parts being shipped to the plants in distant Changsha and Urumqi. SAIC VW is using road, rail and inland waterway for these long-distance domestic shipments. Lehmann says that maintaining stable supply to these locations can be a challenge, not least because of the challenging weather conditions that can affect transport during the year.
For the newer models made in China, such as those from Audi, there is higher percentage of parts coming from overseas. Those parts are coming from Europe mainly but also from other Asian countries, including South Korea, as well as from the US and Mexico.
"We are trying to avoid transporting batteries for longer times on a normal diesel truck. This is a no-go. In the planning as well as in operations" – Dr Susanne Lehmann, SAIC VW
As with its logistics within China, SAIC VW is putting emphasis on coordination in logistics for international shipments that have longer timelines, whether from wider Asia, Europe or North America, and the company is using digital tools to manage that coordination with its suppliers. The mission is to coordinate functions more quickly but also more securely.
Lehmann says logistics is working with production and development teams to put automated warnings in place that indicate when a long lead time could risk missing a production deadline.
"We are generating hardware and software combinations – warning functions are really telling us, 'hey, careful with the long lead time, you cannot reach us on this production date'," explains Lehmann.
"Together, we are generating software flashing as a standard process," she says. "That is still pretty new for us, and we have to develop and stabilise it."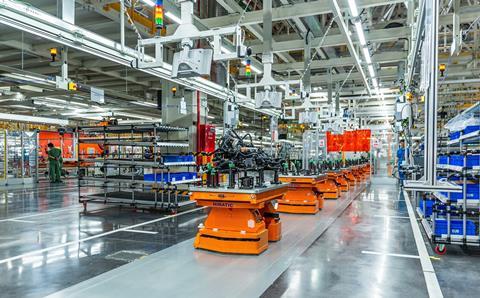 Lehmann says such automated warnings will become a standard function in the years to come and as the carmaker works toward the ambition of over-the-air technology across a broad range of functions.
"Logistics is more and more not only the muscles but the brains coordinating all these functions," says Lehmann, adding it is a direction heavily dependent on software developments and the realisation of software-defined supply chain.
Automating uptime
Brains coordinating muscle is also evident in the control system SAIC VW is developing in-house to capture data on automated guided vehicles (AGVs), otherwise known as autonomous mobile robots (AMRs). That technology is designed to support predictive maintenance.
There is an emphasis under Lehmann's leadership on optimising the feed of parts to the production line that takes into account the performance of the equipment being used to get it there. That includes battery performance, charging times and the choice of when for how long to charge the equipment to avoid downtime.
"We are designing and developing our own control system to include all the logistics equipment [moving product around]," said Lehmann. "[The aim is] to get it controlled, to get it into our predictive maintenance program and reduce the downtimes to zero (or near zero) because our logistics operation has to keep running."
Given the disruptions that were hindering production in China, Lehmann says that when the company can make the vehicles it wants to, it wants to do it at full speed, and that will certainly be the case as it recovers lost production. That means it cannot afford any logistics error to hinder production. She says the company is looking to the technology being developed in Europe and adds that the control system it is currently working on will be state-of-the-art.
VW Group Logistics is employing a number of new technologies to digitalise and automate logistics processes and more accurately capturing data from that equipment to prevent downtime.
Simulation with suppliers
At the same time, SAIC VW is looking for fresh innovative input when it comes to processes and optimisation. That includes from its parts suppliers.
"We're working intensively with suppliers, talking about capacities, talking about simulations, program ideas and the production plans that we have both in common," said Lehmann, adding that the input from those suppliers was crucial.
Lehmann is working with colleagues in purchasing and IT to build trustworthy and cooperative relationships with the company's suppliers. At the same time, SAIC VW is focusing on digital technology with those suppliers, running simulations together and working with AI to establish any restrictions and define the optimisation targets for its production programmes.
"I can, for example, try to optimise for CO2 [emissions], or I can optimise it financially," says Lehmann. "I can try to optimise for the usage of my capacity and production. We work with all these conditions together with our supplier base. This is my dream and it is what we are really working on together.
Sustainable strategies
VW's commitment to making less-polluting cars is a core objective and global effort. That is seen in Germany, with the transformation of plants such as Zwickau and Emden into pure EV manufacturing locations, part of the VW Group's New Auto strategy. In China, SAIC VW is now producing the VW models ID.4, ID.6 and ID.3, as well as the Audi Q5 e-tron.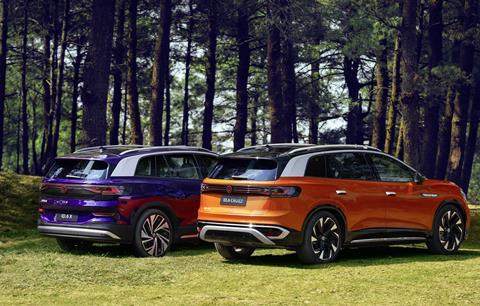 At the same time, VW has made it clear that it makes little sense to make a zero-emission vehicle if it is not also carbon-neutral in its production and supply chain. That goes for both domestic and international shipments.
"I have mentioned the distances, the huge number of kilometres that we have to overcome in our production network," says Lehmann. "We are preparing and working on alternative transport methods, including green trucks. This is what we are working on now with our 3PLs and doing some very successful pilots."
Those pilots are based on a stable planning process incorporating practical logistics and ecological factors.
"For example, do we really have to bring aluminium from Europe to Anting [and then] Changsha?," asks Lehmann. "Can we not push localisation initiatives for those especially big and heavy parts? We are trying to avoid transporting batteries for longer times on a normal diesel truck. This is a no-go. In the planning as well as in operations."
SAIC VW's vision of more sustainable local and global production and supply footprint goes beyond the disruption it has recently experienced. While it is currently hard to predict exactly how the market will develop in China over the near term, production is expected to increase again, especially for EVs, and Lehmann is working with her colleagues to support that with strong supply chain logistics planning.
"We cannot afford to be late with our products, or to be late with new functions to manage whatever disruption there is in the production and logistics process," says Lehmann. "This is what we have to generate – a stable, forward-looking, simulative, cooperative network and that is my goal."
For more on SAIC Volkswagen, watch the full video interview with Dr. Susanne Lehmann.