Puebla and Volkswagen have long gone together and are vitally important to one another. Now that Audi is joining the Mexican fray, the group has established new organisations and networks across North America. Automotive Logistics finds out more about this multi-brand, multi-country approach to purchasing and logistics
Puebla, tucked between Mexico's two coasts and its teeming capital Mexico City, has been home to many peoples and conquistadores over the centuries, all of whom have left their mark. There are the pyramids of the ancient Olmec civilisation, Aztec ruins, Spanish colonial architecture, French-style wrought iron balconies and monuments to Mexican generals and revolutionaries.
Along with a rich past, Puebla is today cosmopolitan in a way that is distinctly Mexican. Global brands fill billboards and shop fronts, while textile factories in the region produce some of the garments that supply them, with most exported to the US. Along with modern manufacturing and IT industries, it continues to produce Talavera clay tiles and pottery by methods unchanged for hundreds of years. In restaurants, universities and businesses you'll hear words exchanged in Spanish, English, German, French and other languages, with the poblanos themselves often speaking several.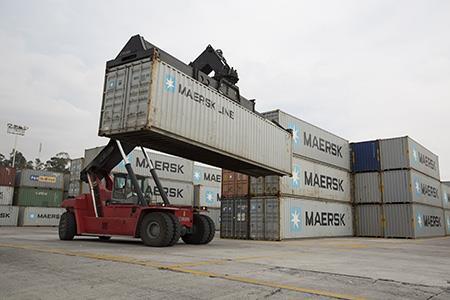 An open trading and business climate has kept this landlocked region, surrounded by mountain ranges and volcano peaks, international and well educated. A big reason for that is the presence of another long-time European inhabitant (conquistador might be going too far). For 50 years, Volkswagen, with its factory and national headquarters in Puebla, has made a major impact on the regional economy, infrastructure, education system and even culture.
The plant, one of the largest in North America and for the Volkswagen Group globally, has capacity to build 2,500 units per day (it is currently running at around 1,900 as the carmaker resolves its diesel emissions scandal in the US). It employs around 14,000 people directly and tens of thousands indirectly in the supply chain. Also under its remit is an engine plant 500km away in Silao, in Guanajuato state, which produces TSI engines for Puebla and the Volkswagen plant in Chattanooga, Tennessee.
The rest of Puebla state is set to become even more international – with a Bavarian flavour – as Audi starts serial production later this year in San José Chiapa, 70km north-east of Puebla, with a capacity of 150,000 units per year.
Over the decades, Volkswagen has also shaped much of the region's infrastructure and logistics services, thanks to close links between Volkswagen de Mexico and the state and federal governments. Rail lines connect Puebla northbound to the US and east to Mexico's largest port, Veracruz; it is well served by autopistas and toll roads to Mexico City, the central Bajío region and west coast ports like Manzanillo and Acapulco.
Puebla continues to develop around its car producers. Before the local government built a highway exit and B road to the San José Chiapa plant, it would have been hard to identify this small town without driving past it. New rail links have been built to handle both containers and finished vehicles at the plant and the government has plans to build a model city that will house many of the plant's workers.
Roads are also being expanded closer to the city of Puebla. For example, a second storey is being added along a 13km stretch of motorway between the plant and a local stadium, designed to relieve traffic bottlenecks and decrease the driving time between Puebla and Mexico City.
Volkswagen's presence is felt well beyond the manufacturing industry and supply chain in Puebla; in some ways, it is as embedded into the political and cultural fabric of the region as mole poblano, a traditional spicy chocolate sauce. It is hard to find as high a concentration of VW-brand cars outside Wolfsburg. The city has many German restaurants, hotels and language schools, and Volkswagen has even developed local training institutions that follow Germany's dual vocational education system. The local government has built a similar training centre in San José Chiapa. Many managers for both plants (including all of the early hires at Audi) have had training or assignments in Germany and a large number of Mexican workers here and at suppliers learn the language.
The ties run so deep that it is common to meet locals with typically German names or complexions, the second or even third generation progeny of workers and managers who came to toil at the plant and never left. An example can be found in the purchasing offices at Volkswagen de Mexico, where you might be forgiven for asking Hans Dieter Wesche, head of purchasing for logistics and general services, where in Germany he comes from. In fact, he is Mexican, born and raised, and has worked at Volkswagen de Mexico for 31 years, as had his German-born parents before him.
Building on history
This cultural, economic and educational integration between Volkswagen and Puebla is important for the next phase of development for Volkswagen Group in the region and across North America. It is a history that is especially critical to Audi as it builds up a supply chain in what would otherwise be difficult new territory, relying instead on Volkswagen's experience and knowledge, including for developing new infrastructure or logistics.
"We have had to build up nearly everything completely new, not only the factory itself but also the logistics chain," says Peter Koltai, director of logistics and production control at Audi Mexico. "That means creating a completely new network of inbound logistics because of the requirements of Audi's in-plant logistics, as well as many aspects of the outbound network. We did this together with Volkswagen de Mexico."
Audi, with its greenfield plant site, has many aspects of its logistics that are separate from Volkswagen (see Volkswagen & Audi in Mexico part 2: Everything in its right place for more). However, combining resources across the brands has been imperative. With Audi in the mix, the group has changed how it procures and plans logistics for Mexico, including a new level of collaboration and integration across the North American supply chain for the plants in Puebla, Silao and San José Chiapa, with plans to eventually include the Volkswagen plant in Chattanooga, US.
This new structure has led to a further concentration of group functions and expertise in Puebla. While Audi is responsible for its own strategies, order management and operations, purchasing has been consolidated across the three Mexican plants within Volkswagen de Mexico. Meanwhile, Volkswagen Konzernlogistik (group logistics) at the group's Wolfsburg headquarters has established a regional office in Puebla whose aim is to reinforce common processes and standards across a new, integrated logistics network.
Although these changes predate the group's recent decision to concentrate more control in its regions, they align with the strategy. This past April, the group created the Volkswagen North American Region (NAR), which will integrate more operations across the US, Mexico and Canada. Volkswagen NAR includes a board structure covering multiple functions, including production, purchasing, sales and marketing.
Such multi-party collaboration is especially evident for the Volkswagen de Mexico logistics planning department, which participated together with Audi in the design of a new inbound 'NAR network'. The planning department has also taken a lead in many outbound projects across the plants in Puebla, San José Chiapa and Silao, including managing customs clearance, while revamping finished vehicle port handling and export flows.
---
"Volkswagen de Mexico has been here for so many years that its logistics teams are quite mature with a lot of local knowledge. We understand the suppliers, the big guys, the bad guys and the cultures around them" - Alfonso Gutiérrez, Volkswagen de Mexico
---
"We're working for Audi as our main client, starting first [at Audi headquarters] in Ingolstadt, and later locally in San José Chiapa," says Alfonso Gutiérrez, head of inbound and outbound logistics planning for Volkswagen de Mexico. "We're also working on behalf of Konzernlogistik and its regional office here in Puebla."
"For the inbound operation we have had a great partnership for many years," says Peter Haselwanger, head of transport logistics inbound at Audi Mexico.
"The best example of this cooperation is the NAR transportation network," he adds. "It was a common idea between Audi and Volkswagen de Mexico. Of course because of our experience in Europe, it was also clear that we should use experts from group logistics."
The result has been Volkswagen de Mexico's logistics planning team working directly with Audi Mexico's planning team in San José Chiapa, supported further by Konzernlogistik's regional office. The partnership has allowed both sides to benefit, including from scale but also 'boots on the ground' and expertise in Mexico.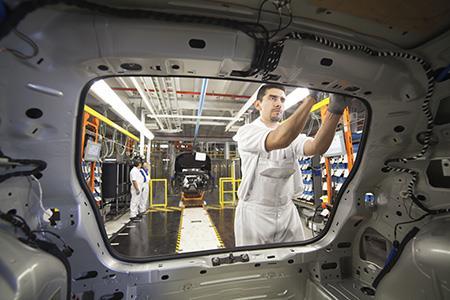 "Our intention was to bring the best concepts and processes for logistics that we have in Europe to Mexico," says Haselwanger. "However, when we got here, it was not completely clear how to do it, since we cannot always bring the same requirements to suppliers and hauliers. That is why it was so important to have Volkswagen de Mexico here to help us to understand the market."
This understanding of local suppliers and conditions is especially important in the Mexican context. "Volkswagen de Mexico has been here for so many years that its logistics teams are quite mature with a lot of local knowledge," adds Gutiérrez. "We understand the suppliers, the big guys, the bad guys and the cultures around them."
A new organisation and partnership
Among the important changes to emerge from the regional integration has been the group logistics' NAR logistics planning and control team, which acts as an umbrella organisation in the region emphasising standards, consolidation and common processes.
"We are looking for synergies, not only for the purchasing requirements, but also because of the big volume across the operations," says Jan Baumung, who is responsible for inbound logistics planning for NAR at group logistics and has been based at the regional office in Puebla since last year. "We want to pick up material together with one truck where possible, or combine the transport over long distances for Audi and Volkswagen here in Mexico."
Along with inbound under Baumung, there are also NAR personnel responsible for outbound logistics, ocean containers and empty packaging.
Group logistics has been involved in Audi's development beyond the regional office; it has sent staff to support the ramp-up and to suppliers to stabilise delivery. It also makes regular audits of logistics processes to validate their quality, according to Baumung.
The central purchasing group in Mexico has become more significant, now covering the three Mexican plants across all areas of logistics and customs within North America. This team is the responsibility of Hans Dieter Wesche in Puebla, with support staff for Audi at San José Chiapa.
"Bringing together this new network and combining our purchasing was a challenge and completely new for Volkswagen de Mexico, as we brought in purchasing for Audi," says Wesche, who took over logistics purchasing last September. "It required careful collaboration with our colleagues in logistics planning and in the group."
---
"Bringing together this new network and combining our purchasing was a challenge and completely new for Volkswagen de Mexico, as we brought in purchasing for Audi. It required careful collaboration with our colleagues in logistics planning and in the group" - Hans Dieter Wesche, Volkswagen de Mexico
---
This combination has clear opportunities for economies of scale. Peter Koltai points out that at full capacity, Audi would represent a quarter of Volkswagen's capacity in Mexico, while together the brands will be able to produce close to 750,000 vehicles and engines per year. "That gives us a better price with logistics providers and helps us secure capacity," he says.
Ocean freight for containers of complete knockdown (CKD) parts and ro-ro shipments of vehicles are procured centrally in Wolfsburg. However, Wesche's team is also responsible for sourcing and managing freight forwarders that consolidate less-than-container load shipments for Mexico out of Europe, South America and Asia.
The logistics and purchasing teams are also seeking advantages beyond scale. In creating the inbound NAR network, for example, Volkswagen and Audi are now using third party logistics providers to manage freight flows within North America, whereas Volkswagen de Mexico has traditionally sourced logistics lane by lane in the region.
"It has been a big change, but one for the good, as now 3PLs manage truck carriers and freight visibility through collections across North America," says Gereon Hempel, responsible for inbound and outbound logistics purchasing in Wesche's team.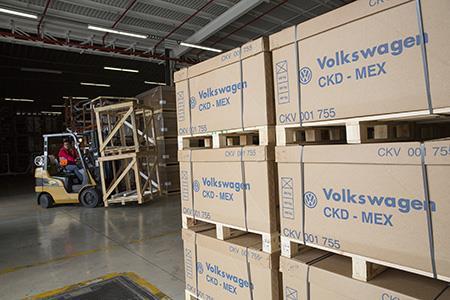 The purchasing team, together with logistics planning of Audi and Volkswagen, is also synchronising tenders to allow logistics providers to capture the most volume in either direction and to secure the right capacity. The growth of vehicle imports into Mexico, for example, is allowing Volkswagen to contract more return flows to and from Veracruz and Puebla.
Hempel says the strategic approach across the NAR network is a benefit of the closer partnership between planning and procurement teams. "It is a well-designed approach to have this constant communication and feedback with the logistics teams at both Volkswagen and Audi," he says. "We are always discussing what the next step should be."
Audi's logistics management also points to the strong benefits of the arrangement. "We have had a very strong collaboration with Volkswagen de Mexico, building on the foundation of what it has developed here in Mexico with 50 years of tradition and experience," says Peter Koltai.
Turn back the clock barely two years, however, and there were questions in Germany and Mexico over the best way to design and plan logistics for Audi Mexico and Volkswagen de Mexico. Should, for example, planning and network design be centralised with the existing team in Puebla? Should it be separate under Audi Markenlogistik (brand logistics) and local Audi Mexico staff? Or should it fall more directly under the central steering group logistics in Wolfsburg?
These questions are somewhat specific to the Volkswagen Group and its complex, multi-brand organisation. In Europe, the company has used this to its advantage, designing a shared network with specific services between regions, transport modes and providers. As well as dedicated full truckloads, there is a less-than-truckload cluster for small shipments, a specific parcel network, inter-plant rail links, as well as milkruns and consolidation across brands. A crossdock in Bratislava, Slovakia, for example, combines material from regional suppliers that is then moved in full truckloads or milkruns to Volkswagen, Audi, Skoda, Porsche and Seat plants across central and western Europe.
---
"We need to ensure our suppliers can produce at the quality and quantity that we need, and that our logistics providers can deliver parts to us at the required speed and timings" - Peter Koltai, Audi Mexico
---
In North America, Volkswagen has been more decentralised, with plants and national sales companies mostly separate. Volkswagen de Mexico has been responsible for most of its own logistics purchasing, planning and concepts within Mexico. In the US, the Chattanooga plant arranges its own logistics, even for suppliers that might be shared across Mexican plants. At the Volkswagen engine plant in Silao, for example, the local group's responsibility for US-bound exports ends at the plant dock, where a Chattanooga-appointed logistics provider collects it for delivery to the US.
Meanwhile, Volkswagen Group of America is responsible for vehicle and spare parts distribution within the US (though not for Porsche).
This separation has partly been a function of the company's relatively low penetration in the US and the fact that it does not have the same high concentration of suppliers in North America as it does in Europe. However, the Audi plant, together with expansion across the region, offers the potential of a network more in line with the group's European system.
The San José Chiapa plant, which will build the Audi Q5 crossover SUV, brings considerable expansion in the supply base, including around 180 suppliers across North America.
In Puebla, meanwhile, production of four compact cars – the Jetta, Beetle, Golf variant and Golf 7 – has declined over the past three years, hurt by a weak market in Brazil, sluggish demand for small cars in the US and the suspension of diesel model production for US-bound vehicles. However, Volkswagen is investing around $1 billion to produce the Tiguan SUV in Puebla next year, which is also expected to add about $1 billion in annual purchasing in the supply base. With the new model, as well as an agreement with the US government expected soon over fixing diesel emissions, the plant is expected to move back towards its 600,000-unit annual capacity over the next two years.
Chattanooga, which is expected to eventually join the NAR network, is also in the midst of an important expansion, as it is adding a midsized SUV to its line-up later this year that will nearly double the size of the factory (see recent Automotive Logistics Supply Chain conference report for more on Volkswagen's supply chain for Chattanooga).
Getting the network and 3PLs in the zoneIn building up a combined network, however, a copy-and-paste version from Europe would not work for North America. "As a team, we learned a lot in coming to Mexico," says Peter Haselwanger. "We know the European market very well, where we have split areas into very detailed segments for logistics. But we realised, of course, that it was not possible to implement all of those contents here, so we divided North America into regions."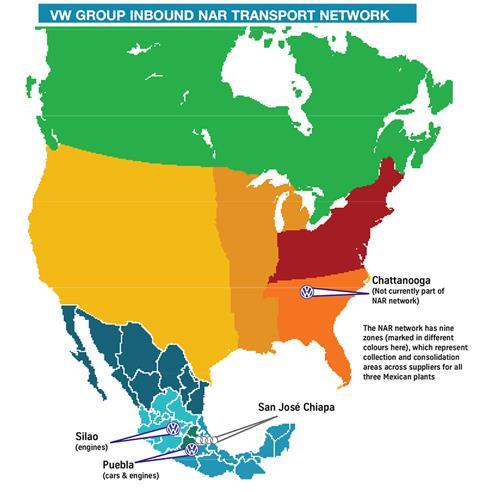 The NAR network is thus split by service specifications, with nine different zones across North America based on collection areas for suppliers (see left). Mexico, for example, has four zones: one includes the state of Puebla, the state of Veracruz, the south and south-west; another covers the state of Mexico (including the capital) and Hidalgo; a third zone is made up of the central Bajío region and Jalisco state; a fourth covers the north of the country.
The US, meanwhile, is also divided into four zones, including one covering the entire west, from Texas to the coast; a zone in the middle of the country, from Michigan south to Mississippi; one combining Indiana through to Virginia together with the Northeast; and another in the south-east region. Canada is a single zone.
This structure is in some ways a version of the traditional German approach of area forwarding, in which regions are each assigned to local forwarders that collect and consolidate material in those areas. In Europe, however, the group has also developed group-wide crossdocks to combine flows across as many Volkswagen brands as possible, as Jan Baumung notes.
In North America, Volkswagen has taken a similar strategy, although the crossdocks are of a lower scale, covering larger regions with fewer suppliers than in Europe. While high-volume suppliers will deliver by full truckload wherever possible, smaller suppliers are collected from via milkruns or move through crossdocks in each zone.
"Along with crossdocks in each zone, there is also a crossdock in Puebla that sorts material for full truckload delivery to Audi and Volkswagen," says Gutiérrez. "In the past, trucks could show up at the factory with just half a load. Now, every truck coming here from a long distance will be as full as possible, often combining loads between the plants."
Volkswagen has also changed the way it manages logistics in North America. For one thing, Volkswagen de Mexico had not previously been responsible for supplier freight from the US and Canada bound for Puebla until it reached the Mexican border, according to Gereon Hempel. Previously, suppliers managed delivery themselves, or Volkswagen Group of America did it.
Up to now, in most cases the company has also purchased its logistics lane by lane within North America without using a provider to integrate the services. "We had tried to use a 3PL within Mexico before, and it didn't work out," says Gutiérrez.
However, with both Audi and Volkswagen suppliers based at locations across the continent, the Mexican-based team is taking a more end-to-end approach.
3PLs are now responsible for managing the entire delivery process within a zone, including managing and subcontracting carriers, leasing and operating crossdocks and handling border handovers where relevant (customs clearance is handled separately, although the same 3PL can obtain the contract).
Part of the reason for splitting the region into zones was to increase competition and prevent Volkswagen from concentrating too much freight with any one provider. "That is something that we agreed together with our purchasing colleagues in that we didn't want to be depending on just one partner," says Haselwanger.
Thanks to the growth of the Mexican automotive market, the number of 3PLs interested in doing business with Volkswagen has grown. According to Hans Wesche, around 55 logistics providers were involved with the NAR tender.
"Not all of them eventually quoted, however those that did were checked by logistics planning to ensure they could meet our technical specifications," says Wesche. "Those accepted went into the negotiating round, from which we selected four 3PLs across the nine zones."
Mexico was split between two 3PLs: DHL Supply Chain and Grupo Sese – a Spanish provider that also operates the finished vehicle yard in Puebla and manages global flows to Puebla from both Europe and South America. North of the border, Ryder and Ceva each operate two zones in the US, while Ceva also handles Canada.
Ryder is also the lead logistics provider for Volkswagen in Chattanooga, however this is a separate contract.
---
"It is a well-designed approach to have this constant communication and feedback with the logistics teams at both Volkswagen and Audi. We are always discussing what the next step should be" - Gereon Hempel, Volkswagen de Mexico
---
Gutiérrez says the move to use 3PLs has been a significant boost to the carmaker's logistics processes across the region, especially thanks to improved visibility over each step in the transport process. As opposed to having dozens of carriers, the 3PLs provide a central office and IT system covering the entire network.
"In this upgrading of our logistics, we now have better visibility of our nodes, including over the US-Mexico border, as well as a reduction in damage, fewer disruptions at the plant and dedicated providers helping to be our eyes and ears on the ground," Gutiérrez says.
In time, according to Jan Baumung, the group may combine the freight flows across the 3PLs into a single transport management system, although for now the carmaker is satisfied with the providers' systems. "They know their business," he says.
Peter Haselwanger admits that some services and equipment, especially in Mexico, must be measured and understood differently compared to Europe, including around border crossings or certain route restrictions. "We face things that are less common in Europe, where you need to take a longer route to avoid certain areas," he says.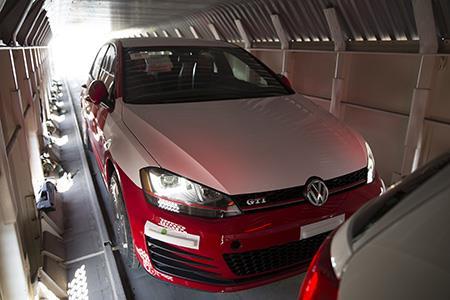 However, in other cases, Mexico has offered services you wouldn't expect in Europe. "For example, in Mexico, the truck driver of a 3PL will often scan the label of deliveries with his phone at the ramp of suppliers when making collections, while in Europe we don't usually get this level of visibility until the delivery reaches a crossdock," says Haselwanger. "Getting visibility back to the supplier is one key factor and is something which could be transferred to Europe."
From a purchasing side, Hans Wesche says it has been valuable to have a single point of contact for providers rather than dealing with many individual carriers. Volkswagen also tries to establish fairly long-term contracts of three to five years with its 3PLs, especially since they must manage their own personnel and infrastructure. "We want suppliers to grow and develop with us," says Wesche.
In cases where a supplier is considered strategic, Volkswagen will consider direct extensions to contracts when their term ends. "We close contracts with defined limits, but where the relationship is particularly fruitful, we can extend the contract without going to market or running a tender," says Gereon Hempel.
The possibilities still to comeStabilising the supply chain during Audi's ramp-up is a priority. Peter Koltai says that, while the carmaker is confident in the processes and its established network, it will be important to make sure that the plant and its employees can meet the required internal takt times, and that the supply chain can match them externally.
"We need to ensure our suppliers can produce at the quality and quantity that we need, and that our logistics providers can deliver parts to us at the required speed and timings," he says.
The inbound network is already ramped up, says Haselwanger. "But we are not starting with a big bang, but rather zone by zone. We have started with the local zone in Puebla, and Audi suppliers are already feeding into the network to secure the reliability of the requested processes."
"It helps that we share suppliers in a lot of cases between Audi and Puebla, and some with Silao," adds Jan Baumung.
---
"In the future we hope to create container pooling through the network of plants, including between Chattanooga and here in Mexico" - Jan Baumung, Volkswagen Group
---
Meanwhile, the group is also looking to the future and is excited about the possibilities the NAR network represents. Baumung hopes that Chattanooga will be included soon and even other group members, including Scania and MAN, which also have small production or business units in Mexico.
"In the future we hope to create container pooling through the network of plants, including between Chattanooga and here in Mexico," he says.
Intermodal logistics could be another area that would benefit from the combined network. Volkswagen de Mexico used an intermodal flow from the US to Puebla for one-and-a-half years, however it didn't match trucking in pricing and flexibility, says Gutiérrez. The company continues to check the market, however, and he suggests that the group's 3PLs might be better able to arrange it.
"It is hard to do it when you are planning transport lane by lane," he says.
Further integrating Chattanooga into the network could also increase intermodal flows, adds Baumung. "We also hope that we could revive our existing intermodal concept for material from the US. With Chattanooga in the network, we could potentially move by rail from Silao to the plant," he says.
The changes across the Volkswagen Group in Mexico have set a new course for the company's supply chain and logistics. The deeper ties with group logistics and with Audi, both in Germany and in Mexico, will remain or go even deeper. Each team is stronger for it, whether it is Audi gaining insight and influence across Mexico or group logistics getting more opportunities to combine flows and share packaging.
For Volkswagen de Mexico, its wider purchasing and logistics management in Puebla has – like the city itself, which has absorbed tribes, empires and nations – become all the more cosmopolitan, with a multi-brand, multi-country focus; it now procures and plans flows with its partners that stretch from Oaxaca to Ontario.
Alfonso Gutiérrez says he has been particularly impressed with how teams that ordinarily are in control have managed to compromise, share and learn from each other – and put egos aside.
Haselwanger adds that the biggest successes have come from the combination of different cultures and personalities. "Since we began we have become more productive, especially when you consider this process involves people who have been used to leading within their own functions and seeing only through their own lenses, and who are now exchanging information and open to support and integration between them."
For more on Audi, see Volkswagen & Audi in Mexico part 2: Everything in its right place. For more on the VW/Audi outbound logistics operation, see Volkswagen & Audi in Mexico part 3: Building in an extra level of efficiency.
We spoke to:
Peter Koltai, director of logistics and production control, Audi MexicoKoltai joined Audi in 1996, when he was closely involved in developing Audi's major engine and assembly plant in Gyor, Hungary. He held key roles at Audi's largest plant in Ingolstadt, Germany, including as head of plant logistics until 2013, when he was assigned to lead logistics for the San José Chiapa plant.
Peter Haselwanger, head of inbound transport logistics, Audi MexicoHaselwanger joined Audi's disposition department at Ingolstadt in 2007. He later changed to transport logistics and project management before taking over responsibility for planning of the NAR transport network. He joined Audi Mexico in August 2015.
Alfonso Gutiérrez, manager of inbound/outbound logistics planning, Volkswagen de MexicoGutiérrez was part of the finance controlling team for logistics at Volkswagen de Mexico before joining the logistics team; for eight years he's been responsible for material and vehicle transport planning for Puebla and Silao, as well as being involved in setting network budgets and strategies across the supply chain.
Hans Dieter Wesche, head of group purchasing for logistics and general services, Volkswagen de MexicoWesche has been working in purchasing at Volkswagen de Mexico for some 31 years, covering an extremely wide range of areas from catering through to production parts. He took over responsibility for logistics procurement in autumn 2015, with responsibility across Volkswagen and Audi.
Jan Baumung, head of inbound logistics planning for NAR at Konzernlogistik, Volkswagen GroupBaumung joined Audi in 2001 and spent ten years in logistics functions at the Ingolstadt and Neckarsulm plants. He worked for Volkswagen de Mexico for two years before being assigned to group logistics in Wolfsburg, and has been based at the Puebla regional office since 2015.
Gereon Hempel, inbound and outbound logistics purchasing, Volkswagen de MexicoHempel joined the purchasing team at Volkswagen two years ago following a six-month internship for the company. A German native, he joined the company directly in Mexico following studies at the Monterrey Institute of Technology.