Automotive supply chain executives are facing the huge task of planning volumes, investments and capacity in the face of extremely uncertain demand and risk. An unprecendented peak season in ocean container shipping, along with ongoing constraints in air freight, are only making the situation more challenging. Watch how OEM, tier 1 suppliers and logistics providers are managing this, including shifts towards weekly or even daily updates and optimisations.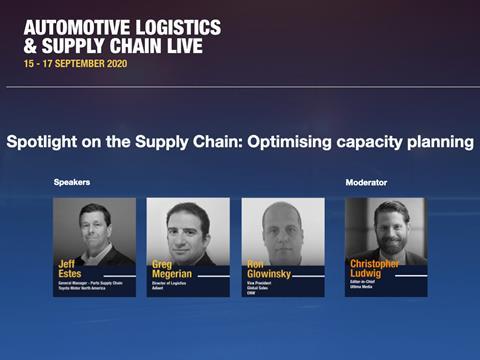 Featuring:
Jeff Estes, general manager, parts supply chain, Toyota Motor North America
Greg Megerian, director of logistics, Adient
Ron Glowinsky, vice-president, global sales, CNW
Moderated by Christopher Ludwig, editor-in-chief, Automotive Logistics and Ultima Media
This session was held on September 15th during the Automotive Logistics and Supply Chain Live virtual conference. Click here to view all videos from the conference on demand.