Ford has been forced to suspend assembly of the F-150 Lightning electric pick-up truck at the Rouge Electric Vehicle Center in Dearborn, Michigan because of a problem with the lithium batteries being supplied by SK On to power the vehicle.
Assembly at the Ford plant has been halted since February 5. SK Battery America, a subsidiary of SK On, is also looking at suspending its production of the batteries at its factory in Commerce, Georgia.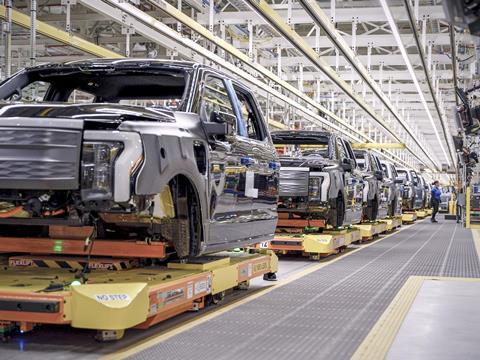 Ford has also stopped all deliveries of the vehicle to dealers while it works through engineering and process updates. So far it has issued no recall for models already sold, stating that it had no reason to believe F-150 Lightnings already in customers' hands were affected by this issue.
The fault was discovered during a standard pre-delivery inspection quality check, according to the carmaker.
"One vehicle displayed a battery issue and caught fire," said a spokesperson for Ford. "We believe we have identified the root cause of this issue. By the end of next week (February 24), we expect to conclude our investigation and apply what we learn to the truck's battery production process; this could take a few weeks."
Full production of the F-150 Lightning began at the Dearborn facility in April last year. Sales climbed above 13,000 by the end of 2022. The company said it is ramping up production to deliver 150,000 Lightning trucks per year by the end of 2023.
Joint venture plans
Ford signed a joint venture agreement with SK Innovation in 2021 called BlueOvalSK to produce around 60 gigawatt hours (GWh) a year with scope for expansion by the middle of the decade.
That venture aims to support Ford's $11..4 billion investment in EV production. That includes $5.6 billion for a 'mega-campus' in Stanton, Tennessee, named Blue Oval City, which will house a BlueOvalSK battery plant, an assembly line for electric F-Series pickup trucks, key suppliers and recycling.
Ford and SK Innovation are also constructing a $5.8 billion BlueOvalSK Battery Park in Central Kentucky, which will involve "twin battery plants" to produce EV batteries for Ford's North American assembly facilities rolling out electric Ford and Lincoln vehicles.
When it signed that agreement Ford said its global battery electric vehicle (BEV) plan called for at least 240 GWh of battery cell capacity by 2030, approximately the amount generated by 10 plants, according to the company. Approximately 140 GWh of that output is required in North America, with the balance dedicated to other key regions, including Europe and China.
Globally, Ford said it would spend $30 billion to electrify products by 2025, adding that by 2030 40% of the vehicles it sold would be electric.
Last week the carmaker announced an investment of $3.5 billion in a battery-making facility in Marshall, Michigan. The 35 GWh plant will make lithium iron phosphate (LFP) batteries for its electric vehicles (EVs) from 2026. It will be able make enough battery cells for 400,000 EVs per year.