Freyr Battery is inaugurating lithium-ion battery production on its demonstration line in Mo i Rana, Norway in March this year.
The battery maker will start sample production at its Customer Qualification Plant (CQP) based on the cell technology it licences from US-based 24M Technologies. The demonstration line will produce batteries based on 24M's SemiSolid lithium-ion battery platform. The company is holding a Chapter One opening event on March 28.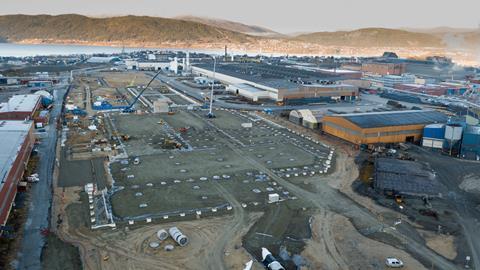 Freyr is launching demonstration production at the 13,000 sq.m CQP to make sample sales for its customers. It is also running test production on different materials and to train its operatives. Taken together the company expects to iron out any potential problems ahead of the official start of production at its GigaArtic battery plant, also in Mo i Rana, which is set for 2024.
According to Freyr, the 24M battery production process differs from conventional battery cell production by only having steps five steps in the production process, compared to usual 15-17 steps.
Speaking last December at an event at the Royal Society of Arts, Manufactures and Commerce in London, UK, Freyr Battery's co-founder and CEO, Tom Einar Jensen, said the modularised footprint his company was putting down in Mo i Rana, in northern Norway, will bring a step change to the low-emission, industrial-scale production of lithium batteries.
So far, the company has agreements to supply energy storage devices for customers including Impact Clean Power Technology. It has also set up a joint venture with Nidec for the production of an integrated battery energy storage, called Nidec Energy.
Localised production for the automotive industry is in high demand in Europe and in its fourth quarter update for 2022 Freyr said targeting the commercial and passenger vehicle markets to complement supply to the energy storage system market.
Last November Freyr also announced the purchase of a site for its Giga America battery manufacturing project in Coweta County, Georgia. The plant will begin production with 34 GWh capacity and an investment of $1.7 billion.