LG Energy Solution and SK Innovation are settling their legal dispute relating to EV battery supply in the US and South Korea.
As reported in February, SK Innovation was found guilty by the US International Trade Commission (ITC) of intellectual property theft from rival LG Chem in 2019 relating to goods imported to the US from South Korea. Parent company LG Chem launched LG Energy Solution as a wholly owned subsidiary in December last year.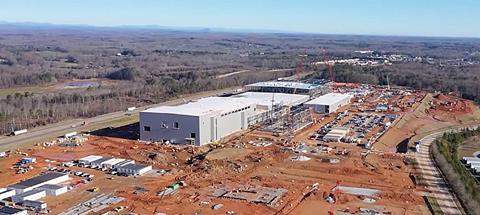 The settlement, which is welcomed by the Biden Administration, secures much needed capacity in US battery production as the country struggles to fulfil its goals for localised EV production and a cleaner automotive market.
"North America is desperately lagging behind in the global EV battery arms race," said Daniel Harrison, analyst at the Automotive business intelligence unit of Ultima Media.
"Despite well-intentioned plans by American OEMs to go fully electric, there are simply not enough batteries to make this possible."
As part of the agreement SK Innovation will pay LG Energy Solution $1.8 billion in lump sum payments and the companies will withdraw all pending legal disputes in the US and South Korea. SK Innovation will also pay a 'running royalty' to LG Energy Solution – that is money paid granting a right to use property or a business idea on the basis of number of units produced or sold.
| Region | Current plants | Future confirmed plants | Total current and confirmed future plants | 2020 capacity (GWh % share) | 2030 capacity forecast(GWh % share) |
| --- | --- | --- | --- | --- | --- |
| Asia Pacific | 99 | 56 | 155 | 345 GWh (77%) | 1,627 (57%) |
| Europe | 11 | 26 | 37 | 60 GWh (13%) | 950 GWh (33%) |
| North America | 8 | 10 | 18 | 45 GWh (10%) | 280 GWh (10%) |
| Total | 118 | 92 | 210 | 450 GWh | 2,857 GWh |
"LG Energy Solution and SK Innovation have decided to settle to compete in an amicable way, all for the future of the US and South Korean electric vehicle battery industries," said Jong Hyun Kim, CEO and president of LG Energy Solution and Jun Kim, CEO and president of SK Innovation. "We are dedicated to work together to support the Biden Administration's climate agenda and to develop a robust US supply chain."
The litigation action included a proposed ten-year ban on SK Innovation making or supplying batteries into the US, which threatened US President Biden's goals for a more sustainable automotive industry. The ITC's finding could have closed SK's plant in Tennessee, in which it has already pledged to invest $1.7 billion and which is due to open early next year, supplying Volkswagen. It also jeopardised plans by SK Innovation for a second $2.6 billion battery plant in Georgia.
Speaking over the weekend, just hours before he had to potentially reverse the decision taken by the ITC, Biden welcomed the settlement between the two lithium battery suppliers.
"This settlement agreement is a win for American workers and the American auto industry," said Biden in a statement. "A key part of my plan to Build Back Better is to have the electric vehicles and batteries of the future built here in America, all across America, by American workers."
Biden said the US needed a strong, diversified and resilient EV battery supply chain to meet growing global demand EVs and components, adding that the settlement was a step in that direction.
Lagging capacity
According to Harrison the case goes way beyond a dispute between the two companies and involves the future of North American EV production.
The only significant lithium battery cell production plant in the US is the 35 GWh Tesla/Panasonic gigafactory in Nevada, according to Harrison. LG Energy Solution and SK Innovation are currently the only two other major cell manufacturers with plants in the process of being constructed. What is more, North America only accounts for 10% of global capacity at the moment, and as China and Europe rapidly expand, North America, even with rapid growth, will only maintain that relative 10% market share by 2030, Harrison pointed out.
"As the US looks to electrify, the US administration is so concerned about this current overreliance on importing batteries from Asia, that President Biden recently issued an executive order to examine the supply chain for critical resources, including semiconductors, rare elements and lithium batteries for EVs – which the Biden administration hope to rapidly increase to mitigate climate change," said Harrison.
In that context, the last thing the US administration wants is for SK Innovation to be banned and potentially discourage other cell manufacturers from investing in plants in the country.
Harrison said it was little surprise that there was considerable political involvement and pressure on LG Energy Solution and SK Innovation to resolve the dispute with a payment of $1.8bn, allowing the latter to continue with its two plants In Georgia, US, and to help towards America's development of a domestic EV battery supply chain.