Volkswagen Group and its PowerCo battery division, which was set up in July this year, are looking for locations in Canada to build a lithium-ion battery gigafactory.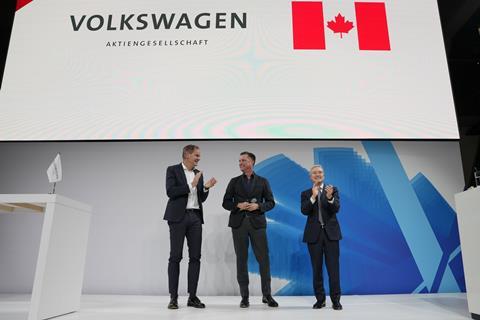 Last week, VW's CEO Oliver Blume and François-Philippe Champagne, Canadian Minister for Innovation, Science and Industry, signed an addendum to the original agreement drawn up in August this year aimed at setting up a battery supply chain in the country.
Blume said Canada was "the logical option" to build a gigafactory in North America because of its sustainability standards, economic conditions and supportive government policy.
"This is just the beginning," said Blume. "The EV market in North America is at a turning point and we're committed to investing across the entire region to leverage this historic chance for Volkswagen and our customers."
VW began building its ID.4 pure battery EV at its Chattanooga plant in Tennessee in July this year and is keen to localise battery production in the region.
The plans in Canada include the localised sourcing of rare earth metals. The original agreement is based on cooperation between PowerCo and the Canadian mining sector aimed at securing the responsible sourcing of minerals. Canada is estimated to have 2.9m tonnes of unmined lithium reserve, according to government figures.
"For each investment in environmentally sustainable battery production, we will not only consider site characteristics and infrastructure but also, and especially, the availability of adequate quantities of energy from renewable sources and competitive financial conditions, said Thomas Schmall, head of technology at PowerCo.
Canadian cathode
Alongside the agreement with the Canadian government, PowerCo and Belgian materials technology provider Umicore are working on a strategic supply agreement for cathode material for North America. It builds on an agreement signed in September this year for the development of regional supply chains for sustainable cell production in Europe from 2025. According to that agreement, VW said that by the end of the decade, the partners will produce cathode materials and their precursors for 160 GWh of cell capacity per year in Europe, corresponding to an annual production capacity of about 2.2m pure EVs.
The extension of agreement between PowerCo and Umicore to include Canada aims to secure cathode materials and their precursors for future cell production equal to a volume of 40 GWh per year in 2030. That corresponds to about 550,000 pure EVs, according to the company.
Umicore plans to start construction of a plant for the large-scale industrial production of cathode materials and precursors in Canada from 2023 onwards. This plant will be the first of its type in North America.
"This partnership will provide PowerCo with access to locally produced cathode materials for cell production in North America," said Jörg Teichmann, chief purchasing officer of PowerCo. "We will benefit from tried and tested cooperation and the product quality of Umicore."
Learn more about VW and PowerCo's plans for battery production in Europe and stay posted for the forthcoming interview with Matthias Braun, head of battery cell logistics at PowerCo in the next edition of Automotive Logistics magazine, which returns to print in the new year.