Volkswagen Group is investing €10 billion ($10.6 billion) to build a lithium battery gigafactory in Sagunto, Spain as it accelerates the localisation of battery production for its electric vehicles (EVs) in Europe. At this year's Automotive Logistics and Supply Chain (ALSC) Europe conference, Matthias Braun, head of battery cell logistics at the VW brand, explained why the carmaker is investing more in European battery production and what that means for its logistics and supplier base.
The 40 GWh gigafactory in Spain, announced this week, represents the single largest industrial investment in the country's history, according to VW. Construction will begin in first quarter of next year and the plant will supply batteries to the Seat plant in Martorell and the VW Navarra plant in Pamplona from 2026.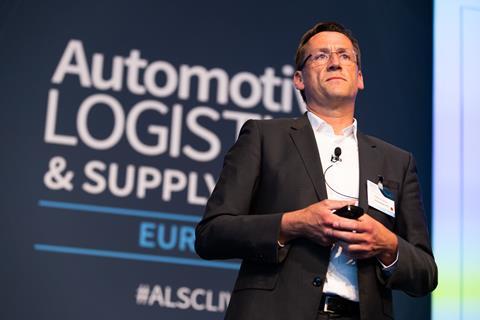 The construction of the 200-hectare battery plant is one of the main projects included in VW Group's Future: Fast Forward strategy, which aims to make Spain a European centre for electric vehicle (EV) production.
That is part of a much wider iniatiative by VW Group to support EV production in Europe with its own localised battery production. Vertical integration of battery production within VW Group in Europe is in part motivated by the fact the battery makes up around 40% of the value of a pure EV, but battery production remains predominantly in the hands of Asian producers. Bringing that value inhouse while at the same time removing the risks associated with international battery cell supply is a strategy that more and more European carmakers are looking at.
VW Group already has an agreement with Northvolt in Sweden and announced earlier this year that it was increasing its ownership of the battery maker, making it VW Group's strategic lead supplier for premium battery cells in Europe. VW Group will order $14 billion worth of products from the company over the next ten years. It has also recently announced a joint venture with tier one supplier Robert Bosch to expand the production of lithium-ion batteries.
Transforming Salzgitter
The carmaker aims to have six gigafactories in Europe by the end of the decade and it is transforming its Salzgitter engine and transmission plant in Germany into the core production location for EV battery cell production, with a €2 billion investment in restructuring the facility. Production of battery cells will start there in 2025.
That is going to have a huge impact on the carmaker's supply base and will transform the logistics complexity of inbound supply, according to Matthias Braun, who was appointed head of battery cell logistics earlier this year to lead the transformation.
"We have now started the sourcing process but looking at the list of possible suppliers, 95% are unknown to us," he told delegates at this week's ALSC Europe conference in Munich, Germany. Attracting new battery material suppliers to Europe is a challenge at the moment because their principal customers remain in Asia, where most EV batteries are still currently made so localising supply is no easy feat.
Watch Matthias Braun's presentation at this year's ALSC Europe conference in Munich
Inbound complexity
Braun also pointed out that transforming its biggest combustion engine plant into a battery cell production site introduced a whole new host of logistics considerations. While no less complex than producing 300 combustion engine variants every 30-60 seconds, the move to producing 10 different battery cells per second was a very different challenge, demanding higher levels of automation and new considerations for the inbound supply of components from the 'normal' environment outside to the clean room requirements of battery cell production.
"How you get into clean and dry rooms with your normal tugger trains and make the handover with the AGVs there; these are new challenges we have to face," said Braun.
Battery cell production also has an impact on the packaging required for inbound deliveries, making most of the containers currently used by VW redundant.
"In 90% of the cases [existing containers] are not useful for us in our environment [of battery making]," said Braun. "We also have to deal with other boxes and containers and the structure of hazardous goods. [There are] more liquids and bulk rates that we have to deal with. The challenge comes from this diversity in the goods structure."
As can be seen already with the supply of lithium batteries to VW's EV plant in Zwickau, Germany, the use of rail for battery delivery and its automation at the point of delivery is a priority for the carmaker. That is something Braun said would continue at its other battery production sites, including for inbound material supply.
"The main volume should be [transported] with the trains and we have a clear commitment that all outbound flows will be by train," he said, adding that direct access to rail was a main consideration in choosing the sites for battery production in Europe.
Logistics partners
The new demands on inbound logistics for battery production in Europe are transforming the relationship VW Group has with its logistics providers, or as Braun prefers to call them partners.
"I don't like the wording of service providers, I like partners to be part of the supply chain," he said. "We all need to act in one environment… making our process concepts but [then] challenging them with our process partners."
In terms of the radical change to the supplier base necessitated by the switch to lithium battery production Braun said it was a chance for VW to learn and perhaps change some of its own traditional approaches to production.
"It is more a chance that a challenge because we can learn so much from them," he said. "If we are honest with ourselves, automotive logistics is excellent on efficiency and material flow but the rest is still in the 1980s."
VW Group has a once-in-a-lifetime opportunity to transform its production and logistics because of the necessary switch to electrification, according to Braun. "I want to learn from the new industry and the new partners to bring the best from both together."