Propulsion technology company BorgWarner is buying tier one supplier Delphi Technologies in a takeover valued at around $3.3 billion.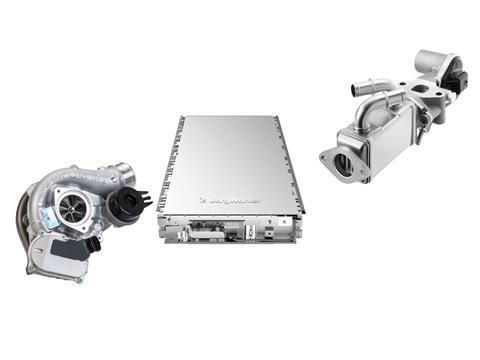 According to a joint statement, the merged company will "offer a unique, more comprehensive portfolio of industry-leading propulsion products and systems across combustion, hybrid and electric".
That portfolio will include high voltage inverters, converters, on-board chargers, battery management systems, related software and systems integration, and thermal management systems.
The combined company is expected to be one of the leading propulsion technology companies globally, serving light and commercial vehicle manufacturers, and the aftermarket.
The net sales of Michigan-based BorgWarner were $10.17 billion last year, those of London-headquartered Delphi Technologies, $4.36 billion.
Proven power electronics
BorgWarner's president and CEO Frédéric Lissalde termed the move, which is subject to regulatory and other approvals, as the next step in strengthening its position in the electrified propulsion, combustion, commercial vehicle and aftermarket businesses.
"Delphi Technologies will bring proven leading power electronics technologies, talent and scale that will complement our hybrid and electric vehicle propulsion offerings," he said. "We are confident that together we will be able to move faster to address market trends toward electrification."
Delphi's CEO Richard Dauch said his company's portfolio was highly complementary to BorgWarner's and would create "a pioneering propulsion technologies company uniquely equipped to serve OEMs and aftermarket customers around the world".
The deal is expected to close in the second half of this year, subject to approval by Delphi's stockholders and regulatory authorities, and customary closing conditions.
Revenue pressures
"BorgWarner's acquisition of Delphi is no surprise given the current phase of automotive industry transformation," said Daniel Harrison, automotive analyst at Ultima Media's business intelligence unit. "Not only are declining sales volumes putting downward pressures on the top-line revenues of tier one suppliers, but the bottom line is being hit by the huge investment required to transition to hybrid and electric vehicle powertrains."
Harrison said the product portfolios of BorgWarner and Delphi were primarily geared towards traditional internal combustion engines and transmissions, which are behind the curve in the race to electrification.
"This acquisition will allow the two suppliers to combine resources to give them the best chance to survive in the current climate," said Harrison. "We expect more joint ventures, alliances and more formal mergers and acquisitions to follow; watch this space."
Back in 2017 Delphi Automotive divided into two separate businesses: Delphi Technologies and Aptiv, with the latter focusing on mobility solutions, smart vehicle architecture and connected and autonomous vehicle technology.
Procurement savings
The new combined company, which will operate as BorgWarner, will be led by Lissalde and BorgWarner's chief financial officer Kevin Nowlan. It will be headquartered in Auburn Hills, Michigan, where BorgWarner's is currently based.
The merged entity is expected to achieve synergies of around $125m by 2023, mainly from savings in procurement and selling, general and administrative expenses.
"In addition, BorgWarner expects significant long-term revenue synergies primarily from the opportunity to offer more integrated electrified products, creating further value for the combined company's stockholders," the companies' statement read.
BorgWarner features in our recent report analysing the profitability of tier suppliers where we predicted that M&A activity was one of the best strategies to mitigate margin compression