Shipping lines are beginning a new decade by adapting to sulphur limits of 0.5% in the bunker used to power their vessels, down from the previous maximum of 3.5%.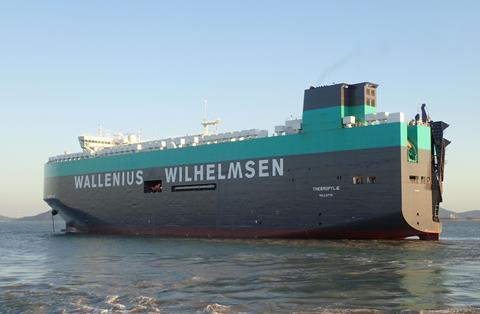 The limits, imposed by the International Maritime Organisation (IMO) and known as IMO 2020, have cost the shipping sector millions and have created uncertainty around fuel availability, quality and cost. However, they are a very welcome and necessary change, according to Erik Jensen, head of commercial for Wallenius Wilhelmsen Ocean (WW Ocean), one of the world's biggest liner operators serving the finished vehicle sector.
"The new global cap will reduce sulphur emissions from ships by 77%, bringing significant benefits for both human health and the environment," he told Automotive Logistics. "It is, however, a huge shift that has brought risks and cost for the industry and its customers. Three million barrels a day of high sulphur fuel, or approximately 450,000 tonnes, has to be shifted to low sulphur – the biggest single change in the history of the market."
Norway-based WW Ocean has long worked to minimise the risks and costs associated with lowering sulphur content for its customers. It has a strategy of operating with different types of low-sulphur fuel on most vessels. The company is also installing abatement technology, or scrubbers, which remove sulphur oxides from the engine and boiler exhaust gases. Those scrubbers are being fitted to 20+ of the most suitable vessels in a fleet of around 130.
Jensen estimated the cost for turn-key delivery of 20 vessels with scrubbers, including off-hire expenses, will be between $120m and $130m. He added: "We also have a thorough plan for the switch over, which has been in operation for some time. Each vessel has been analysed and has its own implementation plan, and crews have been trained."
Preparing for change
IMO 2020 was not introduced overnight. The regulations have been a long time coming, being first proposed by IMO in 2008 and confirmed in October 2016.
As part of the preparation, WW Ocean worked with major oil companies over the years to develop alternative, less polluting fuels and in the process built up experience to ease the transition, according to Jensen. The company carried out trials with different suppliers, different fuels and on different vessel types to learn how to transition efficiently and avoid operational issues, he said.
WW Ocean was ready to be in full compliance with IMO 2020 from the first day of the new regulations, he added.
"The switch over has gone smoothly and we have had no issues so far. What remains is to continue to ensure a secure supply of quality fuel, which we are confident that we will be able to do through our current set-up."
Likewise, United European Car Carriers (UECC) of Norway started to prepare for the change several years ago and, after "quite significant" cost there is "nothing more to do to comply with the new regulation," said CEO Glenn Edvardsen.
"UECC maintains the same robust procedures with regards to fuel handling as it always has. The introduction of a wide range of new, 2020-compliant fuels has increased the need for such practices," he said.
That has cost the company millions of euros on an annual basis and it has made a huge investment in fleet renewal, with the delivery of its pure car and truck carriers (PCTCs) Auto Eco and Auto Energy back in 2016. The 'dual fuel' vessels run on a combination of marine gas oil and liquified natural gas (LNG) and have been recognised as the most environmentally friendly vessels calling at the port of Bremen in northern Germany.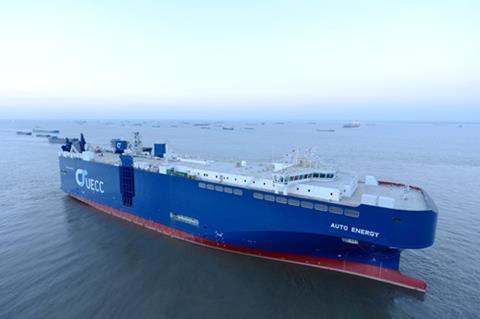 Edvardsen also said: "We are eagerly awaiting the delivery of our three new battery hybrid LNG-powered PCTCs, which will obviously comply with this new regulation and also take UECC beyond IMO's target of a 40% reduction in carbon intensity by 2030.
"Given UECC's significant investment in new and environmentally friendly vessels, along with the responsibility taken by most of our customers, we believe that the future under the new global sulphur cap/IMO 2020 will be good," said Edvardsen, adding that the regulation was needed to reduce the sector's carbon footprint.
Bottom of the barrel
Historically ships have used bunker fuel because it is the cheapest type of oil available: it is literally the bottom of the barrel after distillation of crude oil and sold at a discount. There is little demand for the high-sulphur fuel outside shipping.
The IMO 2020 regulations contain nuances. The sulphur limit remains 0.1% in designated emission control areas, namely the Baltic Sea, North Sea, North American area and United States-Caribbean Sea area.
Even so, the IMO estimates the 77% drop in overall sulphur oxide emissions expected to result from the new rules will annually remove around 8.5m tonnes of the gas from the atmosphere. Harmful particulate matter will also be reduced.
IMO secretary general Kitack Lim said: "I am very appreciative of all the efforts made by refineries, shipowners, seafarers, industry organisations and others in preparing for this hugely important change, which will have significant positive benefits for human health and the environment."
Price pressures
However, there are uncertainties ahead, such as the cost of fuel, especially as 2019 was another volatile year for oil prices. WW Ocean's Jensen commented: "That trend is expected to continue next year, with question marks over how a range of geopolitical factors including tensions in the Middle East will influence the cost of a barrel of oil."
Then there is the matter of who will end up paying for the IMO 2020 changes. James Hookham, secretary general of the UK-based Global Shippers Forum said: "With the container shipping industry in a trough of depression, the additional burden of complying with tough new rules on emissions from vessels is a necessary but unwelcome start to 2020.
"The shipping industry has widely assumed that the costs of cleaning up its environmental act can simply be passed onto its customers in the form of surcharges.
"Whether that will be the case will be the subject of individual negotiations over the coming months," noted Hookham. "However, shippers should be demanding clear and consistent explanations of any surcharges demanded."
He added: "Ultimately, the industry needs to move on to a more mature pricing regime with confidential contracting and all-inclusive charges becoming the 'new normal'. The shipping industry needs to wean itself off of surcharges, just as much as it does high-sulphur fuels."
Looking longer term, Jensen added: "Investments… will be focused on our journey to zero emissions, with the focus on carbon emissions. Here the regulatory picture is still uncertain and we look forward to more clarity from the IMO during 2020. We have several interesting projects under way, looking at wind power and biofuels, and are collaborating with customers and business partners towards future solutions."