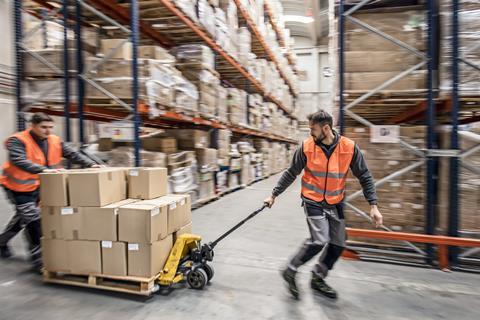 The coronavirus crisis is having a major impact on the storage options available to UK companies, according to a recent survey from the United Kingdom Warehousing Association (UKWA), which revealed warehousing space in the country is now approaching maximum capacity with a potential for zero scope within weeks.
Ninety per cent of respondents in the survey, designed to identify and quantify the current impacts of Covid-19 on the industry, confirmed that their warehouses were totally full, suggesting that the market has just 10% pallet space availability. However, according to the UKWA, automotive sector service providers reported more towards 15% availability, with CEO Peter Ward observing this was an opportunity for retail and automotive to "cross fertilise and share resources".
Of the 100 survey respondents, more than 20% are operating in the automotive logistics space, according to a UKWA spokesperson. Of this group, 70% had experienced reduction of both inbound and outbound volumes while 52% said they were concerned about their ability to pay suppliers. A total of 35% had implemented reduced working shifts and 45% have suffered increased sickness or absence.
Domino effect
With outbound flows severely reduced, the pandemic-led paralysis is having serious repercussions for the supply chains of OEMs and logistic providers, as manufacturing is either halted or delayed. Ward revealed continuing inbound flows to the ports had become a "mounting problem" because they required receipt, handling, onward distribution and storage.
Andrew Bicknell (pictured), UK country manager, Glovis told Automotive Logistics that the company had seen a "domino effect" within days of the crisis in the European market as shipping slowed down for priority food and health supplies. That resulted in cars dwelling at ports or compounds, or ships being diverted to alternative ports within the EU and the UK.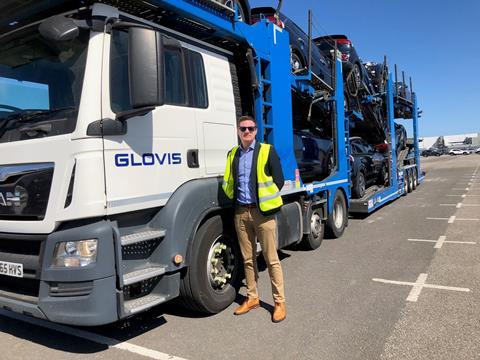 This has led to knock-on problems as vehicles are now misplaced. The problem is being compounded by slowing sales as a result of a downturn in footfall through the doors of the car showroom, said Bicknell.
Europe's biggest vehicle handling port in Zeebrugge, Belgium, has said that several terminals have been inundated with inbound volumes of finished vehicles and trailers over the past two weeks. Since being shipped the impact of the coronavirus has quickly shut down supply chains meaning finished vehicles and trailers of goods have nowhere to go.
Hans-Peter Zint, managing director of german port services provider Cuxport, told Automotive Logistics that since the end of March almost all OEMs had stopped production and shipments from Germany and continental Europe to the UK. Shipments from the UK had come to a halt almost immediately, he said.
"Since then, in our usual trades, we have only handled residual amounts of vehicles stranded for one reason or another somewhere else, plus occasional spot shipments from intercontinental trades, which for reasons not known to us were redirected to Cuxhaven," said Zint.
"We are still active and fully operational if needed, but demand is extremely low and we do not expect full recovery within the next two months, even if we see a slow resumption of production with some OEMs."
"Car delivery networks are built around loaded mileage to ensure competitive pricing that ensures prompt and effective deliveries, and this applies to sea, road and rail," said Bicknell. "When a small piece of the network is suddenly removed it is very hard and challenging to offer a sustainable service that can ensure the viability of the logistics provider, which in turn effects the entire network. With the sudden shutdown (or decreased operations) of factories, logistics providers' compounds, dealerships and shipping, the entire network is frozen and all are affected by one another."
Bicknell also mentioned that the company had seen an increase in the discharged times of ships en route to Europe from the Middle East due to the increase in social distancing, which has to be respected when unloading vehicles. "In the worst-case scenario due to lack of capacity or food and health supplies being prioritised, they are having to be diverted to alternative ports, challenging the logistics flow as vehicles are in incorrect locations," he said.
With some European plants now starting to reopen, Bicknell suggested the entire industry, including OEMs, logistics providers and dealer networks would look to adapt new methods to ensure the long-term viability of flows.
"New ways of working will happen in every aspect of our industry, which will bring misery for some and opportunity to others, but nothing stays the same forever," he concluded.