Ford may need to shut down factories in the US this week if it doesn't receive its Mexico-produced engines from its plant in Chihuahua, which is currently operating at 50% capacity because of coronavirus restrictions.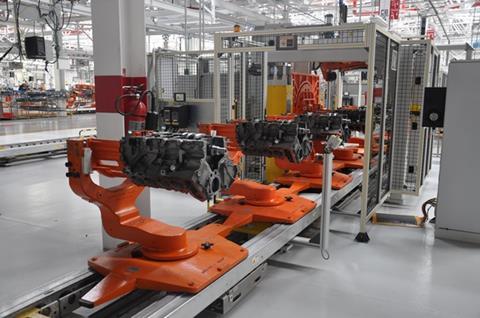 According to a report from Reuters, US Ambassador to Mexico, Christopher Landau, said a senior Ford executive expressed concern over parts produced in the state last week.
"They're saying that they're going to start shutting down factories in the United States as of next week if they don't get that rolling," said Landau, in a talk organised by the Atlantic Council, a nonpartisan think tank.
Kumar Galhotra, president of Ford's Americas and International Markets Group, is reported to have said the company had "several suppliers" operating under restrictions imposed by Chihuahua state.
"With our US plants running at 100%, that is not sustainable," Galhotra said in an emailed statement. "While we do not expect any impact to production next week, we are continuing to work with government officials on ways to safely and constructively resume remaining production."
Ford's 67,500 sq.m plant in Chihuahua has been operating since 1983, building engines for North America and global markets. The facility produces the Ford 6.7L engine for the Ford Super Duty line of pickups, among others. However, the state is not only home to a Ford engine plant, but also many automotive parts producers.
Plagued with disruption
Parts supply shortages from Mexico meant that Mercedes-Benz temporarily suspended production at its US plant in Alabama in May and while Mexico's federal government has given OEMs, mining firms and builders the green light to get back to business, some states have implemented their own restrictions as the coronavirus pandemic continues.
The state of Puebla has been plagued with a series of disruptions with Volkswagen and Audi only returning to work there with 30% of its workforce last month. In what was the third attempt to reactivate production at the Audi plant in Puebla, the Independent Union of Audi Workers of Mexico (Sitaudi) announced that on Monday June 22 the first shift would return to work, with 1,560 employees.
Automotive manufacturing accounts for more than 3% of Mexico's gross domestic product (GDP) and more than 20% of its manufacturing GDP. According to the International Organisation of Motor Vehicle Manufacturers, the country is the world's seventh-largest automotive producer. Nearly 80% of Mexican-made vehicles are shipped to the US, including Ford and GM models.
However, the North American nation has become one of the world's main coronavirus hotspots, with latest figures reported to be close to 300,000 cases and 35,000 deaths.