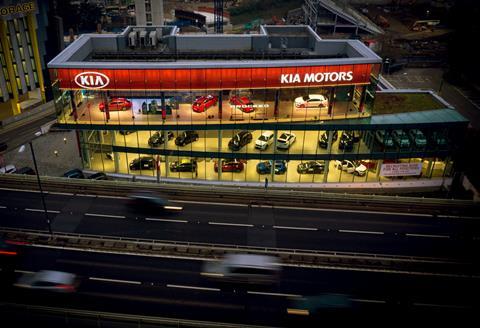 Kia dealers in the UK have been given the go-ahead to take remote orders from customers (though dealer showrooms remain closed) and some are reopening workshops to carry out aftermarket services, including repairs and MOTs.
Kia UK said all service and repair work will be carried out with the highest standard of hygiene to ensure the surfaces of all vehicles were clean before being returned.
An official statement from a representative for the Department for Business, Energy & Industrial Strategy said: "Dealerships are all able to continue to sell cars remotely and deliver cars, as long as they follow our clear guidance from Public Health England to protect both employees who cannot work from home and their customers."
A spokesperson for Kia Motors (UK) said that in some cases vehicles were already in dealer stock but the company had begun deliveries from its import centre as well. Handover is being carried out within the requirements of social distancing, he added.
"We are already operating some service workshops for key workers, NHS and those customers facing problems," said the spokesperson. Dealers are now able, if they wish, to take normal service and repair bookings. From the very start of this challenge our dealers have been taking great care with social distancing at their operations, they have been practicing high levels of sanitisation in workshops and so handover of new vehicles will be handled similarly. Until circumstances change handover will be done by the dealer at the customer's address – not by external agencies."
Zeroing sales
In Q1, Kia Motors (UK) sold 22,295 cars, which was 40% down on the same period in 2019, though sales for April were down to just 156. That was unsurprising given overall UK vehicle sales fell 97.3%, to just over 4,300, those mainly for frontline workers and organisations.
"Of course, we are in the same boat as just about everyone, though we did have a good start to the year," said Kia's spokesperson. "Our March sales were affected by the lockdown and we had approximately 4,500 orders that we were not able to deliver in the month. "We will seek to fill those orders as soon as we are able to do so and currently dealers are contacting their customers to communicate with them about timings in line with what the Government permits. Some of those April registrations were customer orders waiting to be delivered along with other urgent deliveries."
Mike Hawes, chief executive of the Society of Motor Manufacturers and Traders (SMMT) said that with the UK's showrooms closed for the whole of April the fact it was the country's worst performance in living memory was hardly surprising. "These figures, however, still make for exceptionally grim reading, not least for the hundreds of thousands of people whose livelihoods depend on the sector."
Hawes went on to say that the car market and the UK economy more widely needed car retail to be in the vanguard of the recovery.
"Safely restarting this most critical sector and revitalising what will, inevitably, be subdued demand will be key to unlocking manufacturing and accelerating the UK's economic regeneration," he said.
The Kia Sportage was the eighth best-selling vehicle in the UK year-to-date in 2020, and another bright spot for Kia is that during the first three months of 2020, it sold 3,347 hybrid, plug-in hybrid and electric vehicles, making up 15% of the total electrified sales in Europe. This is an increase of 27% when compared to the first three months of 2019. The company expects sales to recover by July.
Kia Motors said that to support customers during Covid-19, Kia UK would honour valid warranty claims for repairs that could not take place before the expiry of the vehicle's warranty because of government lockdown rules. For customers who have a Kia Care service plan, this will remain valid regardless of when the services are undertaken.
Previously Kia created four short videos to provide customers with guidance on what regular safety and maintenance procedures to carry out on their vehicles if they were sitting unused during lockdown, covering issues related to brakes, batteries, tyres and essential fluid levels.