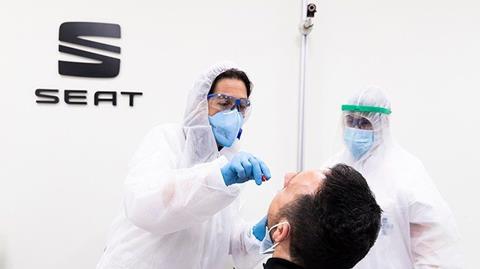 Spanish carmaker Seat has announced it will restart production gradually from April 27 after agreeing testing procedures on employees with union representatives.
The OEM aims to use polymerase chain reaction (PCR) testing on its employees to screen for the coronavirus. PCR tests, which are conducted using a nasopharyngeal swab to directly detect the presence of an antigen (molecules capable of stimulating an immune response), are the most reliable way to identify whether the person screened has contracted the Covid-19 virus, according to Seat, which said it is the first carmaker in Spain to carry out the testing.
More than 3,000 weekly PCR tests, will be available for production employees at the carmaker's Martorell vehicle assembly plant, its Componentes plant and its Cros spare parts centre, which services VW Group dealers in Spain and globally.
The tests will be analysed in a laboratory that has been accredited by the Ministry of Health and the Catalan government, and will also be extended to other VW Group companies in Spain, according to a company statement.
Reduced capacity
The decision by Seat and its suppliers to restart production gradually is aimed at limiting the economic impact of the health crisis. However, production will be reduced. During the weeks of April 27 and May 4, one production shift will be working on each of the three lines at the Martorell plant, where the Seat Ibiza, Arona, Leon and Audi A1 are manufactured. That will mean the plant is running at approximately one third of capacity.
Overall, Seat will produce around 325 cars a day in the first two weeks. As of May 11, two production shifts will be working on each of the lines, also at a third of their usual volume, which will enable it to manufacture around 650 cars a day. Seat expects to return to the pre-crisis production rate from June, based on the evolution of Covid-19 and its effects on commercial activity, according to a company statement.
Seat president and vice-president for finance and IT, Carsten Isensee, said: "Now that the most difficult phase of Covid-19 has been overcome, we face the first stage of returning to normal without letting our guard down. It is essential to apply strict health and safety measures to ensure that the return to work takes place in complete safety."
The carmaker has designed a health protocol for VW Group companies in Spain and the trade union representatives. In addition to the PCR testing, the protocol calls for adapting production lines to ensure that all employees can maintain the prescribed two-metre safety distance. If the ergonomics of the workplace are not sufficient, additional measures to ensure personal health and safety will be provided, said the company, which pointed out that all workers will receive surgical masks.
As long as the rule of a two-metre distance between employees is maintained, pre-crisis production levels cannot be regained, said Seat. For this reason, the company's management and union representatives are negotiating a temporary layoff plan for production workers, which is said to last for a maximum of eight weeks until production resumes the pre-pandemic pace. A Seat spokesperson told Automotive Logistics that the layoff was only applicable to staff who could not carry out their workplace activity and that this week around 30% of the OEM's employees were working.
Since suspending production in March, the OEM has been using its Martorell factory to make prototype ventilators for local healthcare authorities, although this has now stopped because of the decreased burden on intensive care units (ICUs), the company said