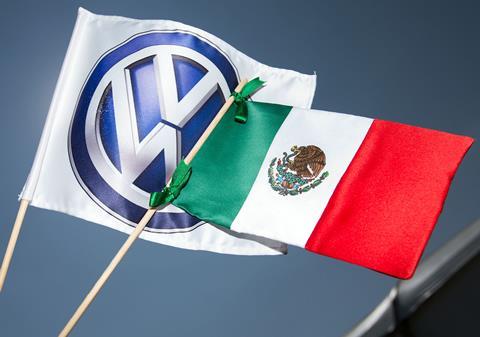 Olivia Salomón, economic secretary of the Mexican state of Puebla, has just announced that German carmaker Volkswagen can reopen its plant there from June 15. However, it can only use 30% of its workforce in staggered shifts.
Speaking to Automotive Logistics yesterday Dr Susanne Lehmann, VW's senior director for production in North America, said: "We're working with the regional and federal government and hoping for June."
At a recent press conference with Puebla governor, Luis Miguel Barbosa and Salomón, president of the Business Coordinating Council (CCE), Ignacio Alarcó, said that in the first phase businesses could start up operations with 30% of the total workforce in alternating shifts. Construction and automotive industries will be able to carry out a gradual reopening in an effort to revive the economy in its entirety from June 15. That includes automotive tier suppliers, which is also good news for VW as its US plant in Chattanooga, Tennessee relies on suppliers from Puebla and was facing a shut down if the state didn't get back to business soon.
The news is welcomed after a series of mixed messages from Mexico regarding ramp-up. Until yesterday, the state of Puebla, which is home to both Volkswagen and Audi plants, as well as a number of tier suppliers, was not ready to restart operations because of a lack of safety and sanitary measures, according to the state.
In an official decree issued last week the Puebla state government said, "there are no conditions in the State of Puebla to restart activities in the automotive and construction industries".
Mexico has 68,620 confirmed cases of coronavirus with 2,082 of them registered in Puebla.
The decree somewhat opposed the advice from the Federal government in Mexico, which now classifies the automotive industry and other sectors in the country as essential, permitting them to restart subject to satisfying certain health and safety protocols.
On March 20, VW said it would temporarily close its factories in Puebla, where it produces the Golf, Beetle, Jetta and Tiguan. It also shut its facility in Silao on March 30 through to April 12 amid growing worries over the spread of the coronavirus.
Audi shut down operations on March 23, saying it was lacking parts at its plant in San José, Chiapa, where it produces the Audi Q5, because of the impact on supply chains.
Recently, the parts shortage in Mexico has forced Mercedes-Benz to temporarily suspend production at its plant in Alabama.