A consortium comprising Toyota's trading arm Toyota Tsusho, Japanese shipping line NYK (Nippon Yusen) and French transport services company Bolloré Africa Logistics have agreed with the Suez Canal Economic Zone's general authority to develop and operate a dedicated automotive terminal at East Port Said in Egypt.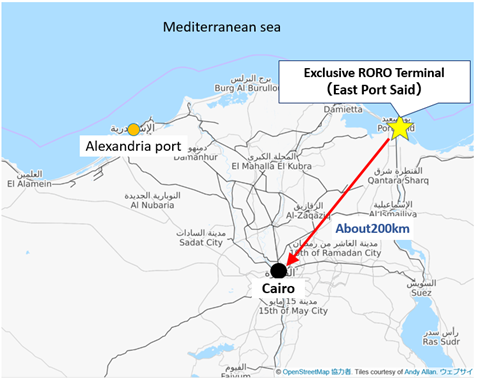 Almost all of the north African country's vehicle imports go through the multipurpose port at Alexandria which lacks storage space for vehicles amid the variety of cargo it handles.
Therefore, a dedicated automotive terminal is required to overcome Alexandria's limitations and meet the country's increasing demand for vehicles as its economy and population grow, said Toyota Tsusho.
It will be Egypt's first exclusive ro-ro terminal and large enough to allow two large pure car and truck carriers (PCTCs) to berth simultaneously. It will also have storage capacity for around 10,000 vehicles over 21.2 hectares, sufficient to meet increasing future demand.
Consortium members will form a joint operating company with the target of starting to operate the terminal by the end of 2021.
Toyota Tsusho stated: "Bolloré's knowledge and expertise accumulated through its several port operation businesses, Nippon Yusen's rich experience and skill in vehicle terminal operation developed in various parts of the world, and Toyota Tsusho's achievements and knowledge from more than 80 years of developing a wide range of businesses in Egypt, are combined through this strategic partnership of the three companies to provide high-quality service."
The proposed terminal at East Port Said, on the northern end of the Suez Canal, is the latest development in infrastructure to support the growth of the automotive industry in the Middle East and North Africa (Mena) region. Vehicle sales in the region are on a sharp increase, anticipated to rise to 6m units by 2023, a 25% increase on figures for 2018, with production growing to meet it and aftermarket sales also flourishing. As was discussed at the inaugural Automotive Logistics Mena conference in Dubai last November, while there remain infrastructural and regulatory obstacles to overcome in the region, developments such as the Port Said ro-ro terminal indicate it is fast becoming a region of automotive and supply chain opportunity.