While it has some infrastructure and regulatory obstacles to overcome, the automotive industry in the Middle East and Africa (Mena) region is developing fast, driven by investment and innovation, as delegates heard at the AL MENA conference in Dubai last week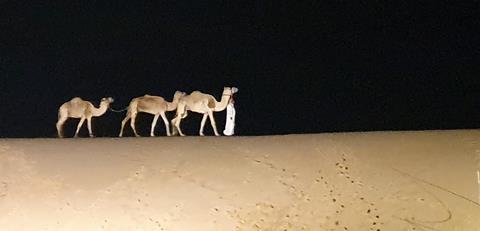 Despite a sustained period of decline over the last few years affected by a fall in oil prices and geopolitical strife, the Middle East and Africa is fast becoming a region of automotive and supply chain opportunity. Carmakers such as VW, Toyota, GM, Groupe PSA and Mercedes-Benz are investing in local assembly, ranging from North African countries including Morocco, Algeria and Egypt, to sub-Saharan markets such as Rwanda, Ethiopia, Kenya and Ghana. There are also some notable logistics developments there and in the Middle East.
According to figures from IHS Markit, light vehicle sales in the Middle East and Africa are to increase by 6% in 2020 to around 3.5m, supported by ongoing recovery in Saudi Arabia and Gulf countries. That is still below 4.65m units sold in 2015 but at that point Middle East sales were helped by increases in Saudi Arabia and Iran, the latter of which was seeing an (albeit brief) resurgence after sanctions were temporarily lifted. That said, by 2025 annual new light vehicle sales across the region are set to hit more than 5.3m, according to IHS projections.
Saudi Arabia already accounts for about 40% of total vehicles sold in the Middle East and IHS Markit forecasts annual sales could reach over 800,000 beyond units by 2030. Contributing factors including the recovery in price per barrel of oil and to a lesser extent the lifting of the ban on female drivers suggest sustained growth is expected to start in the next two years.
Countries within the Gulf Corporation Council (GCC) have established a national employment challenge to employ more local workers, the so-called 'Gulfization' policy, which is increasing labour opportunities in the area, something also fuelled by the exodus of foreign workers and the need for investment in local skills and talent.
Sizing up Saudi
"Saudi has always been the biggest market in the region in terms of size," said Madhav Kurup, regional CEO, Middle East and South Asia, Hellmann Worldwide Logistics. "They're now opening up culturally and from a business point of view, but at the same time they have a huge problem with expertise. From that point of view, it is a goldmine of opportunity."
Head of global purchasing and supply chain at GM Middle East, Sulaiman Pallak, was asked whether the OEM would consider moving its operations from Dubai to Saudi Arabia.
"There is consumer demand for automotive and associate parts in the country," said Pallak. "We're not planning to move to Saudi Arabia, but it definitely makes sense to be in a dealer partnership. We're working to expand our infrastructure, including service centres and showrooms. Dubai is still our regional network, but we have a lot of focus in Saudi."
Moataz Hassan, head of operations in the Middle East, Near East and North Africa at Continental Tires', agreed that Saudi Arabia was a key market for growth. Like GM, the company is not planning to move its hub from Dubai, but it sees the "biggest potential in the region".
First port of call for second-hand cars
Jebel Ali Port, located in the Jebel Ali Free Zone (Jafza) in Dubai, has emerged as the leading hub for used cars and spare parts in the United Arab Emirates (UAE). It accounts for 78% of the country's used car imports and generated AED 31.8 billion ($116.7 billion) through its spare parts trade last year.
"Jebel Ali has always been a hub for the region," said Abdulla Bin Damithan, chief commercial officer (COO), DP World – UAE region. "There are major players based in the free zone. OEMs or distributors have 100% ownership of their facility without tax, direct access to market, can monitor change in regulations in countries, such as Africa, and can react fast. They have full control without intervention."
"Jebel Ali has always been a hub for the region. OEMs have 100% ownership of their facility without tax" - Abdulla Bin Damithan, chief commercial officer (COO), DP World – UAE region
There are more than 300 logistics companies operating in Jebel Ali with DP World handling 82% of automotive market in the UAE, including spare parts, accessories and tyres.
Global vehicle imports
Renault-Nissan-Mitsubishi (RNM) Alliance's main logistics lane into the Middle East is from Japan and it uses the route to bring in the Nissan Patrol Safari. John Ennis, the carmaker's general manager, AMI Supply Chain – ME, said: "We have direct sails to Jeddah out of Japan every seven to ten days, each of which has a 26 days' lead time."
The Alliance also imports the Nissan Sunny model from India into the region, which is one of the OEM's biggest selling vehicles, predominantly in the fleet sector. The frequency is every month, with 8-11 days direct sailing. On top of that it imports the Navara pick-up from Spain, and the Nissan Juke crossover from Newcastle in the UK. The UAE is the vehicle's biggest export market.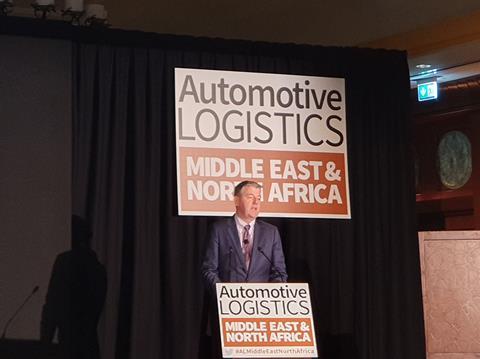 John Ennis, general manager AMI Supply Chain – ME Renault Nissan Mitsubishi Alliance
Regarding aftermarket components, Ennis said the Alliance's dealers carry a level of safety lead time to provide the parts they require for those movements. At the moment there are no parts distribution centre (PDC) operations within the Middle East, but Ennis said it was something company was looking at for the future.
Ford, meanwhile, has recently changed is strategy in the region. It set up an office in Dubai in 2014.
"A lot of the countries in the Middle East and Asia-Pacific are direct markets for Ford," explained Ryan Rider, sales planning director, at Ford. The company has separated China out to bring the International Markets Group (IMG) under one region, which includes the Middle East, Africa, Asia Pacific, Australia and New Zealand.
"These regions provide export growth opportunities from an engineering and manufacturing point of view," continued Rider. "Now we can get a bigger voice and more opportunities for these emerging markets and the differences they require."
The Middle East as a whole is primarily an import-driven automotive market and as car ownership increases in the region, customer service demands are rising too, including fast and reliable vehicle delivery and aftermarket services.
Rider said: "The biggest shift you've seen in the market is that distributors had big levels of inventory. Now the market has turned, we've had to reduce those inventory levels, so the importance of lead time is becoming more of a factor within this region."
"The biggest shift you've seen in the market is that distributors had big levels of inventory. Now the market has turned, we've had to reduce those inventory levels, so the importance of lead time is becoming more of a factor within this region"- Ryan Rider, Ford
He added that the focus had shifted to create common vehicle platforms across the region.
"The biggest stumbling block for manufacturing is the number of derivatives they need to deal with across the world," noted Rider.
Bottlenecks and red tape
For imports from North America, however, the lead times to dealers in the region is still too long.
"We rely on bringing vehicles in in the shortest period of time, but the infrastructure and manufacturing infrastructure are still not developed," said GM's Pallak. "Bottlenecks happen so we are looking to logistics partners and ourselves for solutions."
On the aftermarket side Hellman Worldwide Logistics uses a central warehouse in Dubai to distribute aftermarket parts for a number of OEMs. The hub is used to serve the Middle East, Levant countries, sub-Saharan Africa and for some customers in Pakistan and Afghanistan. Martin Wehner, global vice president automotive, at the logistics provider said: "The aftermarket is very set up in established markets such as Germany and the US; volumes can be predicted. When you compare this region it is more difficult to predict the market and so customers require a lot of flexibility from LSPs in terms of space and potential for growth."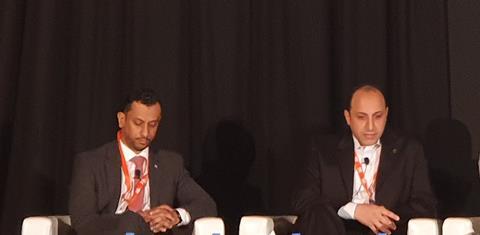 General Motor's Sulaiman Pallak (left) and Moataz Hassan, Continental Middle East
Hellman's Kurup continued: "There are regulatory issues in each country in the region and they are quite different. For example, you have to customise the labelling process for each country differently. Border processes, customs regulations and documentation requirements are also different.
"OEMs face these issues in the country and that is why keeping stock closer to the market helps them to be more flexible in those kinds of situations, but at the same they require LSPs to meet those requirements at a very short notice," said Kurup.
Cooperation and collaboration
With so many variables, companies are benefitting from partnering in the Mena region. Gefco has teamed up with Almajdouie Logistics, to take one example, and formed the first integrated finished vehicle logistics company in Saudi Arabia. The relationship between the two companies began in January 2018 when they partnered to provide finished vehicle services to Almajdouie Auto (MMC), the importer of Hyundai in Saudi Arabia.
"We needed to approach the market in a different way because we can't just open our own office in Saudi Arabia, so we set up a joint venture,' said Stefano Polloti, managing director, Gefco. "We needed to merge our international network and import knowhow on the local market, so we brought our experience in bespoke logistics projects into the automotive sector. It was actually our first outsourced service in the automotive sector and it proved a huge success."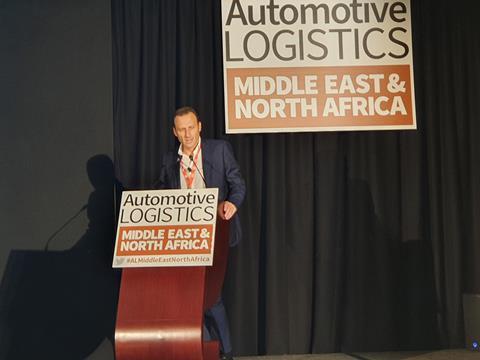 The Alliance's Ennis backed up the point of collaboration saying: "It's vital the industry talks to each other to adapt and try and change regulations. From a supply chain perspective we will see a lot of collaboration. Entities like DP World are helping to facilitate that."
Ford's Rider pointed out that regulation was one of the toughest things to work around and it was looking at knock-down (KD) kit operations to get vehicles to market.
"We are also looking at partnerships and logistics opportunities, especially within some of our offices around Africa, where volumes are smaller," he said. "Getting vehicles into those markets is a lot more difficult, especially with the long lead times. Partnerships or central hubs allow vehicles to be brought in and then redistributed to those into smaller markets."
Rider also mentioned track and trace as a way of getting better visibility from Ford's distributor partners. Ford has manufacturing facilities in China and India, as well as joint ventures with Mahindra. It also sources from Europe, South Africa and the rest of the world.
"Part of the challenge is the frequency of the vessels and their capacity for volumes," said Rider. "The smaller the volumes, the less the frequency. A lot of the time we do transhipments into the Mena region via Europe, for example, and we're looking at opportunities around that."
Electric future
While there is a relatively low demand for EVs in the Mena region at the moment, companies including GM, whose Bolt EV is available only in Dubai, are preparing for an electric future.
Automotive from Ultima Media's business intelligence unit has predicted a rise in pure battery EVs and more traction for hybrids and plug-ins, with government regulation likely to be the main driver. UAE and Saudi Arabia have introduced some fuel emission policies and there is an interest in building charging infrastructure and encouraging electrification, albeit not to the degree we are seeing in Europe.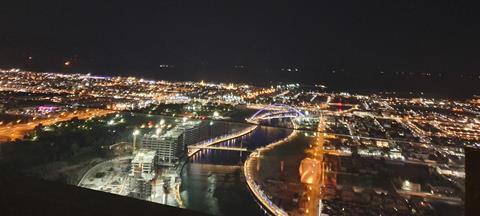 As the battery supply chain develops and production ramps up, delegates were told Africa was playing an important role in terms of mining cobalt and lithium, with a lot of discussion around securing that supply chain.
Ford's Rider thought autonomous mobility and electrification would play a major part in the region. "We'll see bigger growth in Dubai than African markets because of driving distances," he said, adding that Dubai and Saudi were the two main focus areas where the company expected to see growth in the EV market.
Ennis agreed saying that EV infrastructure in the UAE had moved on in the last few years, explaining that when Saudi Arabia opens its infrastructure, this will be a major factor.
Read more about developments at Jebel Ali port here.
For more detail on the global increase in EVs over the next ten years, download the business intelligence unit's Powertrain forecast.
Mena: Infrastructure, policy and regulatory developments
1

2

3

4

5

6

7

Currently reading

Middle East and North Africa: Leading the way in innovation

8