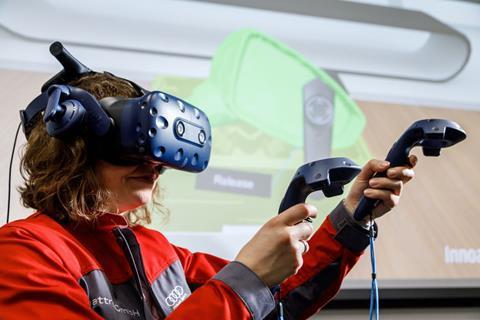 Logistics workers at the Audi assembly plant in Győr, Hungary are trialling digital shelf labelling in a step toward paperless order picking.
The technology features what are known as e-ink displays, which are also used in e-book readers and offer significant added value, according to the German OEM.
"When names, numbers, or the arrangement of the parts in the shelf change, the logistics specialists no longer need to update the labelling by hand. Information can also be displayed at short notice, for example if a part is out of stock and is to be replaced with a different part," the company said.
Other advantages include the digital displays generating no wastepaper and consuming very little electricity, even in continuous operation.
The German-Hungarian project team is now improving the technology and is aiming to implement fully automatic updates before introducing it at other Audi sites.
Targeting digitalisation
The Győr trials are just one way Audi says it employs the latest digital technology to make logistics more efficient. "We are making targeted use of the advantages of digitalisation at our production sites worldwide" said Dieter Braun, head of supply chain.
Audi staff use virtual reality (VR) to work together across locations in virtual spaces. Logistics planners in Neckarsulm (Germany) are testing via VR, and without any physical prototypes, special containers ahead of production this year of the new e-tron GT model at the Böllinger Höfe assembly plant in Germany.
The custom-made containers are used for particularly sensitive parts such as electrics, headlights and windshields.
"Developing the special containers with VR is less expensive and is also better for the environment," said Audi.
Driverless transport systems, which have been in use for years, now use laser scanners to orient themselves and find the optimum route in the electric motor production hall at Győr, where there is no assembly line. Parts are transported to workstations automatically.
"This highly flexible procedure is made possible by algorithms and machine learning, controlled by a smart IT system in the control station. This enables IT to keep track of all systems, all driverless transport vehicles, and the product, even without a fixed assembly line sequence," said Audi.
Over at pre-series logistics in Ingolstadt (Germany), the OEM says it is the first automotive manufacturer to try out a new driverless transport system, which follows people around. The so-called Effibot uses laser sensors to detect an employee's legs and follows them automatically at low speed.
The company says staff welcome the innovation because they no longer need to push order-picking trolleys.
Turning to finished vehicle logistics, the group's smart decisions team has created mathematical models, which a high-performance computer uses to solve logistics-related problems such as the external storage forecast.
As part of the delivery process, some vehicles may have to be stored for a short time. Numerous factors play a part in determining which storage areas is suitable, for instance the distance between a parking area, the plant and delivery destination, the cost of transportation between those locations, and the capacity of the parking area.
"The mathematical model created by the smart decisions team allows these vehicles to be distributed optimally among the storage areas. The prototype is finished and further development is underway," said Audi.