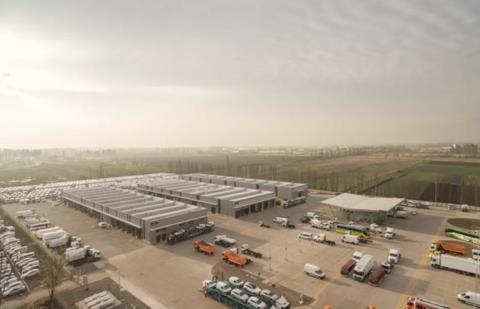 Mercedes-Benz's official dealer in Chile, Kaufmann, is increasing its delivery reliability using vehicle logistics software provided by Inform at a new yard in Santiago.
Kaufmann has been using Inform's SyncroTESS software for all of its customers since 2015 but has optimised the lastest version of the suite of tools to increase the speed and reliablity of its deliveries for Mercedes-Benz.
According to Inform that includes mapping the entire route of the vehicle from the factory to the dealer and optimising all production orders. The system's yard management module controls and optimises parking and loading of cars, as well as coordinating all incoming and outgoing transport.
"Without the digitalisation of our processes, we would not be sustainable in the long term," said Derek Bull, logistics manager at Kaufmann.
"The faster and more efficient processing of orders meant that we were able to increase our delivery reliability from 85% to 97% on average."
Kaufmann imports passenger and commercial vehicles from Mercedes-Benz, Freightliner and Fuso, and converts chassis into special-purpose vehicles such as construction or refuse trucks in cooperation with 30 external service providers. The company also offers pre-delivery inspections, sales and after-sales services.
The volume of orders has doubled in the last eight years to around 13,000 vehicles annually, with about 1,000 vehicle movements per day.
"We wanted to use the solution to ensure that we process the most urgent orders first and that the necessary resources are always available," said Bull.
Inform claims the system has also shortened waiting times for processing individual trucks by 15% and increased the volume of work carried out by 30%.
The companies are working on refining the system to further improve performance and forecasting and Kaufmann will implement SyncroTESS for Vehicle Logistics at its Divemotor subsidiary in neighbouring Peru.
The company also operates in Nicaragua, Costa Rica and Panama, Central America, via its AutoStar subsidiary.