Volkswagen Commercial Vehicles has halted production of its ID.Buzz electric van in Hanover for one week because of quality problems with the lithium battery.
According to the Hannoversche Allgemeine Zeitung certain cell modules fell short of target performance criteria. The paper reported that voltage dropouts in the battery led to a reduction in the vehicle's range and could potentially negatively impact battery service life. VW confirmed that they had found deficiencies during quality checks by the supplier but did not expand.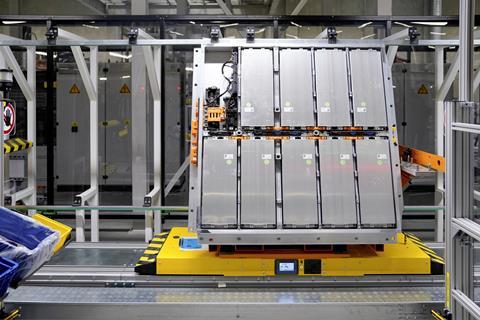 Production began earlier this month with VW Commercial Vehicles manufacturing about 500 ID.Buzz vehicles but customers are yet to receive any orders.
Only the ID. Buzz is confirmed to be affected, according to a spokesperson for VW Commercial Vehicles.
"It is a new battery cell from a different supplier that is currently only used in the ID. Buzz," the spokesperson said, adding that the new cell will later be used in other MEB models.
The spokesperson also said the supplier of the battery cells was already looking at a solution to the problem.
Other models based on the MEB platform, including the ID.3, ID.4 and ID.5 series continue to be available.
VW Commercial Vehicles hopes to produce up to 15,000 units of the ID.Buzz Pro and ID.Buzz Cargo EVs. After the ramp-up, the Hanover site will be able to produce up to 130,000 vehicles annually.
Last week, VW's component locations in Germany began producing key components for the new e-model. Plants in Braunschweig, Kassel, Salzgitter, as well as Hanover, are now supplying the battery system, the electric drive and the chassis.
The production comes as part of a transformation process started in 2015 to convert the company into an e-mobility system supplier. Volkswagen Group Components will be investing €2.3 billion in the electrification of its German locations through 2026, amounting to half of overall investments.