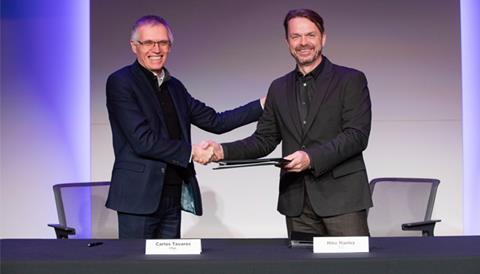 Following last year's announcement of the 50:50 merger between Group PSA and Fiat Chrysler Automobile (FCA), the two companies have announced that the new corporation will be called Stellantis. The word derives from the Latin 'to brighten with stars'.
"The name's Latin origins pay tribute to the rich history of its founding companies while the evocation of astronomy captures the true spirit of optimism, energy and renewal driving this industry-changing merger," said the companies in a joint statement.
The name will be used exclusively at the group level as a corporate brand. The names and logos of the group's constituent brands will remain unchanged.
The completion of the merger of PSA and FCA is expected in the first quarter of 2021, subject to customary closing conditions. It will create the fourth largest carmaker by volume, based on last year's current annual combined production of 8.7m units, and the third largest by revenue, with a combined taking of $185.6 billion, though those figures are going to be considerably down in 2020 given the impact of the coronavirus.
Stellantis stands to gain efficiencies from optimising investments in vehicle platforms, engine families and new technologies. However, it is also likely to lead to increased pressure on suppliers and logistics providers as platforms are reduced and networks and services optimised.