Chinese electric vehicle (EV) maker Nio has said it will expand its battery swap network to approximately 4,000 stations over the next few years. The company currently has 1,021 stations in China, including on eight of the main national highways.
"From 2022 to 2025, Nio commits to installing around 600 new battery swap stations every year in China," said a spokesperson for the carmaker. By the end of 2025, Nio intends to have around 4,000 battery swap stations worldwide, with around 1,000 outside of China.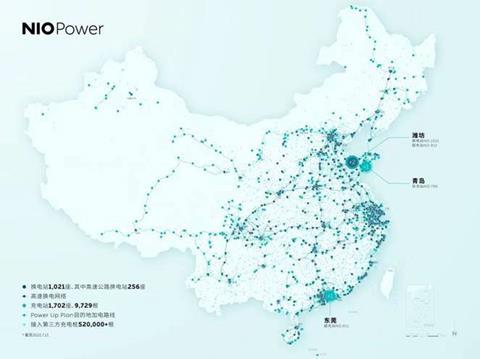 Those additional 1,000 stations will include overseas markets to which Nio exports vehicles. In fact, it currently has one battery swap station in Norway (exports there started last year) and has plans to add 20+ by the end of this year. It will also begin exports to Denmark, Germany, Netherlands and Sweden this year and said it intended to support sales there with battery swap networks in each country.
The carmaker reports that users of its cars have so far made around 10m battery swaps at its stations and makes 35,000 swaps daily. Swapping batteries at the stations takes around five minutes according to the company, saving time compared to recharging.
The battery swap network is kept charged by Nio's cloud-based power service system – Nio Power Cloud – which monitors the performance of the charging and swapping network in real time, in participation with the national power grid.
"Nio Power Cloud is the brain of the network's planning and daily operation," said Nio's spokesperson. "It can advise infrastructure site selection based on user density, current nearby facility capacity and load."
The serviced provides live telemetry to all battery swap stations and Nio power chargers. Based on the user metadata, it can advise users to help consume renewable capacity that would otherwise be wasted, according to the company. It's spokesperson said that so far more than 5,000 users in the wider Beijing area have used that renewable capacity and more than 5 GWh of clean energy has been consumed.
Nio delivered 12,961 vehicles in June 2022 (+60.3% yoy) bringing its total sales for this year to around 217,900. The carmaker sells the ES6, ES8 and EC6 SUVs, as well as the ET7 electric sedan. Last month it also launched the ES7 five-seater smart electric SUV.
The company is currently exporting the ES8 to Norway.