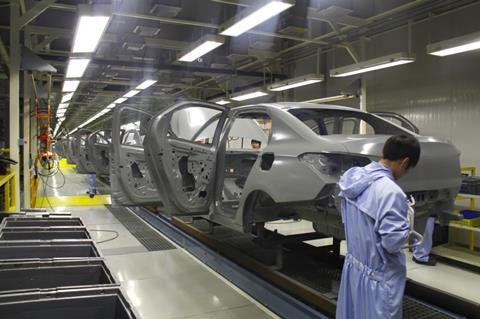 Groupe PSA has released worldwide sales results for the first half of the year that show a decline of 12.7% on the same period in 2018, down to 1.9m vehicles. This is principally caused by the suspension of the carmaker's activity in Iran and losses in China.
Sales in Latin America were also down around 30%, mainly because of the economic downturn in Argentina (where sales are down 50%).
The impact from the loss of business in Iran – where no vehicles have been sold this year –meant the carmaker posted a drop in sales in the Middle East and Africa (Mena) region of 68.3% to just over 71,560. What Groupe PSA described as a shift in consumer preference in China, meanwhile, and the fact the market there was down 13% overall, resulted in a decline of 60.6% for PSA in the China-South East Asia market; the carmaker sold just short of 64,200 vehicles there in the first half of the year.
Groupe PSA's reinvestment in joint venture production and sales in Iran was undermined by the US withdrawal from the Iran nuclear deal, otherwise known as the Joint Comprehensive Plan of Action, and the threat of secondary sanctions by the US against companies doing business with Iran. This year it has sold no vehicles in Iran, whereas last year it sold 144,000. This was because of its compliance with international regulations.
Local losses
Groupe PSA had made efforts to re-establish its position in Iran when sanctions were lifted in early 2016 as part of the Iran nuclear deal. The lifting of sanctions had led to a resurgence in the car industry in Iran, an industry in which the French carmaker had a long history with local partners Iran Khodro and Saipa. Saipa, the second largest carmaker in the Mena region, had been Citroën's partner in Iran since 1966.
In 2016 Groupe PSA signed a new deal with Saipa that involved an investment of more than €300m ($335m) in manufacturing and R&D capacity over a five-year period. Similarly, with Iran Khodro, the joint venture was expected to invest up to €400m ($434.6m) over a five-year period in manufacturing and R&D capacity for local production of the Peugeot 208, 2008 and 301 models.
The carmaker is now pinning its hopes on capturing more sales in North African markets through production at its new Kenitra plant in Morocco, which began pre-series production last month.
It plans to supply 80 markets from the middle of 2020 when annual production capacity reaches 200,000 vehicles. The carmaker has started output at the £557m plant with the Peugeot 208 and will also produce 90,000 engines when the plant is fully ramped up.
Sales were already up in Morocco for the first half of the year by almost 5%, and up in Algeria (+2.7%) and Egypt (+3.5%).
"Groupe PSA is confident that it can develop its business in North Africa and Middle East region," said a spokesperson for the company. "Group brands are historically strong in the region. Production started recently in Kenitra and this is key to improve Group competitivity with vehicles meeting regional customers' expectations, produced closer to targeted markets, by local teams, in line with the Push to Pass strategic plan objectives."
Changes in China
In China, meanwhile, where it makes vehicles with joint venture partners Dongfeng and Changan, PSA said the drop in sales, was down to several factors.
"The market in China quickly changed in the last few years, and the group had to adapt its range of vehicles, in particular to have more SUVs," said a spokesperson for Groupe PSA. She added that "commercial difficulties" were also affected by network restructuring in China and how that affected its joint ventures. In response PSA launched separate action plans with its joint venture partners to improve commercial impact and cost effectiveness.
"These actions plans are on track to tackle current issues and lower the breakeven point of the joint ventures, but it takes time," said the spokesperson.
Part of its plan to regain market share is by capitalising on the rising popularity of new energy vehicles in China, the world's leading market in this field. Last year there were about 1m EVs were on the market in China, with output rising by 50% and sales by 60%, according to figures from the China Federation of Logistics Purchasing (CFLP).
PSA said its "electric offensive" was underway, with the launch next year of the Peugeot 4008, Peugeot 508L Phev and C5 Aircross, as well as the battery electric versions of the Peugeot 2008 and DS 3 Crossback.
Globally PSA has plans to release 14 new full electric and hybrid vehicles in two years.
Other measures being taken involve boosting competitiveness and cost cuttings, including reduced fixed costs in the joint ventures. PSA is also developing new business in China in the used car and spare parts sides of the business. It is also looking to develop the business outside China in other Asean markets.
Developments in the Middle East and North Africa will be under discussion at the inaugural Automotive Logistics Middle East and North Africa conference in Dubai this coming November