Lower production output, slower growth in export markets and several regulatory and operational issues are threatening to unbalance Poland's finished vehicle market
Towards the end of last year, passenger car production in Poland looked like it was going to finish lower for the second consecutive year, after being affected by weak sales in the EU. The big questions now are whether the current downward trend will last and if new approaches in the outbound logistics segment can help support the domestic finished vehicle industry.
In 2017, Poland produced 689,700 finished vehicles, 1.2% up on the previous year, according to the Polish Automotive Industry Association. However, passenger car production in the country dropped by 7.2% to 514,700 units.
Jacek Opala, board member at quality control solutions provider Exact Systems, says this is primarily the result of slowing growth in passenger car sales in the EU. In 2017, finished vehicle sales in the EU increased by only 3% over the previous year, compared with growth of 7% in 2016 and more than 9% in 2015, Opala points out. EU sales are critical for Poland, which exports 84% of its finished vehicles – almost entirely to other EU member states.
As 2018 came to an end, vehicle production in Poland was expected to have fallen still further. Local newspaper Rzechpospolita suggested that production output at the Gliwice Opel assembly plant would end up declining by 20-25% during 2018 from the 165,000 vehicles assembled the previous year. The country's biggest manufacturer, FCA Poland, was expected to have kept production at its Tychy plant flat at 263,000 finished vehicles. Planned production at the VW Poznan plant during the year, meanwhile, was not known, but its output previously amounted to around 75,000 finished vehicles per annum.
Silvia Cassani, a spokesperson for FCA Poland, declines to specify the company's production output but confirms that the carmaker exports vehicles assembled at the Tychy plant primarily to the EU. "Consistently, with sales volumes of cars, the main markets served are Italy, the UK, France, Germany, Spain, Belgium, the Netherlands, Austria and Switzerland," Cassani says. "FCA Poland is the largest car manufacturer in Poland and in 2017 was the largest exporter in the Polish automotive industry."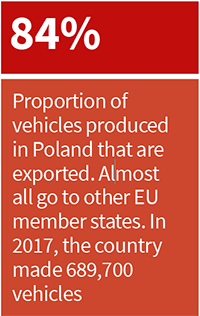 In recent years, adds Cassani, the company has put various logistics improvements in place, which include "delivery time and stock optimisation, as well as eco-friendly transport improvements and others."
The EU is still the main market for finished vehicles assembled at the Gliwice Opel assembly plant, according to Wojciech Osos, a spokesman for Opel Manufacturing Poland.
"The main markets for Opel vehicles produced in Poland are currently the UK, Germany, Poland and Spain. There were no major changes within the last year, except in the number of vehicles exported to Turkey, where due to the market situation, the volume has decreased. Opel Manufacturing Poland is a full-flex plant, thus our production level is driven by demand," Osos adds.
There have been no significant changes in finished vehicle logistics requirements in the past few years either, says Osos. In 2017, Opel produced 165,241 units of its Astra K, Astra J and Cascada, with about 70% of parts for the plant being produced in Poland.
In terms of Poland's potential, Denis Schemoul, manager of the EMEA light vehicle production forecasting department at IHS Automotive, says "the situation is very fluid" and that much depends on OEM sourcing decisions that have yet to be finalised.
Schemoul says these are primarily associated with the future of VW Poznan, in the context of its strategic alliance with Ford and the switching of Hanover into a battery electric vehicle plant; with future PSA Gliwice volumes, in the context of the manufacturing reorganisation taking place in the group after the acquisition of Opel; and with the future of the FCA 500 electric and Giardiniera, and the balance of production between Poland and Italy.
"Whatever the case, I would say Poland's exports will remain largely intra-EU," Schemoul comments.
New logistics opportunities
Poland's logistics industry could benefit from a number of major infrastructure projects that are currently underway.
In particular, 1,518km of motorways and expressway are under construction, says Adam Malecki, director of the foreign investment department at the Polish Trade and Investment Agency. As of November 1, 2018, Poland had 1,638km of motorway and 2,038 km of expressway, according to Malecki, so this represents a substantial expansion of the main road network.
The situation is similar in the rail sector, with nearly 220 projects either planned or already being executed and 9,000km of railway due to be modernised over the next few years, in investments worth 66 billion zloty ($17.5 billion), according to Malecki.
---
"As far as the road and rail networks are concerned, it seems the progress Poland has made in terms of infrastructure has been sufficient to facilitate the smooth transit of goods, including vehicles" - Marcin Skowronski, Wega
However, the biggest and most important infrastructure project for the Polish finished vehicle logistics industry is probably the ongoing expansion of the port of Gdansk. This includes the creation of a new Central Port, which involves several hundred hectares of the area in the Gulf of Gdansk being used to build a number of new terminals, as well as additional ro-ro infrastructure and finished vehicle storage areas.
"The Central Port that is being built in the port of Gdansk should allow for over 1m vehicles a year to be handled. Currently, it is around 100,000 vehicles," comments Rafał Szczesniak, Tychy branch manager at Adampol. "Due to its location, storage options and operational capabilities, the port of Gdansk has the potential to become the main hub for [finished vehicle] exchanges between Central and Eastern Europe, the UK and Scandinavia".
In 2017, vehicle handling at the port increased to four times the level of the previous year, a trend that is expected to gain further momentum.
The construction of the Central Port may not only impact on the country's outbound logistics sector, but also significantly raise Poland's importance as a transit country within the EU, opening up vast opportunities for ro-ro operators.
"Most German ro-ro ports have been quite saturated and I do not believe they have much option to expand. A port like Gdansk is, for the moment, not used to maximum capacity. But given its geography and the infrastructure via road and rail, this port makes sense for imports into the CEE region and also exports into areas such as Scandinavia and the UK," comments Jose Pressani, head of sales and marketing at Euro Marine Line (EML).
The port of Gdansk is a good option for finished vehicle logistics providers, according to Pressani. There are strong export opportunities for local vehicle manufacturers and this is one reason why the port has seen a significant increase in ro-ro activities in the last few years.
"EML sees in Adampol a very ambitious party which besides its main activity as a car transporter also functions locally as terminal operator and stevedore," Pressani comments.
Erik Jensen, vice-president of sales, Europe, at Wallenius Wilhelmsen, also confirms growing exports from the region, suggesting that these are also an opportunity for Wallenius Wilhelmsen Ocean. He says the company will not call at ports on the Baltic Sea directly, but will use short-sea feeder services from its base ports.
There are, additionally, a number of projects underway by logistics providers aimed at supporting finished vehicle logistics in the country. For example, BLG Group and STS Logistic have announced plans to jointly operate and develop Auto Terminal Slask in Dabrowa Gornicza, Poland.
"The decision to enter into a joint venture with BLG in the south of Poland was driven by the fact that the compound in Silesia is an important regional hub for our transport and logistics activities in a finished vehicle sector that is growing by 14% a year," says Agnieszka Hips, investment director at CLIP Group, STS Logistic's parent company.
According to Hips, STS Logistic is the Polish market leader in finished vehicle logistics, handling the delivery of more than 50% of the new cars sold in the country.
A challenging period
For finished vehicle logistics providers in Poland, the market is "definitely good", says Skowronski of Wega. There was an increase in domestic demand for finished vehicles in 2018, and the outbound logistics segment also looks very promising. During the course of 2018, however, the supply chain was temporarily disrupted by implementation of the new Worldwide Harmonised Light Vehicle Test Procedure (WLTP) vehicle testing standard, which created a bottleneck in model certification.
"Implementation of the WLTP put on hold thousands of VW vehicles produced in Swarzedz and Wrzesnia. For several weeks in August, September and October, some export flows from Poland were very low, if not zero. Of course, this had a negative influence on carriers' overall performance and planning. Once the regular routes are interrupted, you find it difficult to cover your commitments elsewhere," Skowronski says.
"The paradox of the situation was that you would get no loads at one location, and then get criticised for not having trucks at another plant, which you'd normally be driving to with the load from the first site. Then, when some vehicle volumes got the green light, the plants weren't able to process truck loading sufficiently quickly to handle the volume, which resulted in days of queuing. At the same time, in peak release periods, some of the compounds that were supposed to receive those volumes were near to full, causing trucks further delay," Skowronski adds.
The good news is that vehicle flows were almost back to normal by early December, Skowronski reports.
Implementation of the WLTP has affected the finished vehicle logistics industry in Poland in a rather peculiar way, according to Hips of CLIP Group.
"What we see is that volumes are not lower, but growing in a very unstable way compared to the previous year; at the same time, we see a need from our customers for assistance in getting finished vehicles transported and parked, until the OEMs get the green light for releasing them for final distribution to dealers," she explains.
"While we see a shift in transport and storage patterns, demand for new vehicles remains high – so the vehicle volumes that need transporting are not lost, but merely postponed," Hips says. She adds that after another year of growth supported by the joint venture with BLG, CLIP Group expected to have delivered more than 300,000 cars to dealers in Poland during 2018.
Most finished vehicles are still transported in Poland on automotive carriers
Not everyone agrees about the effects of the WLTP, however. "So far, we have not noticed a significant impact on our industry," comments Piotr Firak, finished vehicle logistics director at Gefco Poland. "The market will, of course, adapt to comply with the new regulation. The finished vehicle industry [in Poland] is doing extremely well and this positive trend shows no signs of slowing down. Once again, sales of cars in Poland have exceeded expectations and in 2019, we expect another rise in demand for car transport services."
Struggling with a driver shortage
Logistics providers in Poland are also wrestling with a number of other, more constant issues. Biggest among these is probably the challenge of finding sufficient drivers. With increasing demand for truck drivers in all sorts of transport roles around Europe, keeping drivers in their seats and finding and training up new ones is an ongoing battle, confirms Skowronski.
"Drivers today are in the comfortable position of being able to pick and choose their employers, based on their profile, location, service area and round-trip frequency. Loading vehicles is much tougher for a driver than loading other kinds of cargo. This makes them more like loading engineers than just drivers. Not all drivers are willing to take up this challenge; some just want an easier job. This makes transporter driver supply a top priority, not only for the transport companies but for the entire industry."
"We consider the driver shortage as a tremendous threat for our industry. If it were to last a long time, it could seriously slow down business development – and thus the whole Polish economy," adds Firak.
So on the one hand, Poland is battling a driver shortage and a decline in production over the last couple of years, but on the other hand the country is doing what it can to improve its infrastructure in terms of roads, rail and ports and to exploit its advantageous position as a transit country within the EU. For now, it seems, the Polish finished vehicle logistics sector is hanging in the balance.
---
Q&A: Rafał Szczesniak, Tychy branch manager, Adampol
What are the main trends in Poland's finished vehicle logistics sector?
The car industry in Poland is doing well. For a couple of years, we have seen significant growth in sales of new and used cars – not just by a few percentage points but by 15-20% a year. The situation is still not as good as in West Europe, however, where sales of new cars are much higher than in Poland. But the growth in Poland is at a much higher level than in neighbouring western countries.
For a couple of years, we have been transporting more and more cars. We've been increasing our fleet and our driving staff simultaneously. We are doing our best to meet the requirements of the automotive market. The upward trend is very noticeable.
In terms of domestic road transport, however, nothing revolutionary has happened so far. Road remains the most important transport mode, but the current situation is slowly pushing us to look for alternative means of distribution, with the use of rail and reloading compounds to optimise the transport process.
How is your company performing?
Year after year, we are gaining in national volumes. Our green car transporters can be seen in every part of our country. We have two main branches that handle domestic transport and logistics, located in Gdansk, in the north, and in Tychy, in the south.
We have dedicated fleets of car transporters for international transport and domestic work, all equipped with GPS monitoring systems, which allows us to monitor the trucks and goods continuously and to communicate with the drivers fast and free of charge, as well as to transmit transport documents instantaneously with the help of scanners and other equipment installed in the car transporters.
Our repair workshops, reloading compounds, and pre-delivery inspection services, plus the option of using road, rail and sea transport, all allow us to provide complex and even non-standard services, including those unrelated to transport.
Which transport modes are crucial in Poland?
The main method of domestic car transport is direct delivery to dealerships by road. Poland's road transport infrastructure has improved significantly in recent years. New sections of expressway and motorway are still being built, accelerating the transport process significantly.
However, [one issue] which affects all transport companies and needs to be considered urgently is a lack of homegrown drivers. This situation is resulting in growing interest in drivers from further east. That carries a certain risk, which our company eliminates by providing proper training.
All of our drivers, before they go out for the first time, must pass an obligatory three-month training course in which they learn the secrets of the job of car transporter driver. After they finish a specified number of courses, they then go on to take theory and practical tests.