Electric carmaker Tesla is to build its next gigafactory in Germany, co-founder and CEO Elon Musk told an awards ceremony in the country on Tuesday.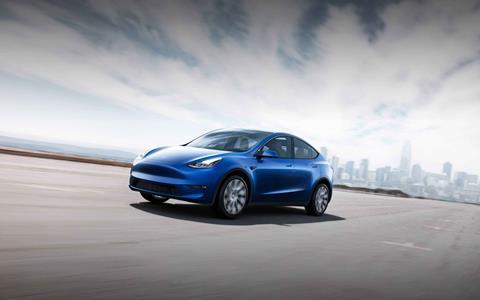 Speaking at the Auto Bild's Golden Steering Wheel Awards, Musk revealed that a European research and development base was also planned for Germany, in addition to the new design and manufacturing plant.
The facility will be located near the new Berlin Brandenburg airport, which is still under construction, and will build batteries, powertrains and vehicles, starting with Model Y, Musk later tweeted.
Tesla announced it was looking for a site in Europe in 2016. The move makes it a first for a major OEM assembly plant in Berlin, which is on the doorstep of Volkswagen in Wolfsburg. VW recently began EV production in Zwickau, Germany.
VW is building up EV supplier infrastructure in the region, including in Saxony in eastern Germany, as it begins production of the ID.3. In wider Europe, Tesla already has a vehicle assembly facility in Tilburg in The Netherlands.
In response to Musk's announcement, automotive analyst Daniel Harrison said: "This is a strategic and symbolic move by Tesla to strike at the heart of the German automotive industrial complex. Although Berlin is not a major OEM manufacturing hub, it is more politically symbolic. It was notable that Musk made the announcement at an event in Berlin in front of 200 top executives from Germany's major brands including VW, Audi and BMW.
"Let's be in no doubt, in classic Elon Musk style, this was a provocative shot across the bows to the German OEMs demonstrating that Tesla will finish what the Germans began and take it from here."
The US OEM was the largest producer of EVs in 2018, with 234,000 new registrations according to German-based Centre for Solar Energy and Hydrogen Research Baden-Württemberg (ZSW). Regarding its plans to build in Berlin, the German government and car industry have agreed to increase joint subsidies for electric car buyers and extend the programme to 2025.
The European announcement follows the company's decision to build a factory in China. The site in Shanghai will reportedly have a potential output of 500,000 units a year, though initial volumes at the start of operation will be far lower. The plan is to make a small number of "affordable" Model 3s at the end of 2019, before ramping up the following year.
Tesla has two gigafactories in the US, as well as a carmaking plant. Its gigafactory in Reno, Nevada, which is a joint venture with Panasoinc, is the world's largest electric battery plant. Its Gigafactory 2 is in New York and makes solar panels and components for the Powerwall and Powerpack rechargeable lithium-ion battery storage products. Tesla's main carmaking plant, which builds the Model 3, is in Fremont, California, where production began in 2010.
Earlier this year, Tesla was reported to have cut the number of staff it uses to deliver its vehicles in North America by nearly two thirds as part of wider second round of layoffs announced by the carmaker in January.
For more detail on the increase in Europe for EVs over the next ten years, download the business intelligence unit's Powertrain forecast.