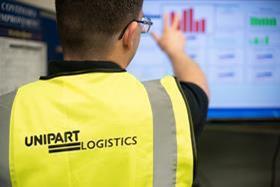 More than 100 Unipart employees will provide production logistics at Jaguar Land Rover's (JLR) battery assembly centre, currently being built in Hams Hall, central England.
Unipart Logistics has won a three-year contract to provide production services in line with what it terms JLR's rigorous just-in-time schedule.
The new factory will manufacture battery packs for Jaguar and Land Rover electric vehicles assembled at the Solihull and Castle Bromwich plants from 2020.
"The future of the automotive industry is in electric vehicles, and this contract with JLR sees Unipart playing a key role at the heart of JLR's plans for electrification," said John Neill, Unipart's group chairman and CEO.
The British company's existing contracts include delivering parts and providing aftermarket support for JLR, VW and other automotive customers, as well as carrying out production logistics for premium-brand carmakers.
Last August, Unipart Logistics signed a four-year contract with JLR to continue providing packing services at the Solihull and Castle Bromwich factories in central England.
Learn more about JLR's plans for electric vehicle production in the UK here