Ford and GM have been forced to extend assembly plant closures because of a shortage in the supply of semiconductors, a problem that continues to disrupt vehicle production globally.
The supply bottleneck, which is caused by a combination of factors, including the impact of Covid-19 on production in the first half of 2020 and on manufacturing investment, is affecting a number of major carmakers and their suppliers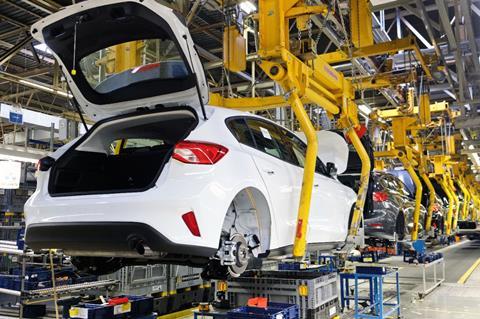 GM said it had to extend its previously announced shutdowns at certain plants in North America because of the current shortage, while Ford has announced closures into March across its Europe operations.
GM had previously announced closures at its San Luis Potosí plant in Mexico to mid-March but this will now be extended to the end of the month. Meanwhile, its Fairfax plant in Kansas, US, will close until "at least mid-April", as will its CAMI plant in Ingersoll, in Ontario, Canada.
GM also announced this week that its Gravataí plant in Brazil will implement downtime in April and May.
"We continue to work closely with our supply base to find solutions for our suppliers' semiconductor requirements and to mitigate impacts on GM," said the company in a statement. "Our intent is to make up as much production lost at these plants as possible. We contemplated this downtime when we discussed our outlook for 2021 last month."
That announcement follows the news that Ford was forced to stop Focus production at its Saarlouis factory in Germany for five weeks. The carmaker's plant in Valencia, Spain, has also been affected by the semiconductor shortage, according to the company. Assembly at the Cologne plant was disrupted to a lesser extent but Ford added eight days to the closure of its Romanian plant in Craiova.
"As a result of the semiconductor supply issue affecting much of the global auto industry and lower customer demand in the Covid crisis, we temporarily suspended production at our Saarlouis plant in Germany from January 18 to February," said the company in a statement. "This impacted production of our Ford Focus for Europe. We have restarted production, and our priority is to build vehicles that have already been ordered by customers."
The company is being forced to suspend production at the Valencia plant for 14 days, which continues from February into March. That goes alongside reduced production during days of operation over those two months.
"This will impact production of Kuga, Mondeo, S-Max and Galaxy," said a Ford spokesperson. "We will also reduce production of the Transit Connect in Valencia for both Europe and North America."
This month Ford has added three days to the downtime at its Cologne assembly plant, which builds the popular Fiesta. Cologne was shut on March 1, 2 and 8. And at Craiova, Ford shutdown EcoSport and Puma production from February 26 for eight days into March.
"We are closely monitoring the situation and adjusting production schedules to minimise the effect on our employees, suppliers, customers and dealers across Europe," said Ford.
As reported earlier, the impact of the semiconductor shortage is expected to last well into 2021.
The impact of the shortage and measures being taken by the automotive industry to mitigate the disruption will be under discussion at the forthcoming Automotive Logistics and Supply Chain Live Europe conference, held between April 20-21