Toyota has been forced to suspend production next month at two plants in Japan because of a shortage of semiconductors.
Toyota Motor East Japan will stop production on both lines of the Iwate plant for eight days between June 7 and 22, while its Miyagi Ohira plant will stop production on June 9, 10 and 11. The stoppages will be across two shifts.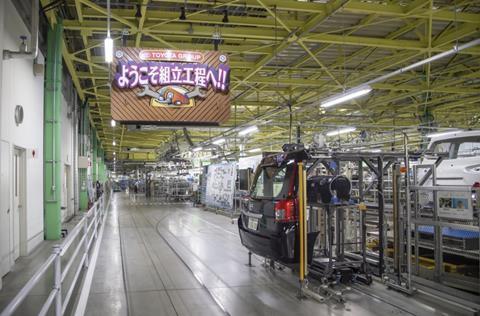 Globally, the automotive industry has been affected by the shortage in semiconductor supply, a consequence of a combination of factors, including the impact of Covid-19 on production in the first half of 2020 and on manufacturing investment. The automotive industry experienced greater fluctuations in 2020 than any other industry buying semiconductors. At the same time, high demand from other industries led to capacity constraints in semiconductor facilities.
A recent fire at the Renesas Semiconductor Manufacturing plant in Naka has also limited the supply of semiconductors to manufacturers in Japan.
Prior to this announcement Toyota has avoided stoppages caused by the semiconductor shortage in Japan, though it did have to temporarily close plants in February when an earthquake in Fukushima affected its supply chain. That included disruption to the Renesas Naka facility. The company said that it had maintained a stockpile of the electronic components and production had been ongoing.
The company has also used its Rescue system to narrow down suppliers likely to be severely impacted and ensure they had adequate inventories. Toyota established the Reinforce Supply Chain Under Emergency (Rescue) system after the first, more devastating, Fukushima earthquake, which hit Japan in 2011. Toyota conducts regular training with suppliers to utilise the system in case of a disaster. This then ensures that Toyota's Business Continuity Plan (BCP) can be maintained even following a disaster, once humanitarian aid, and affected communities and areas have recovered. That system is part of a range of contingencies Toyota put in place after the Fukushima disaster.
However, production of the Tundra in the US was affected earlier this year by the chip shortage but Toyota said it was focused on the development of countermeasures to secure continued production.
The impact on global vehicle production caused by the semiconductor shortage is expected to last at least until the end of 2021.