In the ten years since the earthquake and tsunami hit the Japanese region of Tohoku, carmakers disrupted by the disaster have been working on mitigation strategies to better prepare and respond to the next supply chain threat. Marcus Williams talks to Mazda, Nissan and Toyota about what has been achieved over the last decade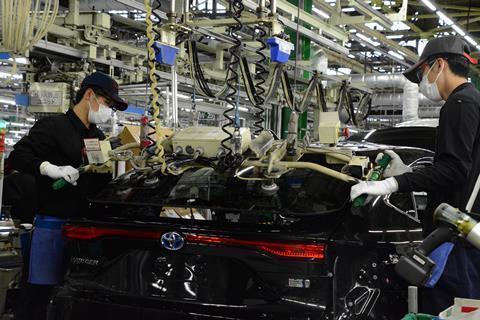 It is ten years since the Great East Japan Earthquake and its tsunami devastated the coastal area around Fukushima, and the wider Tohoku region. The earthquake, which hit on March 11, took almost 20,000 lives and caused widespread destruction, including to the Fukushima nuclear plant. It was also one of the most significant disruptions to the global automotive supply chain and exposed the extent of both interconnectivity in automotive production, as well as a wider lack of visibility across many suppliers.
The earthquake also shut down large parts of the domestic automotive manufacturing base and supply chain, which in turn caused wider disruption for global automotive supply.
In fact, among the first automotive factories to close in the wake of the earthquake were non-Japanese OEMs in Europe and North America, as carmakers such as General Motors and PSA faced parts and material shortages. Disruptions to production and supply flows were felt for many months afterwards.
The earthquake led some to review lean manufacturing principles and the just-in-time delivery of parts to assembly. It also led to an acknowledgement that there needed to be a radical overhaul in terms of supply chain visibility beyond the tier one level. Others adapted parts sourcing and manufacturing to avoid over-reliance on a single supplier. For all manufacturers, there has been a focus on improving supply chain visibility, particularly of 'tier N' suppliers – that is, the manufacturers providing parts upstream, at the tier two, tier three and tier four level and above
Repeated seismic activity around Fukushima since 2011, including in February this year, has kept the issue of supply chain vulnerability and how to mitigate disruption at the forefront of those charged with supply chain management. Today, in the wake of the coronavirus crisis, the disruption and its lessons have loud echoes across the automotive supply chain, especially as the industry grapples with material and semiconductor shortages, weather-related issues and ongoing disruption to global container shipping.
Some lessons were learned quickly in the wake of the original disaster but what about longer term? What measures have the carmakers implemented to prepare and respond to disaster and disruption?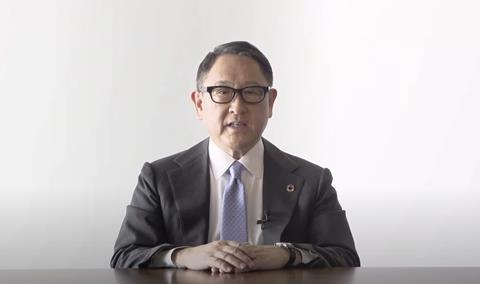 Business continuity at Toyota
A decade later, Japanese OEMs point to a range of important mitigation measures. Toyota says it has made significant changes to how it prepares for major disasters or emergencies and how it responds to those events when they happen. After the earthquake in Japan, measures taken included focusing the entire company on business continuity management. The carmaker says it was intent on being able to continue delivering services to customers even using limited resources in the case of a disaster or other emergency.
Toyota's Business Continuity Plan incorporates lessons learned from the Fukushima earthquake to formalise its disaster response policy. This policy aims to support recovery with the following three priorities: humanitarian aid; early recovery of the affected area; and restoration of Toyota's operations and production.
Toyota's approach also focuses on advance preparation, which the company says is extremely important in quickly restoring its operations. Those preparations are based on initiatives to visualise the supply chain and strengthen it.
"Before the earthquake, we had no information on suppliers beyond the tier two level and, as a result, didn't know if issues at those companies would impact tier one suppliers or supplies," says a spokesperson for Toyota. "As a result, after the earthquake, our tier one suppliers had to spend a lot of time gathering information via large-scale mobilisation to check for damage."
Certain of those suppliers affected by the Japanese earthquake were the only ones making the parts that Toyota needed. Once supply was suspended Toyota was forced to start from scratch to find alternative supplies and had to urgently make the necessary technical evaluations. Based on that experience, the carmaker identified two additional urgent priorities: ascertaining information about the supply chain that included tier two suppliers and beyond, and establishing a backup system.
"Starting in 2011, we have worked to build a supply chain database, collecting information for each item so that we can immediately ascertain the items affected by a disaster, which greatly contributes to speeding up the initial response," says Toyota's spokesperson.
"As part of this initiative, we asked our suppliers to collect supply chain information for tier two suppliers and beyond."
The tier one suppliers collected supply chain information for each item, including company name, production site name, and production site address. In the event of a local disaster, such as a fire or explosion, Toyota uses the company name and production site to look up its business relationship with the supplier.
"In the event of a large-scale disaster, such as an earthquake or typhoon, we use the address, such as prefecture or city, to identify potentially affected suppliers and ascertain affected items," says Toyota. "Sharing this kind of information in advance allows us to quickly understand the impact of a disaster, which has significantly accelerated our initial response."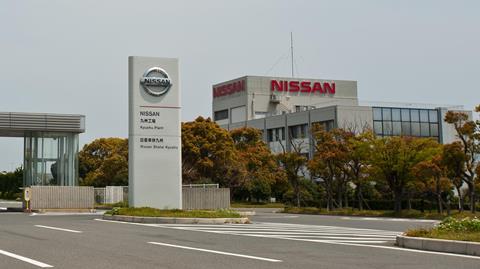 Risks and countermeasures
To prevent accidents and help restore production Toyota is sharing specific disaster case studies and lessons learned with suppliers. It is distributing self-inspection tools that summarise the necessary response measures when a problem occurs.
To improve alternative production capabilities, Toyota works to identify risks in the supply chain, defined as "ordering from a single supplier or producing at a single site, and special specifications, materials, or manufacturing methods". The company then takes countermeasures against these risks.
"In principle, we take a distributed production and inventory approach in which we distribute production among our various suppliers and order from multiple suppliers," explains the spokesperson. "The goal is to establish a backup system in advance so that production can be done through alternate suppliers and sites in the event of a disaster."
When an earthquake hit Fukushima in February of this year, Toyota used its address-based search tool to quickly identify all the affected suppliers and check their damage status one by one, starting from the suppliers located where the earthquake was strongest.
"The impact [on operations] was significantly lower than in 2011 owing to our ongoing advance preparation of alternative production capabilities," says Toyota. "However, despite our and suppliers' continuous efforts, not all the suppliers were 100% ready yet, and these suppliers got affected. We are in the process of clarifying the additional lessons to learn from this recent disaster, with determination to further improve our readiness."
One other measure that Toyota now takes is to collaborate with dealer outlets to provide electrified cars as power supply vehicles for use in the local affected areas, as well as partnering with infrastructure and logistics companies to support mutually beneficial responses to any given major disruption.
Nissan's priority suppliers
Nissan, meanwhile, has put in place four measures to ensure parts with higher risk – such as those made by a limited number of specialist suppliers – are not wiped out in the event of disruption. The first is to secure alternative production sites. According to a spokesperson at Nissan, the Fukushima disaster revealed the risk in procuring parts from one supplier only.
In the July following the 2011 earthquake Nissan's then chief commercial officer (COO) Toshiyuki Shiga said the carmaker was looking to its suppliers in the region to shift production to other factories and also looking for supplies from abroad.
By the next year Nissan began procurement of certain parts for a new light commercial vehicle directly from South Korea through its subsidiary Nissan Shatai Kyushu. That was just one example where a carmaker succeeded in diversifying their supply chain to avoid future problems associated with natural disasters but also as means to escape the high costs associated with production in Japan at the time.
Since then, Nissan has listed suppliers or plants based in areas that have a high risk of being hit by high-intensity earthquakes and that produce parts that are difficult to procure from another supplier. Those on the list are marked out as high-priority suppliers.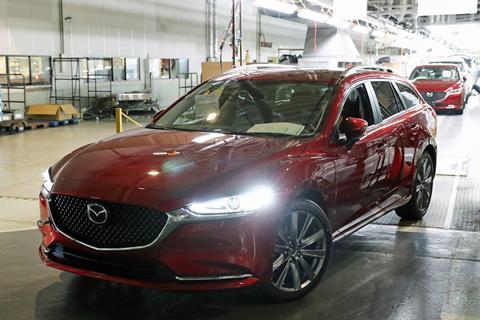 Nissan's other measures include increasing inventory enough to cover the replacement period necessitated by the disruption to supply and the implementation of measures to speed up in-house recovery. The company has also reinforced its facilities to be stronger in the event of an earthquake. After Fukushima, Nissan's CEO at the time, Carlos Ghosn, announced a $37m investment to reinforce factories damaged by the earthquake but also to equip other facilities against future incidents.
Nissan has also built a database to visualise its supply chain, as its spokesperson explains: "In case there is an earthquake with high seismic intensity we can use the system to identify suppliers based in the affected area (up to tier N), and the parts which are manufactured there. This allows us to quickly identify models which could be affected."
That carmaker has created a scheme to send recovery support teams to suppliers that are found to be severely damaged.
"In order to dispatch the support teams quickly after the disaster occurs, potential members are listed up in advance, and revised annually," says Nissan's spokesperson.
Priority of protection
Mazda, meanwhile, has established a new supply chain risk management system called SCR Keeper, which it says is a key part of the carmaker's plan to mitigate supply chain vulnerability in the event any such similar future disruption.
"It includes procedures to assess and mitigate risks in case of a large-scale disaster. For example, the location status of our individual suppliers, as well as substitutability," says a spokesperson for Mazda. "Our priority is always to protect our own employees as well as those of our suppliers, and to ensure the earliest possible recovery from a disaster."
One of the main difficulties Mazda faced at the time, says its spokesperson, was in quickly assessing the situation its suppliers were in and adjusting production and procurement plans accordingly.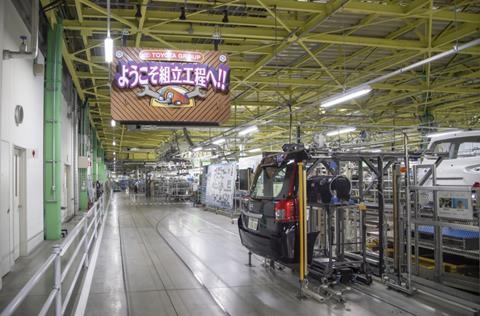 "With the introduction of systems such as the SCR Keeper, assessing the impact of a natural disaster on the region where it occurred is much quicker and more effective," she says. "Together with our suppliers, we have also worked on alternative procurement and production plans for high-risk parts and materials should we be faced with situations like this in the future."
Waves of disruption
The measures taken by all three carmakers have paid off in difficult situations since Fukushima. Since the set-up of the SCR Keeper in 2016, Mazda has been able to quickly gather information about its domestic business partners and take necessary action in the event of natural disasters, such as happened in the torrential rains of 2018, which suspended production at several sites in western Japan.
Nissan says that thanks to better visualisation through its supplier database it has been able to identify affected suppliers more quickly. "With this, as well as listing up of recovery support team members in advance, we have been able to dispatch the recovery support teams much faster than before."
The carmaker has taken the same approach towards the Covid-19 pandemic. It says that implementing the lessons learned from the first wave of the pandemic better prepared it for the second wave, such as through improved teleworking and the set-up of a back-up scheme for parts procured globally.
Once a year Nissan holds a role-playing drill to run through the steps necessary to take when hit by natural disasters, explains its spokesperson. This year some of the members attending from outside the disaster management headquarters connected through an online meeting tool and were able to run through how they would coordinate responses during the disruption caused by Covid.
Toyota was also able to use its faster response measures to mitigate the impact of the Covid pandemic. When the coronavirus began to spread throughout China in January 2020 Toyota says it was able to circumvent the impact on vehicle production in Japan by swiftly grasping stock levels and starting to plan alternative production.
As the situation turned into a global pandemic alternative production sites were taken out of action and international travel restricted, which made production stops because of parts supply shortages inevitable. However, Toyota says the impact on operations was relatively limited given the global reach of the crisis thanks to ongoing business continuity plans.
"It is not easy to quantify the benefit, but we can give an example: now it takes us half a day to grasp a disaster's impact on our suppliers, whereas the same exercise took us around two weeks after the 2011 earthquake," says Toyota.
Similarly, Mazda's supply chain risk management system has come into play during the pandemic.
"Covid-19 is a global crisis with a much broader impact than an earthquake," says Mazda. "During times of lockdown, the systems helped us to gather information about the pipeline inventory, and detect delays and shortages for individual parts early, and [helped us] to take the necessary actions to mitigate the impact."
Technology and talent
Digital technology has come a long way in the ten years since Fukushima and has equipped those in charge of supply chain management with better ways to deal with unexpected events.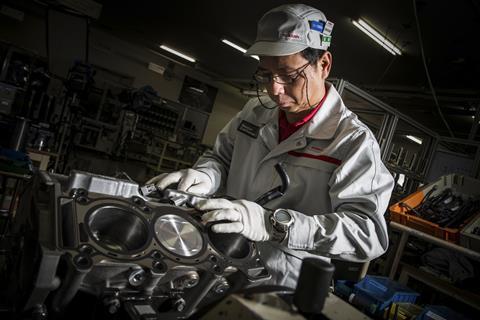 "Having the right tools and information at hand to assess the situation on a daily basis and take necessary actions fast has proven to be the most effective in times of unforeseen disruptions," says Mazda. "The advances in digital technology, of course, play their role in ensuring we are better able to understand the full picture by having quicker and more accurate access to, for example, parts inventory."
For Toyota it is about having the right talent in place working together.
At Toyota, we believe that what drives improvement is the way people work together including suppliers," says the carmaker's spokesperson. "When we standardise the better way of working, the technologies and systems advance as well."
Greater supply chain team collaboration, supported by digital technology, has enabled OEMs to weather the worst of the Covid disruption and helped them mature working strategies to cope with whatever disruption is round the next corner.