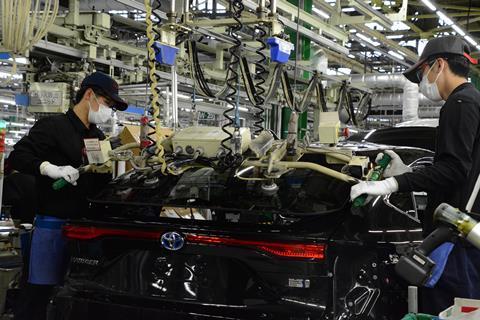 The latest earthquake, which registered a 7.3 magnitude, has been reported as an aftershock to the original incident and struck the same area on February 13, though thankfully with nothing like the devastation caused in 2011. One million homes lost power and the earthquake also cased landslides. However, while the quake was felt strongly in Tokyo, no tsunami warning was issued. The area saw a similar aftershock in 2016.
The automotive sector has taken precautions to review the safety of facilities but manufacturing facilities have escaped damage. Toyota said that its all of its plants in the Tohoku area were operating as usual as of the first shift on Monday (February 15). Toyota Motor East Japan has three plants in the area: Miyagi Ohira, Miyagi Taiwa and Iwate.
However, the carmaker will have to suspend production at a number of plants this week, between February 17 and 20, because of the interruption to the supply of parts, though further details on which suppliers are affected were not available. Toyota said that 14 production lines at nine plants across the country had been affected by the supply shortage (see box).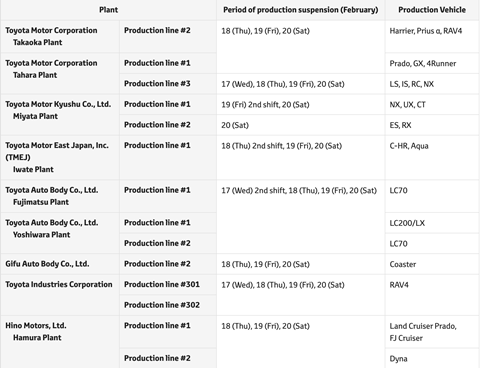 Semiconductor supply
Perhaps more significant, given the current shortage in semiconductor supply to the automotive industry, was the impact on Renesas Electronics. While the company confirmed there was no damage to any of its facilities in the area, there was a temporary blackout at its Naka factory, which led to a temporary suspension of production while teams investigated the safety and possible damage to equipment and products within its clean room. Wafer production recommenced on Monday (Feb 15) and front-end manufacturing processes were resumed on Tuesday (Feb 16).
"The group will resume production of the front-end manufacturing processes step by step and expects to reach full pre-earthquake production capacity of Naka Factory in around one week of the earthquake," said the company in a statement.
Renesas is also assessing the impact of the earthquake on its overall supply chain, including suppliers and partner companies.
No damage to the buildings and utility equipment at any Renesas factories located nearby the epicentre of the quake was reported. Along with the Naka factory, Renesas has facilities in Yonezawa and Takasaki, both of which are continuing operations.
Next month, on the anniversary of the 2011 Fukushima disaster, Automotive Logistics will be looking in more detail at the long-term impact on the global automotive supply chain, the lessons learned and the relevance of those lessons to the ongoing Covid crisis.