Pure car and truck carriers are set to benefit from space technology with the launch of a new project involving the European Space Agency (ESA) and shipping company Grimaldi.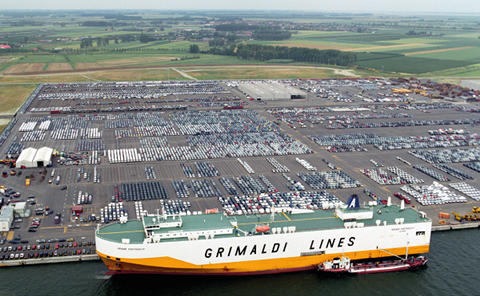 In 2020, the ESA announced that it was expanding the Galileo satellite programme. Increasing from 20 to 24 satellites, the expansion was set to provide global, highly accurate tracking that could give unprecedented sight of cargo movements around the world.
The potential for automotive use was clear but two years ago it was predicted that the primary functions would be land-based tracking, with vessels already accounted for in motion. However, the ESA has now selected European maritime services provider Grimaldi for a new project – Grimaldi Satellite Assisted Berthing – that uses the Galileo network to manoeuvre large ro-ro vessels when they come into port.
With the support of the Italian Space Agency and under the ESA's Navigation Innovation and Support Program (NAVISP), the Grimaldi will collaborate with Kongsberg, a Norwegian provider of signal reception and processing technology. The project has a co-prime contractor in the form of Radiolabs Consortium, which will cover the design, exection and validation of the system as it is put into place.
The system is specifically intended for Grimaldi's large pure car and truck carrier (PCTC) vessels.
Although work will commence on the project straight away, it will be a long-term endeavour. The first 18 months will be spent on laboratory development, including design work for the equipment. Within that year-and-a-half period, pre-installation will also begin on the ship that Grimaldi will be using to test the technology.
In 2024 the project moves ahead with an initial test planned for March, at the port of Antwerp in Belgium. Antwerp Euroterminal, which is owned by the Grimaldi Group, will play host to the test and see the vessel manoeuver using the technology for the first time. The ESA will support this phase and work with Grimaldi on analysis and validation before the project goes further.
Although the end goal is to develop a system so accurate that docking manoeuvers can be partially automated, the initial test will be on the basis of level 1 autonomy, where the ship's master is assisted by the technology, and given support and information by it, rather than allowing the vessel to control its own passage.