Volatility at Europe's leading finished vehicle handling ports was made worse in 2020 by the impact of restrictions caused by the Covid-19 pandemic in the first half of the year and then by resurgent demand in the second half. Marcus Williams reports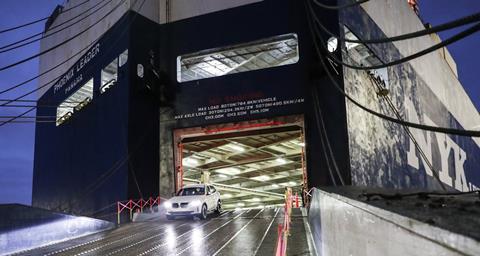 The impact of the Covid pandemic on operations at Europe's main vehicle handling ports in 2020 saw volumes drop on average between a quarter and a third, though with some notable variances in either direction.
The outbound supply chain was badly disrupted by the end of the first quarter and vehicles were stranded in the supply chain through April and May as lockdowns spread through the region. Capacity was tested at the vehicle handling terminals by a number of factors as vehicles in the pipeline were delivered to ports with no prospect of onward delivery to dealerships. There were also stringent safety protocols that had to be worked out and put in place to manage staff at the vehicle terminals, which increased processing times.
These Covid-related disruptions came on top of an economic uncertainty that had been affecting vehicle sales in Europe (and globally) beforehand. New car registrations increased by 1.2% across the EU in 2019, reaching more than 15.3m units in total and marking the sixth consecutive year of growth. However, the rate of growth had been slowing since 2015.
Capacity constraints that were already affecting the ports were made worse by the shutdowns and exacerbated by the fact that many of the ports also handle general ro-ro freight, which was also disrupted. However, the fact that some ports did handle other goods was also an advantage as it offset losses incurred by the disruption to automotive.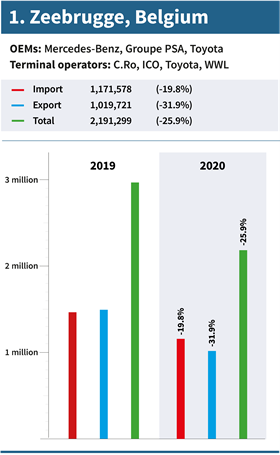 The uncertainty over trading conditions between the European Union and the UK ahead of the Brexit deadline at the end of 2020 also affected vehicle movements in Europe, though for some ports it was the acceleration of exports to the UK ahead of this deadline that actually bolstered the recovery of throughput in the second half of the year, notably at Zeebrugge and Vigo ports.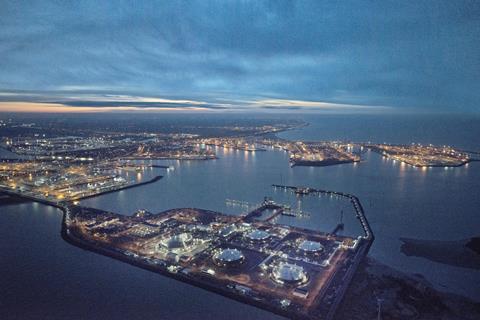 Dwell and delay
Despite the impact on throughput, Belgium's port of Zeebrugge maintained its position as Europe's busiest vehicle handling port in 2020. The second quarter of the year saw half the amount of vehicles handled as in the first quarter but volumes recovered through the second half of the year, with a strong fourth quarter showing volumes back above 700,500. That, in part, was driven by a sharp increase in UK vehicle imports ahead of the Brexit deadline on December 31.
The main challenges for Zeebrugge as the global reach of the Covid-19 pandemic started to affect the automotive industry in Europe in first half of the year were a shortage of terminal capacity and delays in the handling of the cars.
Terminal capacity was in short supply as EU dealerships closed and vehicles were left at the terminals for a longer period than usual. Zeebrugge port authority responded by providing extra temporary storage capacity for the terminal operators and facilitated the lay-up of vessels in port.
Delays were also caused by strict hygiene and safety measures to which workers had to adhere. As well as requiring social distancing on the transport used to get workers to their stations, the restrictions also necessitated the disinfection of new cars following their loading or storage, all of which added time to the processing.
Nevertheless, according to the port authority, operations were maintained at 100% and it took only a limited amount of time for the companies and workforce to adapt to new working conditions.
"There were some concerns due to a lack of personal protection equipment," said a port authority spokesperson. "But this was only an issue in the first half of the year. Once used to the new situation, it all went more smoothly."
Again, constraints on the availability of staff in the second half of the year because of strict quarantine measures were only temporary, according to the port.
Zeebrugge's balance of different cargoes – ro-ro, containers and liquid bulk – has helped it weather the Covid storm.
"When one sector is suffering, it is usually buffered by another sector," explains the port's spokesperson. "In 2020, when ro-ro was suffering, containers and liquid bulk grew. It allows the port authority to shift focus to the sector which is in need of support."
Building for the future
Zeebrugge port's many infrastructure projects also proceeded unabated in 2020. Those included the construction of a turning bridge over the connecting dock between the Hanze and Bastenaken terminals. The bridge will support the future increase of traffic within the port. Structural works on the connection between the terminals is expected to be finished by the end of May this year, after which further dredging work will be carried out.
Work also continued on the new quay wall between the Bastenaken and Retour quays, which is over 1,000 metres, and on the quay wall at Boudewijncanal, which is 900 metres.
"This is a combination project since, aside from the quay wall, the tunnel elements for a new Scheldetunnel in Antwerp will be built on that location," says the ports spokesperson. "In a building dock, the tunnel elements will be built, after which they will be towed from Zeebrugge to Antwerp [estimated to be in 2024]."
The 900-metre quay wall will then be ready, complete with shore power, for terminal operations carried out by vehicle logistics provider Wallenius Wilhelmsen Logistics Services (formerly WW Solutions).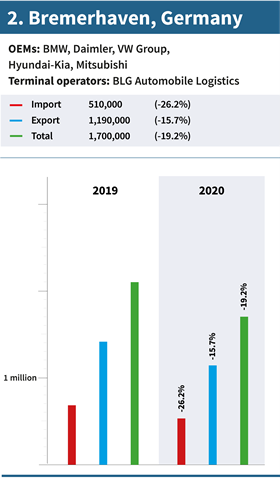 Negotiations on the corporate merger of the port of Zeebrugge with the port of Antwerp have continued through the year and on March 1, 2021, the cities of Bruges and Antwerp reached an agreement. That merger is expected to be complete by next year, subject to registration and approval by the competition authorities. It is still too early to assess what impact that merger will have operationally on the finished vehicle sector, according to the ports, though each is expected to stay focused on their own strengths.
Fluctuation and uncertainty
Meanwhile, Antwerp port authority is working through the current volatility in trade and on recovering the volumes it lost in 2020. According to the port authority, social distancing rules necessitated by the Covid pandemic in the first half of 2020 made it tough to work in a productive way and volume fluctuations were hard to predict. That in turn made planning harder than usual for loading and discharging operations, as well as for yard capacity planning, according to the port authority.
Volume fluctuations and vehicle production forecasts continued to be uncertain into the second half of the year for Antwerp but productivity was restored, in part as distancing rules were adjusted and numbers of people were allowed to work together.
"Distancing rules and health and safety protocols did have an effect on operations, but soon became second nature to port personnel," says Antwerp Port Authority's spokesperson. "Though the impact was surely felt in the beginning, staff quickly adopted the new way of working to limit the impact on productivity."
Antwerp port was able to maintain staff numbers throughout the year and there was not an increase in absenteeism because of ill health despite the pandemic, according to the port authority. What is more, the lessons learned from the pandemic will make the port more responsive in the face of future disruption.
"Flexibility has always been one of the main traits of the port of Antwerp," says the port's spokesperson. "Port companies and personnel proved to be extremely resilient and adopted change quickly during this crisis, so volatility in the future will surely be met with professionalism and speed to market.
That flexibility meant the port was able to respond quickly and gain enough visibility to plan for continued operations.
"By means of regular status updates and capturing information on bottlenecks, we were able to report to a multidisciplinary and cross-border Port of Antwerp crisis team," says Antwerp's spokesperson. "In this way they were able to act swiftly and keep the port up and running."
A two-speed 2020
Amongst the other main performers in the northern part of Europe, BLG Automobile Logistics' terminals at the port of Bremerhaven in Germany saw less of a decline than some of its competitors, though they were still down 19% in terms of import/export volumes.
The repercussions of the Covid pandemic hit volumes in the second quarter of 2020 and affected all forms of logistics business, says Stefan Nousch, director of sales and marketing at BLG Automobile Logistics. That included government regulations and restrictions in response to the pandemic globally, which affected manufacturing, ports, shipping and the outbound supply chain.
At the same time, however, Nousch says the economic downturn has also weighed down maritime trade flows.
"The decrease in production and consumption activities led to slowdown in maritime trade, which in turn reduced shipping demand and port traffic in the first half of 2020," he points out.
Challenges of a different sort followed the downturn in the second half, however, when the increase in exports to the Asian region, especially China, had everyone working at full speed by the end of the year to cover customer demand.
BLG reports that it was able to ensure operations were maintained at the car terminals with some extensive protective measures in line with the health and safety restrictions on employees demanded by the coronavirus. That was helped by developments in digital technology.
"In addition to improving operational efficiency, digitalisation helped ensure uninterrupted logistic processes and the need to limit physical contacts in face of pandemic restrictions," says Nousch.
Nevertheless, Nousch says Covid-19 underscores the fact we are living and working in extraordinary and unprecedented times.
"The decisions made during this crisis carry immense weight," says Nousch. "BLG management was reacting to this unprecedented challenge [with] different tools and instruments, like roadmaps, to guide a response and to help prepare for the future."
BLG Autoterminal Bremerhaven by numbers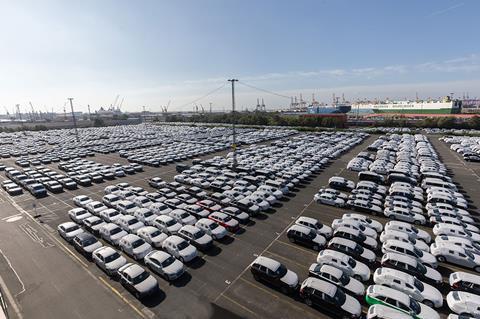 240 hectares of terminal capacity
95,000 total vehicle storage capacity
50,000 covered storage
45,000 uncovered storage
8 multistorey car parks
18 berths
3 workshops
16 rail tracks and headramps
Ongoing efforts at Emden
The port of Emden, also in Germany, remains the third busiest on the continent even though it exclusively handles VW Group volumes. These dropped by 26% in 2020, in line with a number of other finished vehicle-handling ports in Europe.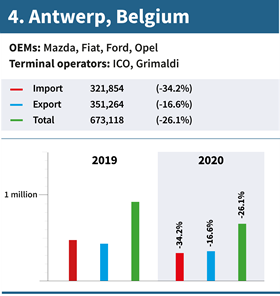 As elsewhere, identifying, agreeing and establishing effective protective measures for staff was one of the main concerns as the coronavirus hit operations.
"Adjusting the number of operational staff at the beginning of the pandemic and then also at the re-start has been (and is still) an enormous task," says a spokesperson for VW. "The reason is that, at the beginning of the pandemic there were no reliable short- or medium-term planning figures available, but measures had to be taken, which then only took effect with a time lag. The main task at present is to synchronise the overall requirements of all parties involved under pandemic conditions."
VW worked with its terminal operator EVAG to manage the volatility in vehicle movements to and from Emden as the year went on, and that is something it is still doing according to VW's spokesperson.
"Volkswagen and EVAG reduced the daily loading capacity at re-start of operations in Q2 by spreading the volume over the week and to reduce daily peaks," he says. "This is still an ongoing process and will last as long as pandemic preparedness arrangements for staff need to be maintained."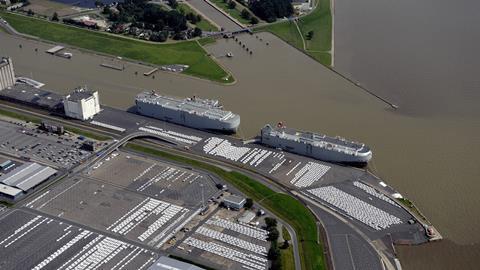 Koper and Covid
Further south, in the Slovenian port of Koper, Covid-19 was the biggest impact on vehicle flows, especially on the import side. However, by the second half of the year port terminal operator Luka Koper reported a compensating boost in exports, thanks to prior investments in greater storage capacity which afforded it more flexibility. The company reported total throughput of more than 617,000 vehicles in 2020.
"The second half of 2020 was more encouraging, with more export volumes handled for the Far East," says its spokesperson.
As with other terminal operators, Luka Koper managed to maintain normal operations during the pandemic, while adhering to health and safety procedures. The company says its vehicle inventory management IT system ACAR helped it manage the volatility in volume flows through the year by optimising work processes and standardising communications with its partners.
Investments in vehicle ro-ro facilities continued last year. In May, Luka Koper finished the construction of additional railway sidings (4 x 700 metres), specifically designed for loading/unloading finished vehicles. In June the company also completed a dedicated ro-ro berth adjacent to the sidings.
"Both investments, together with the adjacent storage areas, provide higher productivity with shorter intra-port transport routes and increase overall terminal capacity," says Koper's spokesperson. "We are also finishing the construction of a new garage for 6,000 units [that] should be ready in April 2021."
Luka Koper also made investments in power supply infrastructure during 2020 to support the increasing volumes of electric vehicles, something it was expecting in imports from China.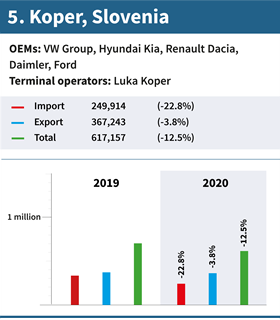 Like BLG, Luka Koper has also invested in modern lighting systems for its storage areas, and it has worked with its subsidiary Avtoservis to provide additional retrofit and washing facilities for its OEM customers.
Looking ahead, Luka Koper expects its investments in additional storage and power supply infrastructure by the end of 2021 to support the maritime network connections it is developing in the Mediterranean and Far East. "The Port of Koper is ready to accommodate substantial volumes of finished vehicles to and from Central and South-east Europe," says its spokesperson. [MAIN ARTICLE CONTINUES BELOW]
Sustainability initiatives at the ports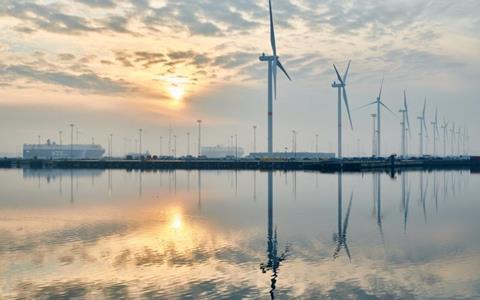 As part of plans to build for the future, a number of ports made investments in sustainability through 2020.
The port of Zeebrugge has partnered with vehicle terminal operator, ICO, and Engie, the French multinational electric utility provider, to build ICO Windpark. The park includes 11 wind turbines with a capacity of 44MW and is the largest such turbine park in Flanders on a single industrial site.
"This means that there is a total of 50 wind turbines in the port area, creating 130MW of power," explains Zeebrugge port's spokesperson.
Other sustainability investments made at the port in 2020 include further charging points for electric vehicles (EVs) and additional bunkering capacity for liquified natural gas (LNG).
Over at Bremerhaven in Germany, BLG Automobile Logistics is preparing for more sustainable logistics with aims to be climate neutral by 2030
"To achieve this target, we will reduce our own emissions significantly by 30% and we will cut those caused outside the company through our business operations by 15%," says Stefan Nousch, director of sales and marketing at the company, adding that BLG is the first German logistics company with scientifically recognised climate protection targets (SBTi).
Alongside those goals BLG spent 2020 testing high-mast LEP and LED lighting as part of a research project that saw it create a test environment using the technology in the port of Neustadt in Bremen.
Short-term uncertainty at the port of Barcelona, meanwhile, is being countered with optimism in the form of long-term sustainability goals. : In January 2021 the port authority approved its new Strategic Plan 2021-25, a project phase that makes sustainability one of the main drivers of economic, environmental and social planning, with longer term aims reaching to 2040.
"We are a port extremely close to the city and understand we need to pay attention to industry and to citizens as well," says Lluís Paris, commercial manager, pointing out that those close ties mean it is integral in controlling pollution through such means as car sharing projects, recharging e-vehicles and facilitating the use of autonomous vehicles through its growing 5G network. The 5G Barcelona initiative, together with Telefónica, APM Terminals, and Mobile World Capital Barcelona, is a pilot project designed to improve security in ports thanks to the use of 5G networks to connect cranes, vehicles, and people by merging different advanced communication and localisation technologies.
"That's why we are helping our car terminals to get to excellent levels of sustainability," says Paris. "As a first step there is an already running project to place solar panels in every terminal and a €70m project is also being executed to provide electricity connections from shore to vessels. This project includes guaranteeing that the used energy will be a green one, partly generated in our grounds."
Vigo bucks the trend
Koper's performance in 2020 put it into the top five for the first time ahead of Spain's vehicle handling ports but the main Spanish ports were well represented in the top 10.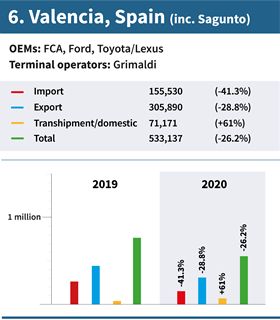 Most notable is the fact that the port of Vigo recorded an increase in vehicle handling of 6% last year, compared to more significant losses at Barcelona (-38%) and Santander (-31%). That increase was because of a second half that saw a spike in vehicle exports. In fact, it was the largest movement of vehicles in the port's history, according to Vigo Port Authority. That was at least in part driven by a drive to get vehicles into the UK ahead of the Brexit deadline at the end of 2020. In the months of September and November last year Vigo saw increases in exports of 43% for both months.
Those increases brought with them their own challenges, according to David Castro, commercial manager at Vigo Port Authority.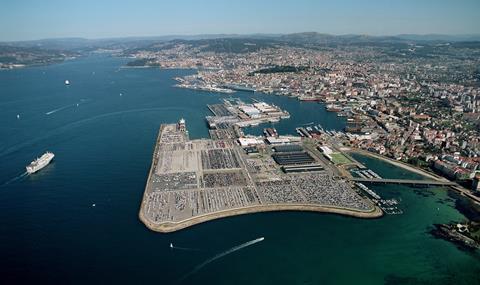 "The second semester meant a tremendous increase in exports, the main difficulty being to provide shipping services, since the docks were almost permanently occupied," says Castro. "[However], the rapid departure of vehicles, together with the decrease in imports, made it possible to cope with this large increase in volume, highly concentrated in a short period of time."
Vigo Port Authority is overseeing the reorganisation of entry and exit points at the vehicle terminal to make throughput more fluid. It has also recovered an area of 70,000 sq.m, previously under concession to the Vigo Free Trade Zone Consortium. That has increased the terminal's capacity for vehicle handling.
The first half of 2020 presented different problems for Vigo. The suspension of ro-ro vessel traffic because of Covid led to extended dwell times for vehicles in port, which stretched capacity. Vigo saw volume throughput drop 80% for both April and May.
Added to that, Castro says prevention and protection measures against the virus, and the provision of protective equipment to the stevedoring personnel, was "complicated" in the first part of the pandemic. However, these difficulties were overcome quite quickly, according to Castro, and the port authority developed safety procedures that allowed operations to continue. They included increasing the fleet of vehicles dedicated to transporting stevedores to and from the terminal.
Short-term concerns in Barcelona
Barcelona, which saw volumes drop above the European average for 2020, made a priority of controlling debt burdens as Covid-19 knocked out volume throughput.
"The port authority started a programme of delaying debt from every company working in our grounds and, for port terminals, we implemented discounts depending on how the pandemic impacted on the activity of every kind of terminal," said its spokesperson. "We applied the rules issued by Spanish government and made some local adaptations as well."
Beyond the Covid pandemic there is concern for throughput at Barcelona given the closure of the nearby Nissan Zona Franca plant at the end of 2021 and the fact that Mercedes X-Class production there has already been shelved.
"We all wish to have a clear idea about the future, but there are far too many unknown issues which are extremely influential to our market," said Lluís Paris, commercial manager at the port authority.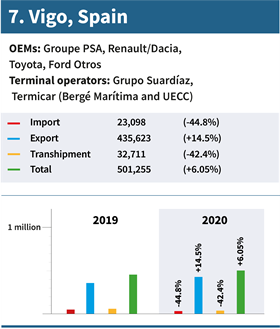 Those issues include the longer-term impact of Covid-19 on the Spanish economy and how that will affect vehicle imports. There is also the question of what happens to the industrial space left when Nissan exits the Zona Franca plant at the end of 2021.
More immediately, the shortage in the supply of semiconductors is affecting production at several automotive locations, including the Stellantis (former Groupe PSA) plant in Zaragoza. Though there are potential bright spots on the horizon with development of EV projects in the area, such as those planned by Ford, Renault and Seat.
"Some of the items are negative but others are positive (in the longer term)," says Paris. "In general, we see a horizon of [export] consolidation, including many new projects linked to conventional and electric cars, and a more complicated perspective for imports, with a Spanish market that is really weak this January and February."
The port does not expect vehicle throughput to return to 2019 numbers until 2022 or 2023.
However, the port and its terminal operators have proven their ability to deal with any future volatility through the pandemic and digital tools have been central to that.
"Digitalisation working groups have very much increased their activities and several projects are being accelerated, especially the automation of terminal gates in connection with Customs House, road transport companies and OEMs," says Paris.
In addition, the availability of passive and active RFID (radio frequency identification) systems for tracking vehicle inventory and location has been crucial to dealing with the disruption caused by Covid-19.
"Since the number of cars going through the facilities has dropped while the storage time has grown in many cases, active RFID has proven to be essential to have all the vehicles easily located," explains Paris.
Barcelona port authority has the flexibility to give terminal operators an additional 23 hectares of storage space in the vicinity of their operations at the port. Paris also points out that developments at those terminals are proceeding apace, with Autoterminal developing its technical centre, and Setram implementing mega-truck deliveries and pick-ups as a way of giving improved service to its customers.
Furthermore, the port of Barcelona will benefit from rail enhancements for its customers going forward. Approval has been granted by the EU for new rail access into the port for traffic that travels through the new port expansion area and the logistic zones. Barcelona port is also working on a project to invest directly in the Spain's rail network with the aim of reaching its main commercial targets, including the vehicle assembly plants in the country, with 750-metre-long trains (UIC gauge). Paris says the port will operate the trains to optimise the volumes transported.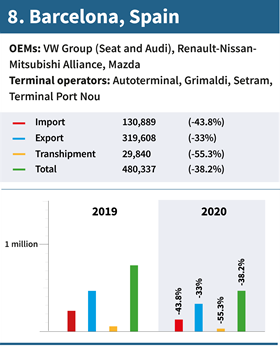 "[Barcelona port] is the only facility in Spain able to operate UIC gauge trains, and send and receive them anywhere into Europe right to and from our sea terminals," adds Paris. "We are glad to see that some rail operators and OEMs are using the facilities with success and we are expecting soon the arrival of new rolling rail equipment that will make the connection much more efficient."
Onwards, upwards and outwards
Santander port on Spain's north coast has also been working on infrastructure and facilities to bring greater storage capacity and flexibility to its operations, despite the disruption caused by the pandemic. For the last two years the port has been developing a 75,000 sq.m vertical storage park, with the first phase due for completion in 2021 and the second phase before the end of the 2022.
The port has also reclaimed 40,000 sq.m of land south of Raos Docks and is investing €1.1m in developing it for additional storage, a project that is expected to be complete in the next few months.
In terms of other projects, Santander port authority is working with terminal and transport operators on alternative logistics chains for automotive spare parts and components.
"In that sense, the possibility of developing synergies with the Llano de la Pasiega, a new regional logistics project, with road, maritime and rail transport connectivity, is under study," says Santander's ro-ro cargo manager, Patricio Arrarte Fuentes-Pila. "To that end, different working groups with the best partners who are currently operating in our port in the maritime, road and rail transport sectors, have been created."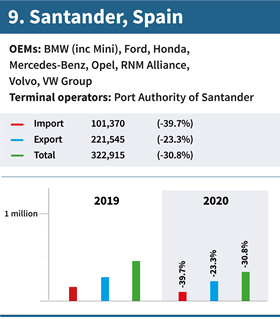 With direct relevance to finished vehicle movements, one of the most important projects the port authority at Santander has completed involves a new quality control system, coordinated with Puertos del Estado, which manages Spain's state-owned ports, Comunidad Portuaria, Spain's port community body, and the Spanish Association of Automobile and Truck Manufacturers (Anfac).
As far as disruption affected the port of Santander in 2020, it lost 30% of throughput compared to the previous year. The port authority says Covid also delayed some of the projects that were ready to launch. The restrictions imposed by the health authorities also meant the number of drivers involved in the handling of vehicles was greatly reduced, and this led to the increase in the time required for their processing.
Looking ahead however, Arrarte says that once the phase of instability caused by the pandemic is over, the port authority hopes to implement some of the projects it has in mind.
"The Port of Santander is a multi-purpose port specialised in ro-ro and solid bulk cargo," says Arrarte. "It is the only port in the north of Spain which offers direct connections to the national expressway network, with a toll-free expressway and rail network straggled in every dock and terminal."
Arrarte says that these advantages, combined with the fact it has no channel restrictions for vessels, give the port an advantage and that is something it is keen to build on for trade off the Atlantic coast of Spain.
Latent demand at Piraeus
The Greek port of Piraeus saw both import and transhipment volumes drop in 2020. The latter resulted both from reduced demand from the main markets in the eastern Mediterranean – in particular Turkey and Egypt – and reduced sales in Europe. Local (import) volumes were down by around 28% because of the restrictive measures imposed by the EU because of Covid and the suspension of production in international vehicle assembly plants in first and second quarters.
"As a result, car passenger registrations in EU in 2020 declined by 23.7% and this impacted transshipment volumes in Piraeus from both European and Asian production sites," explains the Piraeus Port Authority.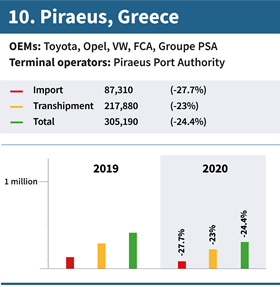 Imports of cars to Greece dropped by more than 30% in the eleven months of 2020 against 2019. However, the PPA's spokesperson drew optimism from the fact the figures in April and May last year were radically reduced (80.2% and 67.5% respectively) but were overturned in September.
"This quick turnaround from the reductions recorded in the second quarter of 2020 indicates that there is latent demand," says the PPA's spokesperson. "Provided pandemic measures ease on a more permanent basis there will be a recovery in demand and imports of cars in 2021."
The recovery of transhipment volumes in 2021 will depend again on the economic conditions of the neighbouring Mediterranean countries, particularly Turkey, Egypt, Levant and the Black Sea area.
As reported last year, Piraeus is now benefitting from a supply chain IT system provided by German systems expert Inform, which will improve operations at the port's car terminal by providing greater operational transparency. Carmakers and logistics providers will be able to track the location and delivery time of each vehicle via a web portal and the system will be able to optimise operational processes in the vehicle compounds using real-time data and advanced planning.
Managing the Covid impact at Cuxhaven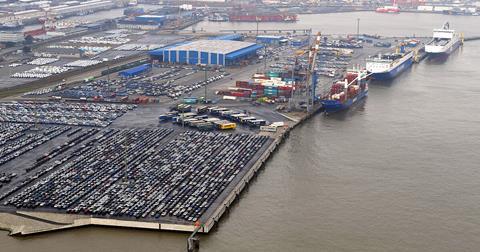 While exact figures for Cuxhaven port in Germany were not available, Oliver Fuhljahn, head of business development automobile logistics for terminal operator Rhenus Cuxport, put the figure at almost half a million in 2020, which would make it a top 10 European vehicle handling port.
According to Fuhljahn, three quarters of that number were exported, with the UK and Sweden two top export markets for the German premium car manufacturers using Cuxport. Imports, mainly out of UK production and transhipments make up the rest of the volume handled there.
Finished Vehicle Logistics: How was vehicle throughput affected by the first impact of Covid and how were volumes recovered in the second half of the year?
Oliver Fuhljahn: We have been faced last year with lockdowns in our main destination markets and we had to deal with shutdowns of factories throughout the whole industry.
The preparation of all production processes according to Covid-based restrictions and the implementation of protecting measures as well as a hygiene concept were certainly challenging in the first half of 2020. These concepts like social distancing and the provision of protective masks have been implemented successfully and we have seen no major impact of the virus on our processes.
We have seen that some of our customers recovered earlier than others. Recovery to originally planned figures was impossible but high volumes and fear of the coming Brexit was the reason for a higher throughput in the third and fourth quarters.
Similarly, what were the main impacts on the port in the second half of the year and how did the port cope?
The recovery in Q3 and Q4 had a tremendous impact on Cuxport. While the first half of 2020 was dominated by learning which measures to implement, the second half was heavily impacted by managing the repercussions of all those measures taken – locally and globally.
Were there other factors in 2020 that affected vehicle flows other than Covid?
Shortage of parts in the production process as well as earlier recovery of markets like China have caused a tremendous rerouting of volumes. It is not easy to separate individual processes from Covid, as Covid influenced nearly all of them in one way or the other.
Were any new digital tools employed to cope with the volatility in the throughput of vehicles, or any existing tools proven to help?
Our current systems and tools have been connected to customs as well as our customer's electronic data interchange – so that any kind of customs related jobs like releasing processes as well as issuing AES export declaration or other related documentation can be managed right in time.
How have the lessons learned in 2020 better equipped the port of Cuxport to deal with volatility in the future?
As a multi-purpose port, we have been faced in the past decades with certain market crisis situations. It was helpful for us that we do not stand on only one leg. We will proceed like that and intend to attract a variety of customers in order to save our business.
Can you bring me up to date with the latest developments in infrastructure, facilities and operating space, and what that means for capacity and storage?
Cuxport currently manages a terminal of 360,000 sq.m with three ro-ro berths suitable for Stern A- and quarter ramp operations of short- and deep-sea liner ro-ro vessels with a draft of up to 15.60 metres directly at the River Elbe.
In addition, project cargo and container vessels can be handled at berth number three as well as the Humber pier in the America port basin. A warehouse of 10,000 sq.m offers a wide range of indoor operations in addition to storage. Handling, stuffing and stripping of containers, as well as trailers for ro-ro cargo operations can be executed at Cuxport. We provide three modality offers for any kind of logistics and therefore the possibility to get your cargo routed and handled at Cuxport.
What new efforts at making finished vehicle handling more sustainable at the port have been made since we last were in contact?
We have implemented more balanced traffics. Since 1st of January 2021, delivering trucks and trains take newly gained import cars from the UK. Outgoing trains now return loaded with Mini vehicles instead of coming back empty. [That] has been implemented at Cuxport since January 2021 and new on-carrying routings have been implemented by the OEM from Cuxhaven.
Finally, what are the prospects for growth in finished vehicle handling in 2021 at Cuxport?
By now, we realise a reduction of estimated forecasts, but we do feel confident to gain additional potential volumes out of current tender processes of various OEMs.