Mazda has started exporting its CX-50 crossover to Mexico from the US joint venture plant it runs with Toyota in Huntsville, Alabama.
Mazda already exports the CX-50 to Canada and Colombia following the start of the model production at Mazda Toyota Manufacturing in January last year.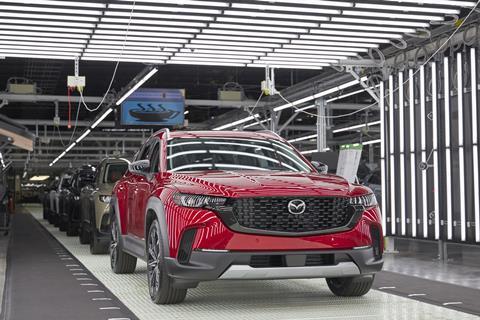 Mazda and Toyota have invested $2.3 billion in the joint venture plant, which has the capacity to assemble up to 300,000 vehicles. The plant started production in the fourth quarter of 2021 with the Toyota Corolla Cross.
The two carmakers officially started on the joint venture in Huntsville in 2018 following the establishment of a capital alliance the previous year.
Mazda also has a plant in Mexico – Mazda de Mexico Vehicle Operation, in Salamanca – making the Mazda2, Mazda3 and Mazda CX-30, as well as the SkyActiv engine range, with annual production capacity for 250,000 vehicles.
*In other news, Mazda North America Operations (MNAO) has announced that Tom Donnelly will take over as president and CEO of the company at the beginning of April this year. He moves from his role as senior vice-president of retail operations and takes over the new role from Jeff Guyton. Guyton is moving to become chief financial officer of Mazda Motor based in Hiroshima, Japan.