Solving the severe driver shortage in North American finished vehicle logistics is not just about better pay, it is about making better use of the driver's time and improving conditions, as Ford, United Road and RPM discussed at this year's Finished Vehicle Logistics North America (FVLNA) conference, held in Huntington Beach, California.
The problem of an aging driver pool and the impact of 'the Great Resignation' over the Covid pandemic is impacting a finished vehicle sector struggling to make deliveries on time, at a time when every unit moved is already sold.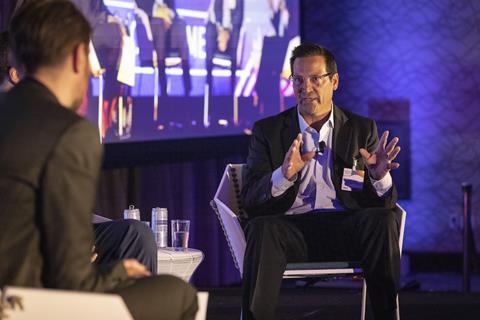 Wage stagnation, rising living costs and a lack of satisfaction in employment are all factors in the exodus of workers from their jobs since March 2020, but the vehicle haulage sector was already suffering a shortage before the impact of Covid. The exacerbation of that shortage has resulted in it ranking as the second biggest challenge facing the industry in North America after rising fuel costs, according to a recent quarterly survey carried out by finished vehicle logistics provider RPM and Automotive Logistics. To solve it, there are a number of issues that need to be addressed.
Speaking at FVLNA, RPM's president and CEO, Sergio Gutierrez, said drivers frustrated at not being able to fulfil their scheduled pick-ups because of delays out of the factories, railheads for vehicle distribution centres (VDCs) are moving out of the vehicle haulage sector.
"Reducing inefficiencies and maximising driver time is what we must all focus on and as players in the industry, we are all responsible for keeping the drivers engaged," said Gutierrez.
Pay and conditions
Mark Anderson, president and CEO of United Road, one of the biggest vehicle haulers in the US, said the sector had lost 30% of capacity for good because of the exodus of drivers. Those drivers are doing a physically and mentally demanding job but at the same time are seeing a shrinkage of the premium pay gap that used to exist between car haulage and general freight driving.
"We ask the car hauler to do so much more [than general freight does]," said Anderson, adding that inefficient vehicle yards that have drivers waiting around for hours, combined with difficulty in parking trucks to load safely, were just additional burdens that had pushed many out.
Many drivers are also looking for shorter hauls and fewer long-haul drop offs, and the industry is having to adapt to the demand for more flexible working patterns. Ford's Michael Arnold, operations supervisor for North America vehicle logistics, said the company was looking at ways to work with the sector to reduce the number of miles a truck has to travel to deliver loads.
"We need to find the efficiencies where the truck driver is home at night… [.] How do we make sure that the driver is only doing one or two stops, or only going 150 miles on a round trip," said Arnold.
Marisol Vasquez, senior manager of OEM Sales at logistics provider, Glovis America, said flexibility was a key point in making the job of hauling vehicles more attractive. "Wages are important but that is not always what seals the deal," she said, adding that providing a good work-life balance was more important than ever but that it required some new and creative thinking.
Cost and efficiency
Despite these pressures, United Road has been able to recruit more staff thanks in part to its decision last year to extend its Guaranteed Pay Benefit scheme for directly employed drivers. That move followed a pilot scheme for first time drivers, which resulted in "a dramatic increase in driver satisfaction and retention", according to Anderson.
However, it is not all about pay, and Anderson agreed with Gutierrez on the point of maximising time, making operations more efficient, and enabling drivers to move on and pick up additional loads, something in itself that would help tackle the current crisis in capacity for finished vehicle deliveries.
"[The drivers] want to haul their cars and be on to the next stop, and they have limited hours in which to do that," said Anderson. "When you are waiting to get one or two exception damages approved, it is taking away 30-60 minutes, and those are the things that we have to work to improve."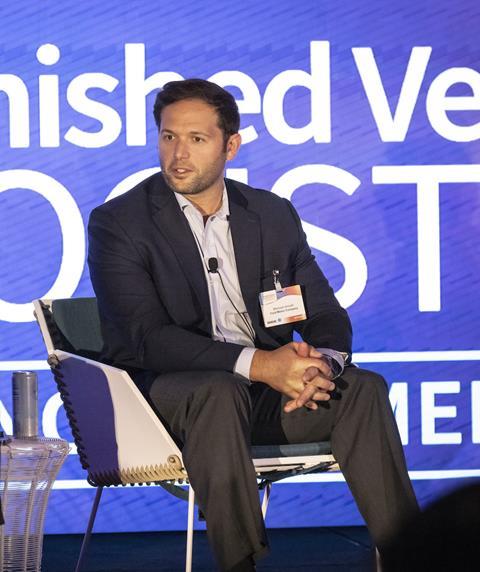 There is also the issue of being able to park the car-hauling rigs onsite at the yards so drivers can preload. Anderson said that too often drivers were forced to park offsite, which made it more difficult to load or unload vehicles, and which was often in unsafe areas that risked damage to or theft of the vehicles.
"Parking onsite allows us to preload for the next day and that can give us two more loads for the week," he said. "If you take two loads by the number of car haulers out there, that is a lot of cars… we need to find anything that we can take advantage of."
Anderson went onto say that as well as securing better pay the industry as a whole had to be more collaborative in improving conditions and making vehicle deliveries more efficient, including OEM customers, rail companies and ports.
Geobays for network
Ford is one of those customers and Michael Arnold said the sector needed to take advantage of the lower volumes being moved through the network to iron out the inefficiencies plaguing drivers' efforts to haul more vehicles. He pointed to the use of 'geobays' throughout the vehicle delivery process, systems designed originally to improve facility throughput at the railheads. This entails sorting the vehicle parking space into sections to minimise the distance a driver had to move to pick-up the vehicle, with those vehicles arranged by OEM or destination.
"If we can geobay across the network, have the vehicle staged to some degree for the dealers and if we can reduce time in the yard by 30 minutes it has a compounding effect," said Arnold. "It creates capacity for the drivers we do have left."
Ford is working on multiple pilots, according to Arnold, with feedback from a taskforce of vehicle haulers. Arnold said a widely collaborative effort was needed to make good on these initiatives.
Car haulers also need to collaborate on load building and sharing volumes, another area of opportunity according to Arnold.
"Every time we see a truck empty down the road it is a missed opportunity," he said. "So how do we minimise that? We have arms open to partners to engage. It can't work everywhere but it is about looking at where we can and how interesting that is for us all."
Weight extension
One other area that would help drivers maximise the vehicle loads they are carrying is securing regulation to increase the loaded weight of their rigs, something that becomes even more important when one considers the increase in the loaded weight when hauling heavier electric vehicles (EVs).
Arnold said it was imperative to continue to push government to regulate for the weight increase, which is equal to 10% or 8,000lbs (3.6 tonnes), and would take the loaded weight of a vehicle hauling truck to 88,000lbs (40 tonnes).
"We have been lobbying for it for many years now but we need to keep pushing that through before our network flips," said Arnold, adding that Ford was already looking at between 40-50% of its outbound volumes being electrified.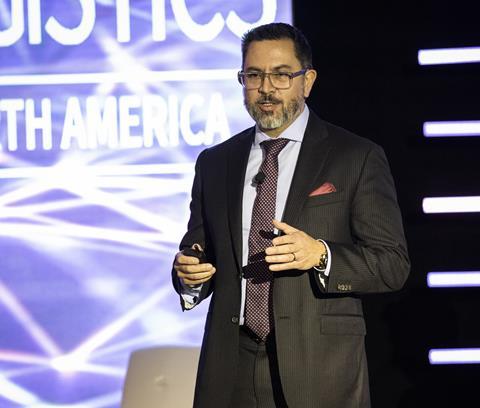 Anderson said that while United Road was working with the equipment manufacturers on limiting the weight, the regulation on a loaded weight increase was critical.
"That doesn't make us more efficient, it just allows us to keep up," he said. "That 8,000lbs is needed otherwise you go up again 20-30% in [the seasonally adjusted annual rate] and you are losing a unit, which means more inefficiency and the need for more drivers and more trucks."
Anderson said the active participation from OEMs was very important in support of United Road's own efforts with the Automobile Carriers Conference (ACC), the part of the American Truck Association that lobbies for the interests of the finished vehicle sector. Those efforts will continue, according to Anderson, but he called on the railroads to add their voice to the need for a weight extension in the road haulage sector.
Watch the full discussion on how the finished vehicle sector is working together to tackle the driver shortage and lack of capacity in haulaway at FVLNA