This month Spanish carmaker and VW Group subsidiary Seat will begin a weekly rail service linking its plant in Martorell, Spain with the Volkswagen Autoeuropa factory in Palmela.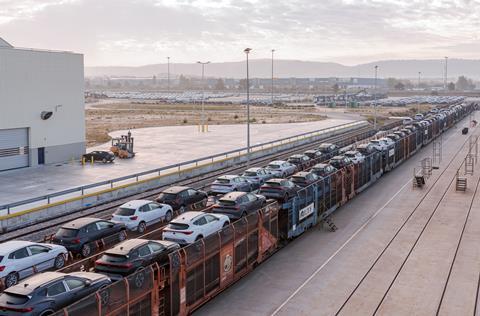 The new service is expected to transport more than 20,000 vehicles per year, avoiding 2,400 truck journeys and reducing CO2 emissions by 43%, helping the Spanish carmaker and wider VW Group reach its net zero targets.
Seat is also planning to achieve emission neutrality by 2040 after the railways introduce hybrid locomotives that will completely electrify the route.
"This project is part of the 'One Production' strategy of Volkswagen Group factories on the Iberian Peninsula, which seeks to optimise resources, generate synergies between production centres and boost efficiency," said Herbert Steiner, vice-president for production and logistics at Seat.
The train, which is operated by Pecovasa Renfe Mercancías, comprises 16 wagons, with an overall length of 500 metres, and will be capable of transporting up to 184 vehicles per journey. Two additional carriages will be added from 2023 that will bring total capacity up to 200 vehicles.
Vehicles produced in Martorell were previously transported by train to Salobral, in Madrid, and then delivered by truck to the dealership network. The new line will ensure that vehicles arrive directly at the Palmela factory before being transported by truck to the distribution depot in Azambuja, 75km away.
Meanwhile, vehicles manufactured in Palmela will then be taken on the return leg to the port of Barcelona, where they will be distributed by road to different regions of Spain, the south of France and transported by ship to destinations across the Mediterranean market.
The new rail route adds to the existing Autometro rail service, which links the Martorell plant with the port of Barcelona for vehicle exports. Seat exports over 80% of the cars produced in Martorell, and the rail transport service means around 25,000 trucks have been eliminated annually from the route from Martorell to the port of Barcelona.
Thanks to double-decker articulated transport wagons, with a total capacity for 170 vehicles and a length of 411 meters, the route has transported nearly 1.3m units since it began in 2008 and has lowered road traffic by more than 300,000 truck journeys.
The new rail service is part of Seat's Move to Zero sustainability project, aimed at lowering emissions in all of its products, production processes and methods of transport.