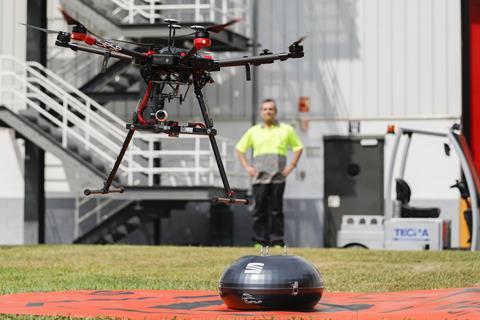 Following trials earlier this year Spanish carmaker Seat is now using drones to routinely deliver steering wheels and airbags at its Martorell factory near Barcelona. Their use will revolutionise logistics, according to vice-president for production and logistics Christian Vollmer.
Once an order is received by compatriot logistics company Grupo Sesé, Seat's partner in the current test phase, the component is loaded into a carbon fibre capsule weighing 5.5 kg and firmly attached to the drone with an electromagnet and is ready for airborne delivery from the launch pad, the OEM said.
Measuring 1.7 metres across, the drone takes off for the two-kilometre flight from the logistics centre to assembly workshop. The aircraft flies autonomously at a height of 95 metres over the factory roof at 40 km/hour.
It only takes four minutes from take-off until the capsule is dropped off at its destination. The complete process lasts 15 minutes from activating the protocol. Trucks take an average of 90 minutes for the same delivery.
The initial use of drones at Martorell is for periodic transport of steering wheels and airbags, with a view to expanding the service.
"Drone transport is going to revolutionise logistics, as for example in the case of Seat, where it will reduce part delivery time by 80%," said Vollmer.
"With this innovation, we are boosting Industry 4.0 and will be more efficient, agile and competitive, as well as much more sustainable," he added. As the system is emissions-free because drones run on electric batteries, the reduction in CO2 emissions could amount to one tonne every year.
Safety has been tripled on the project, with the drone having six motors, three GPS, six batteries and three inertial measurement units (IMU), said Transportation Security Administration centre pilot Toni Caballero.
Seat's drone trials are being supervised by the Spanish Aviation Safety Agency.